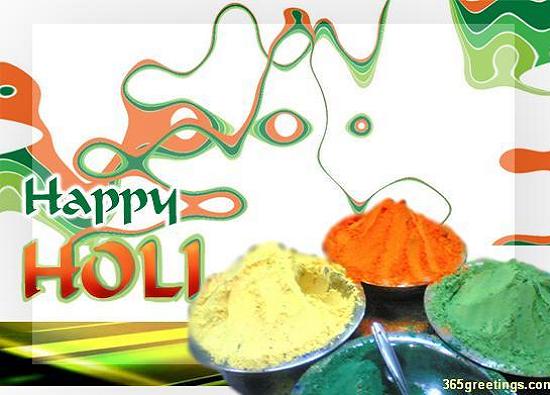 Holi festival, known as the festival of colors, is celebrated in Eastern and Northern regions of India. This day commemorate the burning of Holiga despite of her boon that protected her from being burned. It also shows how Prahlada's devotion to Lord Maha Vishnu earned him fame and protection from evil including from the evil King Hiranyakashipu (his father) and Holiga (his aunt). Holi had a boon which let her go into fire without being burned. But when the time she brought Prahlada into the fire with her, she was burned to ash whereas Prahlada was safe and unscathed. Thus, the Lord Vishnu protected his devotee from Fire.
Holi is one of the most fun-filled festivals celebrated by Hindus. As people sprinkle different colors and water on each other faces, they cook lavish meals and sing harmonious songs. They also exchange holi wishes and greetings to family and friends. This Holi, greet them with your warmest holi greetings messages. Share the fun and blessings of the festival by sending them heartfelt holi messages and sms and celebrate the victory of God Maha Vishnu with colors and dance.
Note: Do not use chemicals to celebrate the Holi. It will spoil the motherland India.
Happy Holi Wishes and Holi Greetings
Do you want to greet your friends and dear ones a Happy Holi but don't know how to express it in words? Don't be depressed just yet, because here's the samples of Holi messages that you've been looking for. Browse our collection of Holi wishes and card wording that you can send as sms or email.
May the Vivid Colors of the holi
Decorate your life and family…
With colors of happiness and Fun
Happy Holi !!!
As you Celebrate Holi with Colors and Fun
I wish you the color of the holi brings you,
Happiness, fun and joy to your life!
May the colors of Holi brings
Colors to your life and family.
Happy Holi to you and your Family!
I wish you on this Holi
A colorful life and Happiness
Like the colors of Holi
Enjoy holi festival
I'm wishing you a Holi festival that is filled with joy,
and full of warmth. Have a Happy Holi!
Splash different colors and enjoy the Holi festival.
Let's celebrate and enjoy!
May you have a memorable and terrific Holi celebration
that you can treasure for a lifetime.
I'm hoping that your life will be filled
with different colors of joy and fun.
Have a joyous and wonderful Holi festival!
Wishing you and your family a joyous
and colorful Holi celebration.
May your life be filled with…
Joy…
Laughter…
Love…
Peace…
Prosperity…
Have a blessed Holi!
Sending my warmest Holi wishes to you and to your family!
I wish you to have a life as colorful and joyous as the Holi Festival.
May the yummy treats sweeten your life's journey throughout the year.
Have a happy Holi!
Miles apart, I may not be able to put colors to your face this Holi Festival.
But I'll pray to God to add more colors to your life… making it fun-filled and fullfilling.
Have a blessed Holi!
May the colors of Holi festival bring you more laughters, joys and blessings.
Wishing you a wonderful Holi!
May God sprinkle different colors of fun, success and prosperity over you and family.
May this Holi fill your hearts with joy, happiness and love.
Happy Holi!
Happy Holi Wishes and Holi Messages In English
As part of the celebration, people exchange holi cards and greetings. Now, if you don't know what to write in your Holi greeting cards, you may use these samples of Holi card wording. Have fun and enjoy!
This Holi Festival…
I'm wishing you and your family to have colorful,
fun-filled and terrific celebration.
Have a Happy holi!
Strenghten the ties in the family…
Develop friendship with your neighbors…
Express your heartiest feelings…
Take the opportunity to achieve all these..
Have a meaningful and fullfilling holi festival!
Colorful faces…
Different hues…
Joyous atmosphere…
Festive activities…
May this Holi festival be the more special than the previous one.
Have fun this Holi!
From miles away…
I'm sending my warmest and heartiest holi greetings to your way!
Holi Hai!
May you and your family enjoy the activities and the spirit of Holi Festival.
Make it as joyous and enjoyable as possible.
Have fun!
May the spirit of Holi festival fill your hearts with love, peace and contentment.
Have a blessed Holi!
Love…
Peace…
Prosperity…
May you achieve them this Holi festival.
My wish this Holi is for you to have a fulfilling and meaningful life.
May Holi festival marks the beginning of your successful life.
Holi SMS and Text Messages
Happy Holi messages, holi greetings wishes
One of the most special Hindu festivals, Holi is celebrated with pure joy and fun. People celebrate this holiday by putting different colors on their body, especially on their hands. While having fun, families also take the advantage of this occasion to strengthen the bond within the family. This Holi, spread the spirit of the holiday by sending your warmest greetings to your loved ones. Use these samples of holi wishes and holi greetings .
May your Holi celebration be full of joy, love and fervor.
Happy Holi to you and to your family!
Have fun this Holi Festival.
Strengthen your family bond.
Cheers to fun and joyous Holi!
Wishing you the best and most wonderful Holi festival.
A warm greetings from my family to yours.
I hope that your life be as colorful as the celebration of Holi festival all year round.
Have a blessed and prosperous Holi!
Water balloons…
Harmonious melodies…
Bright colors…
Those are the elements of a perfect Holi festival.
We hope that you and your family have the best Holi celebration ever!
May you enjoy the Holi festival with your hearts filled with fun and love.
Have a happy Holi!
Words of love and caring need not to be spoken out loud,
A simple yet heartfelt Holi SMS is enough to express the warmest feelings.
Have fun this Holi!
May you and your family have a colorful and blessed Holi festival!
Delicious gujiyas…
Different colors and hues…
Festive holiday…
Those are what I missed when I was there.
Wish to celebrate the Holi with you, but I'm miles away.
So I'm sending my warmest Holi wishes to you and your family!
May God bless you with colorful life and successful career.
May you hearts be filled with happiness, contentment, love and peace.
Have a happy Holi!
As you splash colors to your dears and nears
May their life filled with vivid colors of
Happiness, love and Prosperity
Have a Great holi
The splashing colors of Holi
May fall on you like colors of life
And Brings happiness and prosperity
Have a Great Holi
Holi Wishes and SMs in Hindi
Hindi Holi Wishes, Hindi Holi Greetings and Messages
Rangon se bhi rangeen zindagi hai humari,
rangeeli rahe yeh bandagi hai humari,
kabhi na bigde ye pyar ki rangoli,
aye mere yaar aisi HAPPY HOLI.
Rang barse bhige chunar wali,
rang barse o rang barse bhige chunar wali..rang barse,
are rang barse bhige chunar wali..re!
Ab ghar jao nahi to zukaam lag jayega.
Gul ne gulshan se gulfam bheja hai,
Sitaro ne aasman se salaam bheja hai,
Mubaraq ho aapko holi ka tyohar,
Humne dil se yeh paigam bheja hai.
Pichkari ki Dhar,
Gulal ki bauchar,
Apno ka pyar,
Yahi hai yaaron holi ka tyohar.
Happy Holi!!!!
Chadenge jab pyare rang, ek meri dosti ka rang bhi chadhana.
Lagne lagenge tumhe suhane sare rang,
Aur meri dosti ka rang chamkega hurdum tumhare sang.
Bolo sarararara….
Wish you a very mastiful and colourful Happy Holi!