So you're looking for Christian inspirational quotes and sayings? Here's the collection of inspirational quotes you've been looking for. Here, we include some of the best Christian inspirational quotes and encouraging quotes about God that you may want to share your friends to encourage and inspire them. With these Christian inspirational quotes, they will surely be motivated.
When I fall in love again,
I wanna fall for someone who will me feel
That GOD is his number ONE, and I'm his ONLY one.
How will you know if a person truly loves you?
It is when he/she brings you..
CLOSER to GOD..
Always remember that God only makes happy endings..
If it's not happy, then it's not yet the end..
Live by love and hope..
There is always something to look forward to..




A man asked a boy..
Boy, i will give you a gold coin if you know where God is.
A boy answered.
Sir, i will give you 2 gold coins if you can state a place where He isn't there.
Let's remember to thank God for everything!
Let's thank Him for all His YES that have truly warmed our hearts;
For all His NO that have taught us to trust His heart;
For all of His WAIT that remind us He is in control & He means the best for us.
Thanks LORD for everything..
If ever you feel God is taking away something from your hand, don't get sad.
He is only emptying your hand so you can receive something better.
Never forget to thank God for all the blessings He's given us.





No matter how good or bad, there's always a reason, and it's always for the best.
When we feel being poisoned by stress, pressure, pain and failures..
the best antidote is to PRAY. Nothing more, nothing less.
I asked Jesus … How much do you love me
And Jesus said … This much.
Then He stretched out His arms and died.
Thank God for what you have. Trust God for what you need.
Only God can turn a MESS into MESSAGE,
a TEST into a TESTIMONY, a Trial into Triumph
and Victim to VICTORY.
Don't pray for life to get easier, just pray that you will get stronger.





We all have our days where we feel we can't survive…
Sometimes dreams are shattered…
Friendship may fall apart…
We may even lose people we love…
But God will always be there…to guide us through even the toughest of time.
Never lose faith, hold on to hope and Trust God.
When we put God first, all things will fall on their proper place.





As you breathe right now, other person takes his/her last…
So appreciate your life. Stop complaining what you ain't got and start loving what you have.
Unless you learn to face your own shadow, you will continue to see them on others.
Because the world outside you is only a reflection of the world inside of you.
Live your life and risk it all.
Take some chances, take the fall.
Take your time, no need to hurry.
Have some fun and never worry.
Live for the other things.
Appreciate and enjoy what you have and live life fully.
Sometimes you have to stop worrying, wondering and doubting.
Have faith that things will work out, maybe not how your planned, but just how it's meant to be.





God always has something for you:
A KEY for every problem,
A LIGHT for every shadow,
A RELIEF for every sorrow, and
A PLAN for every tomorrow.





Don't think about things you didn't get after praying.
Think of the countless blessings that God gave you without asking.
If you, then, though you are evil, know how to give good gifts to our children, how much more will your Father in heaven give good gifts to those who ask him! ~ Matthew 7:11
The thief comes only to steal and kill and destroy; I came that they may have life, and have it abundantly. John 10:10
"In this is love, not that we have loved God but that he loved us and sent his Son to be the propitiation for our sins. Beloved, if God so loved us, we also ought to love one another. No one has ever seen God; if we love one another, God abides in us and his love is perfected in us." ~ 1 John 4:10-12
"Jesus said unto him, If thou canst believe, all things are possible to him that believeth." ~ The Holy, Mark 9:23 (KJV)





"And I say to you, Ask, and it shall be given you; seek, and ye shall find; knock, and it shall be opened to you. For every one that asketh receiveth; and he that seeketh findeth; and to him that knocketh it shall be opened." ~ Luke 11:9-10 (KJV)
"And my God will supply every need of yours according to his riches in glory in Christ Jesus." ~ The Holy Bible, Philippians 4:19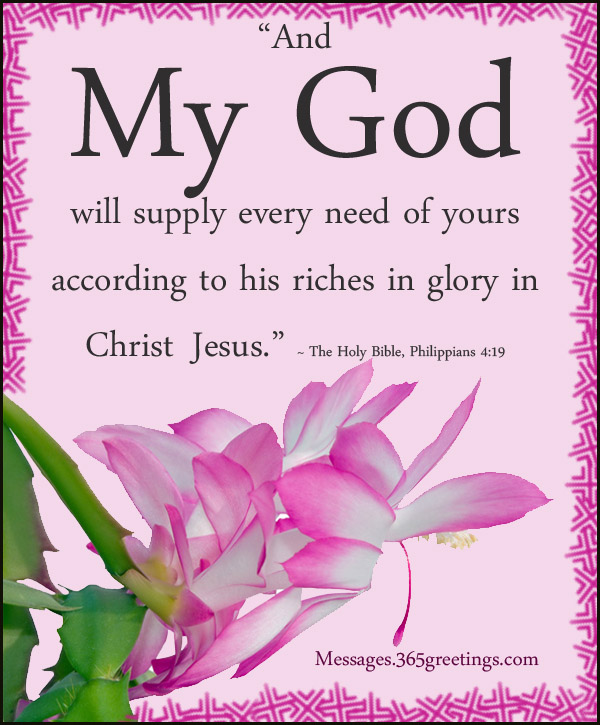 "Whatever makes men good Christians; makes them good citizens." ~ Daniel Webster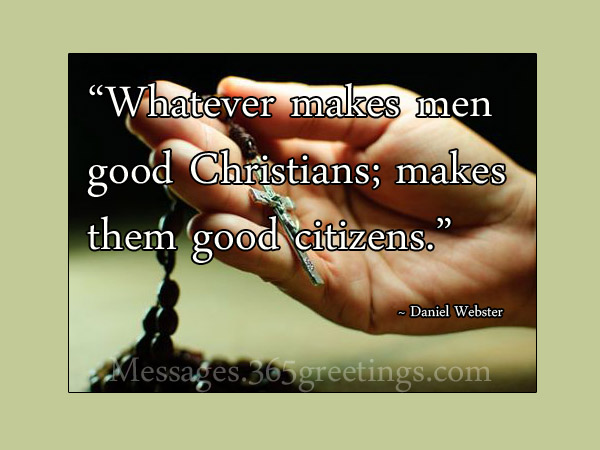 "And I am sure of this, that he who began a good work in you will bring it to completion at the day of Jesus Christ." ~ The Holy Bible, Philippians 1:6