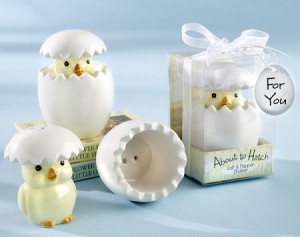 When the baby shower party will have been over, I can't help but think of giving the guests some baby shower favors as a remembrance of the occasion and as a token of my appreciation. Sure, we will have prizes to be given to the winners of the games we planned. But it wasn't enough. I still want to give something that will cover everyone and not just the contest winners. At first, I didn't have any idea at all. I mean, I want something memorable but without the fritz of being corny.
I browsed the internet for some ideas and – boom – I managed to find great baby shower favors ideas that, now, I have a problem in picking the best one. If only I can give away all of these great baby shower favors, but I can only pick one theme. So instead, I'll just share some of the ideas for those parents-to-be who also plan on throwing a baby shower party.
Image: Mylusciouslife
Baby Shower Party Favors
Baby shower party favors, the term connected with the friends and relatives who are honoring the baby shower party. The guests who are presiding over the shower have to be welcomed and sent off with gifts as a token of affection. The mother and her family feel so excited in giving away the favors to the guests. Here we can give you some suggestion on selecting baby shower favors.
This is one of the yummiest baby shower favors I managed to find. If you want something sweet that your guests could consume, then I really recommend this one. You can buy candy apples in the nearest sweet shop or do them at home where you can personalized the coating according to your baby shower theme.
Image: Etsy
Baby Shower Cupcake Candy Favor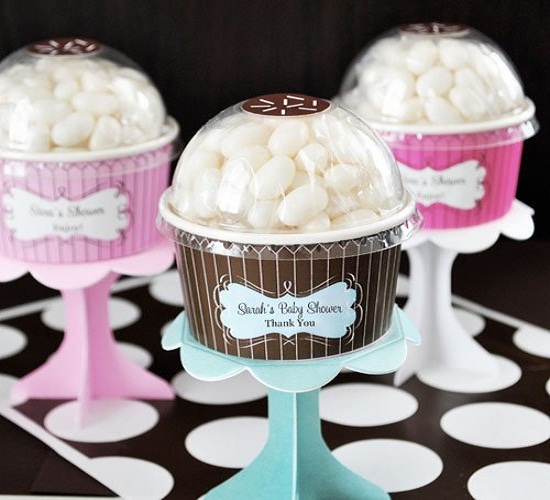 Again, something sweet: I mean, who doesn't love cupcakes. You can have fun with these give-aways by playing with the kinds of candy you could mash on top of the cupcake of your choice. Other than that, your guests can eat them right away and show their appreciation for this baby shower favor.
Image: Beau-Coup
Baby Block Candle Baby Shower Favor




Imitating your baby's soon-to-be toys will truly be a great idea for a baby shower favor. It's also a way to tell your guests that this is their version of your baby's toy. And of course, that they will find this as useful as your baby will with its real toy counterpart.
About to Pop! Baby Shower Favor




I've also seen a baby shower them on the internet that is all about popcorn. If you're planning on a circus-themed baby shower overflowing with popcorns, then have this as a baby shower favor. You can never eat too much popcorn in your lifetime.
Image: Inbabyshower
Cheap Baby Shower Favors
Easy to make, useful and cute, this kind of baby shower favor is truly a recommend. I managed to try making this one just for the fun of it and, boy, it sure was easy to make. If you're in a crunch time and don't have the time to bake as a party favor, then try this one. It will only take overnight.
Glycerin Soap with Personalized Labels
Witty and obvious, you're guests would probably smile when you give them this. It's obvious isn't it? I mean, why I didn't also think of that – of course it's a shower, so you'll need a soap to compliment it with.
Image: Etsy
I added this on the table when I gave away the baby shower favors. If you're looking for something cheap that will save time in preparing, then go to a local candy store and buy a bag or two of lollipops as a party favor.
Homemade Baby Shower Favors
Baby Socks Filled with Assorted Candies and Chocolates
You want some personal touches for the party favor? Try this one. For my cousin's baby shower party, we particularly picked this one. First, it is easy to make; second, it is cheap. It's as simple as that. Of course, you can make this look creative by adding some magical touches such as personalizing each piece.
Personalized Mini Wet Wipes
I personally strongly recommend this as a party favor. Imagine after your guests take this home and use those wipes for something, they'll remember the last days when your belly was bulging with a baby.
Chocolate Lollipops with Personalized Labels
One of my girlfriends has chosen this as a party favor. We helped her for the preparations and it was really fun. The only problem we had was trying not to eat the goodies before they were distributed in the baby shower party. I personally had fun personalizing each chocolate lollipop with the guests' names and taste. And of course, I was sure that the guests will truly enjoy sinking their teeth into this.
This is simple and easy to do. And surely, it will please your guests' sweet tooth. Talk about sugar rush. Marshmallow dipped into a flavor according to your baby shower theme will taste as sweet as the occasion.
I also used this as a give-aways for the baby shower. It was fast and easy to do. All you have to prepare are the following: colored paper (depending on your baby shower theme), printer, a design you can prepare in the computer… and something to attach the tag onto: it can be a card holder or a basket… it's your choice.
Baby Shower Favors for a Boy
If you're expecting a boy, this is a cute give-away that I would personally recommend. When your guests take this home and display it, it'll always remind them of your newborn's soon arrival.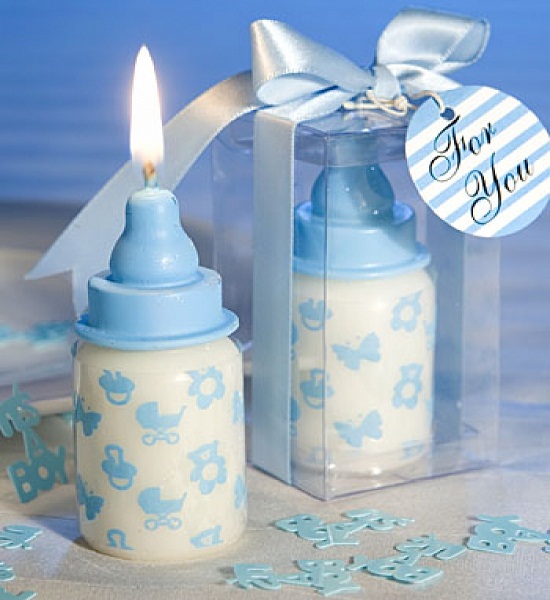 The candle can be scented. It can be non-scented. The important thing is the presentation. This kind of party favor will explicitly tell everyone that the baby is in fact a boy and no sooner that this candle melts its way, that baby boy will come storming into their house demanding for sweets.
It's a Boy Pencil Value Pack
It's blue and it writes. Have this as a party give-away for the baby shower. It's useful. It's blue and it writes. Need I say more?
Baby Shower Favors for Girls
Mini purse-shaped manicure set
I think this is a classy party favor and your guests will have fun with this. It's never too early to tell everyone that your newborn is fated to become a princess.
Heart-shaped Measuring Spoons
I like this idea of having a party favor that can become useful in the kitchen. Your guests will not only find this cute. They'll also find this useful.
Gerber Daisy Flower Boxes with Personalized Labels
Gerber + Daisy + Flower = girl. This party favor speaks for its name: it's a girl. I think almost every society associates flowers to girls. So why not prove this hypothesis true? The baby shower way.
Tweet Baby Girl Place Card Holder
I think it's comical to let everyone know that you are imposing a memory for the baby shower you will have thrown. With this card holder, everyone will know that your baby girl is about to arrive and all hail for that.
I think you can also give this in a baptismal. But having it as a giveaway for a baby shower party is also symbolic; after all, the coming of a new baby brightens everyone's world.
More Baby Shower Party Favors
Wrapped up little gift box
Small gift box can be wrapped up with colorful ribbons and flower on it. The box can contain sweet candies or tiny gift articles. The very much attractive gift box will make the guests feel happy.
Homemade personalized gifts
It adds more pleasure when personalized homemade gifts are given to the guests. They feel more privileged with this special gift as it is personally prepared by the family and mother-to-be.
Set of perfumed, decorative candles
Set of perfumed and decorated candles would be a great gift as it will make the guest feel embraced. The candles lit will make them remember you to their heart. There are lot of varieties in decorated candles and can spend some time in selecting.
No one is there to say no to cookies, pack delicious set of cookies in decorative boxes and present them to the guests. You are for sure to get the praising and thanking from your guests as they will like your cookies gift.
Candies are the best gift item on a baby shower day. Colorful and different shaped candies will attract the guests very much and they will surely enjoy the favor. There are many kinds of fun filled candies available in the market, so pick them from those and gift them packed on a gift wrapped boxes.
A small gift bag containing few tiny gifts like hair clips, lipstick and fancy nails will be of interesting gift. Guests will be surprised and excited to open the gift bag. Once they find such cute gifts inside it then they still will feel happy.
A basket filled with 4 or 5 gift items will be a good choice as a baby shower favor or gift. The basket can be decorated with ribbons and flowers to increase the beauty of the gift basket.