Here are baby shower ideas that I'm dying to impart. You can find tons of ideas on the internet that will add to the success of your baby shower, but you have to be careful in mismatching a couple of them. For instance, your baby shower can have a doll-theme but you end up mismatching the decorations with a rock star theme. You might not put the decorations on the proper places. Your garland decorations could end up whacking your guests' head. Your centerpiece might overshadow the design on the food table. Your diaper cakes could be mistaken for food and your guests end up trying to munch that water-proof cotton made for containing your infant's urine: a major fail. You don't want to end up like that.
Brighten up! Don't let the warning let your hopes down. A baby shower is bound to be a happy event. Of course if the whole theme mismatches, it won't leave a lasting impression on the guests. By now you should think of baby shower ideas that will make the occasion shine even without fireworks.
Baby Shower Food Ideas




This is a general idea for any baby shower theme. So whether you're planning on gender neutral or desert theme, this may just work for the guests. This is a recommended food idea, especially if you don't want something too sweet for the occasion.




This is another general food idea. This can go with any theme, but you can customize it even more. For instance, a baby shower for a boy could adapt a blue berry ice cream cake. You can play with this food idea. After all, everybody loves ice cream and cakes.




If your baby shower has a desert or fruit theme, this is a witty stuff to put on the table. For a fruit theme, you can surprise your guests after they sink their teeth into this. It may look like an apple, but it tastes like an Oreo cookie.
Image: Dixiedelights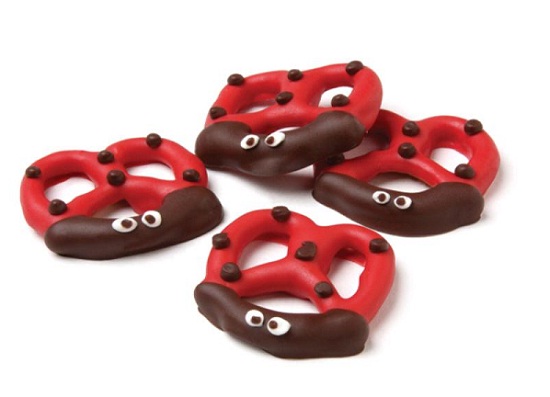 We think lady bugs are cute. At the same time, we love pretzels on any occasion. Put this on the menu for your baby shower lady bug theme to complete the measures of the event. This will truly make your guests awe in cuteness.
Image: MakenMold
Baby Shower Gift Ideas
This is a survival kit for the parents-to-be. A new baby would mean diaper-changing 24/7. To make things simpler, you can provide them with a goody that will be helpful for the next months to come.
Image: Etsy
The parents-to-be will thank you very much for this one. Sooner or later, the will buy infant shoes for the baby. You can advance the favour by giving them infant shoes for the baby shower. You'll see that from the moment they would have seen this, they'll be dying to get the pair on their soon-to-be newborn.




Even babies will go for a little cruising in your car. You can make the baby's drive to the mall or the park safer and more comfortable, even for the mom and dad, by giving a cute carseat that will enkindle the little tyke during the drive.
Baby Shower Decoration Ideas
Pink Two Toned Feather Boa
The mom-to-be (including the dad-to-be) may find this cute for the baby shower especially if the baby shower is a girl and the theme is Barbie. After all, a baby shower for a girl is the best excuse we can have to show-off those ruffles, ribbons and feathers.
This design will definitely put some festive aura for the occasion. But remember to tie them higher so that your guests don't end up banging their heads into this. This is a classic piece of design which could go well with any baby shower theme but be careful not to over-design. You can place this alongside the entrance way to have a grand welcome for your guests.
Image: Kidspartysupplyaustralia




When you have a princess-themed baby shower for your girl, you should consider adding yourself to the decoration. And we mean that literally. Show everyone that you are a proud mom-to-be with a tiara that writes this statement.
Baby Shower Ideas for Girls
Bright and sunny, this is a recommended baby shower theme for your little girl, especially if she's be born in spring. This doesn't overwrite the season, but it will only make the most out of the sunny prelude. Moreover, you can have this outdoors.
Princess-themed Baby Shower
This theme is perfect for the New Mom-To-Be Tiara. Make the baby shower a royal occasion for you and your little girl, including your guests. Have a baby shower theme that will allow everyone to costume-play for the coming of your princess.
Barbie-themed Baby Shower
You'll probably hear this countless of times: Barbie-themed baby showers are the finest excuse to be pink and fluffy. The baby shower is intended for you and your little girl. Whether it would be a pink tutu or a fluffy pink feather boa, you can make the theme have a lasting and sweet impression on your guests. Tip: Cotton candy will also blend with the theme of the occasion. We can never get enough with fluffiness.
Baby Shower Ideas for Boys
Little Gentlemen Baby Shower Theme
For this baby shower idea, you can also save time and money on buying the decorations from the local store. Simply, you can borrow your hubby's neckties and pin-striped corporate attire to make the theme look like a man's world shrunk in a baby shower.
You can borrow your dad's old electric guitar and old Elvis Presley records to display for the baby shower. This theme allows you to re-use that vintage stuff you collected way back in the 70's and 80's. It will add some edgy touches to the baby shower – vintage with a rock and roll twist for your future Ozzy Osbourne.
You can simply connect this with your hubby's work, hobby and interests to create a baby shower that will act like the crowning of your new prince – in his dad's terms of course.
Baby Shower Cake Ideas




You don't have to magnify your screen resolution. You read it just right: censored cakes. So what are these magnificent human inventions for the taste palettes? A censored cake is when you customize the design into an animated frosting image of you giving birth or of a fallopian tube with a sperm. I think you get the idea. But these types of cakes are those you can have with an adult-themed baby shower.




Again, you don't have to magnify your screen resolution. This is a concrete example of a censored cake. Why would you want a sperm-designed cake? It is comic and it is (admittedly) funny. If you want a non-traditional baby shower and without the usual fritz from popular culture, then add this to your menu.
This is one of the top finds on the internet. Perhaps you would want to make the cake look even sweeter. This cake idea is unique and a top recommend for a floral baby shower theme.
No, it does not come in meat. This is only the title of a cake shaped like a lamb. If your baby shower theme is farm animals, then this will be a recommend. If you know the song Bah Bah Black Sheep, then this could be the personification of that song – in cake, that is.
Baby Shower Favor Ideas
Whether this will contain jelly beans or Hershey chocolates, it's your choice. This party favour is easy to do and simple. It can apply for any baby shower theme.
Personalized Hershey's Chocolate Bar
Another general party favour that you can customize according to the theme. Try to give your guests something that will sweetly remind them of the occasion.
More Baby Shower Ideas and Tips
Like to know more about baby shower ideas, explore perfect ideas for a perfect baby shower from us. Wishing and presenting the mother before giving birth to a baby is not only the highlight of baby shower day, it involves lot more things. Here we are for you to suggest you useful and wise tips under baby shower ideas section.
Taking responsibility and organizing the shower. Baby shower is not just a function it is the day to expect and welcome the baby with fun and celebration. Showering the mom along with friends and relatives will make her happy. The foremost baby shower idea would be to decide who is going to take the responsibility and how to organize the things on the showering day. If decided with a person responsible then it is next step to carry on with planning with further ideas.
Fixing the date, time and place for shower. Baby shower will be normally organized 2 months before the expected date for the birth date of the baby. The day can be any day and the time will be in the afternoon arranging for a lunch or can be in the night with a good dinner. Fixing the date well priory is a good idea which will make easy to inform friends and relatives. Deciding the place to conduct showering whether at home or in a party hall is important.
Distributing Invitations. Once the date and time has fixed time has come to start printing invitation and distributing them to friends and relatives. Spreading the word by sending invitations in advance of 2 or 3 weeks will be the best. A phone call invite will be sufficient for the very near ones. Before start distributing the invitations list of guests can be prepared to avoid forgetting anyone for inviting. Kids, mother and father all are welcomed for the showering occasion.
Deciding the shower theme. Setting up of theme on a shower day will be more fun and enjoyment. Even a small theme of decorating the place with colors will add beauty for the showering day. Innovativeness plays more important role in this. Pink is preferred and compared to a baby so in that way pink color can be the best choice for decorative items. Pink flowers decorated on all the sides with lot of pink ribbons and pink balloons will be a nice and attractive theme. Along with these ribbons and balloons you can arrange the items used for a baby all around the hall would be nice to view. Even those baby items can be in pink color to add more beauty. Lot more themes can be planned for the showering.
Choosing the menu for lunch or dinner. After spending time in wishing and playing time comes for a nice feast. Menu can be prepared for serving the guests for lunch or dinner. Items on the menu can be of light or heavy depending on the time of the showering. Ice cream and cakes will make their presence on the menu for sure. No one will go without liking ice creams and cakes.
Gifting the guests. Guests can be gifted as a memorable showering day. A small gift to remember the baby showering day will be nice for the occasion.
Wishing and honoring the mom. The mom is to be honored and wished whole heartedly. Gifts and wishes are the high lights of the showering function. Baby shower day can also be treated as a get together day for gathering friends and relatives in one place.