Here is a collection of Christmas Wishes for Friends, to help you warm relationships with friends and good wishers.  You will surely find some Christmas messages for your friends that you feel like come from the heart.
Christmas Messages for Friends
A season for giving and sharing is what Christmas is all about.
You shared your life to me all throughout the year.
I thank you for that.
Merry Christmas!
You made Christmas merrier because you are my friend.
I have always enjoyed the gift of friendship you gave me.
Merry Christmas to you!
You are a present to me.
I do not wish for anything more!
Merry Christmas to you!
Merry Christmas to the person
who knows all of my secrets,
knows the things that make me happy or sad.
I love you my friend!
It is a time for celebration and gatherings.
I wish that you may spend your time meaningfully
with the people close to your heart.
Have a wonderful and merry Christmas!
You are a proof of how good God is.
You have saved me from loneliness just like how Jesus saved us.
Have a very Merry Christmas.
On this day I want to wish you more success
so that you will continue to be a blessing
not just to me but also to others.
Merry Christmas!
Many years ago, I wished that Santa will give me a true friend.
Then, I met you and we became best friends.
Thank you for the friendship.
Suggested for you
Christmas Greetings for Friends
What have you wished for this Christmas?
As for me, I wished our friendship to last forever!
Merry Christmas!
I love you as my friend.
I wish that for this season, may you be the same person that you are.
May you be blessed with more people that will appreciate the real friend in you!
Looking at the stars, I pray that my friends
and I will stay happily together from this day onwards.
Merry Christmas to you all!
Friendship cannot be bought by money.
I am lucky that I am rich with friends like you.
This makes celebrating Christmas more meaningful!
Christmas carols everywhere, gift-giving here and there.
Christmas is a merry-making season that will be a lot special
If spent with a friend like you!
Christmas Wishes for Friends
It is Christmas time once again. Houses are beautifully decorated with colorful Christmas decorations and lights with a Christmas tree standing at the center of the house. Wonderful Christmas carols are starting to fill the open air.
May all the magic of Christmas Fill your heart
With happiness and joy.
Merry Christmas to you
May this Christmas show you the way
For a New year that is bright and fresh
Here's wishing you a Merry Christmas and a Happy New Year!
May this Christmas holidays give you
Wonderful time and Happiness
to become a the golden memories for tomorrow.
Wishing you lots of joy, love and happiness
Merry Christmas!!
May this Christmas Sparkles with love, happiness and celebration,
to pave the way for a happy new year
Merry Christmas and Happy New Year
Heartfelt holiday wishes
for a wonderful Christmas and a Prosperous New Year.
Wishing you happiness, peace and Joy
For this Christmas and for next year
Wishing you peace, happiness and Joy
For this Christmas and always.
Christmas Text Messages for Friends
I wish you more happiness
and good health this Christmas.
Have a very merry Christmas!
May you find the one that
you will share this holiday with under the mistletoe.
Merry Christmas, my friend!
I hope the birth of our savior Jesus Christ
will give you renewed hope and will to live His life.
A peaceful Merry Christmas to you and your family.
God has given us a new blessing this day.
He has given us His only son to save us from damnation.
I hope the Lord Jesus Christ may live in your heart as we celebrate His birth.
Merry Christmas everyone!
Have a happy holiday!
Thank you for being one of the people
who made this world a wonderful place to live in.
I pray that you'll be blessed with good health, security, success, peace and joy.
Merry Christmas to you and your family!
Christmas Quotes Wishes for Friends
Christmas is on the way, so smile, being happy and gay.
Brighten up your day and influence everybody to do the same.
Merry Christmas!
Love is a miracle.
It come from the heart, express by the thoughts and shared through actions.
This Christmas season, let us all share LOVE to every person we meet
and make this world a better place.
Merry Christmas!
Wherever you are and whatever you do,
if we are talking about Christmas,
There is no such place better than HOME.
Merry Christmas everyone!
In this busy world we are living, just for once,
let us slow down and feel the magic of Christmas.
Let us find our way home where we can find and share what Christmas is about.
Have a fun-filled Christmas Season!
Christmas is the season that "no man in this world is alone".
Let us take time to share love to the people who needs it.
Let us make them happy and make them experience what life is about
if the spirit of Christmas conquer us all.
Christmas Card Messages for Your Friend
This Christmas season,
I just want to let you know that we may not be lovers
but I love you as much as a lover could do.
That's why I pray to baby Jesus to keep you healthy
so that I can still keep you for the rest of eternity.
Merry Christmas to you my dear friend.
We may not be blood related but you are always there
to share my pain and care for me like we are family.
So this holiday season, I offer you wishes of love joy and happiness.
May baby Jesus shower you with blessings this Christmas season.
I don't need your presents;
all I need is the presence of my dear friend.
May we see each other again to celebrate this Christmas season together.
Have a great Christmas!
Before it's too late,
I just want to extend my love to the most valuable friend I ever had.
May the peace and blessings of Christmas be yours.
Merry Christmas my friend!
You are the best gift I've ever had this Christmas.
Thank you for being such a very good friend.
Merry Christmas!
More Christmas Wishes Messages for Friends
This Christmas season,
Baby Jesus will knock in your hearts to bring you peace, joy and love.
May you accept Him in your lives and may you live with His gifts throughout the year.
Merry Christmas!
God loves us. He even sent His only son to save us all.
In this yuletide season, let us all unite in a prayer to offer Him our thanks and praise.
Merry Christmas to you and your family.
Don't count the things that you don't have.
Instead, be grateful of what you have and share it if possible.
That is the true essence of Christmas.
May you live with it, not just this Christmas season but for the rest of your life.
This holiday season, I wish you all the best gifts of life.
The gift of friend, the gift of hope, the gift of love.
Have a merry Christmas!
Of all the people I've met, you truly stand out.
You're such an extraordinary friend.
I am so thankful to meet you in this lifetime.
Happy Holidays!
More Christmas Messages
What event or festival is complete without friends? Well friends play an imp role in our lives by being with us both at times of grief or sorrow and also happiness. So why not bless our friends with some sweet and cheerful Christmas messages. Lets sing the carol together with our friends and celebrate this festivity of joy.
In this post, you will explore the best Christmas greeting messages for friends. You can send these Christmas messages to friends and make them feel happier and merrier.
Christmas messages for friends:
May this Christmas bring lot more strength
to our bond of friendship
and Santa fulfills all your desires.
Lets share Christmas candies and goodies
together just like we share
every moment of life together.
Wishing you a Merry Christmas dear friend.
Few Christmas ago, I demanded
a sweet little friend from Santa
and I got you.
Thanks for being there with me
at good or bad times. Merry Christmas.




May this Christmas prove to be
merrier than the last one.
Wishing you a Merry Christmas.
Jingle bells
jingle bells
jingle all the way,
how much you mean to me
I need not say.
Merry christmas friend!
Christmas brings joy of celebrating
together and merrymaking
so here's wishing my sweet friend
a Merry Merry Christmas.
May this Christmas
bring health peace and prosperity along.
Merry Christmas.
There couldn't be
a better day than Christmas day
to celebrate with my friend.
Happy Christmas.
May the Christmas tree
comes bearing with it
joy bells and laughter candies.
Merry Christmas.
The best present you can give me
on this Christmas will be your presence.
Lets celebrate Christmas together.
May peace and happiness
be yours in this Christmas
and coming year be filled
with health and prosperity.
I hope you celebrate
the best Christmas of the life
and essence be with you forever.
Merry Christmas messages for friends: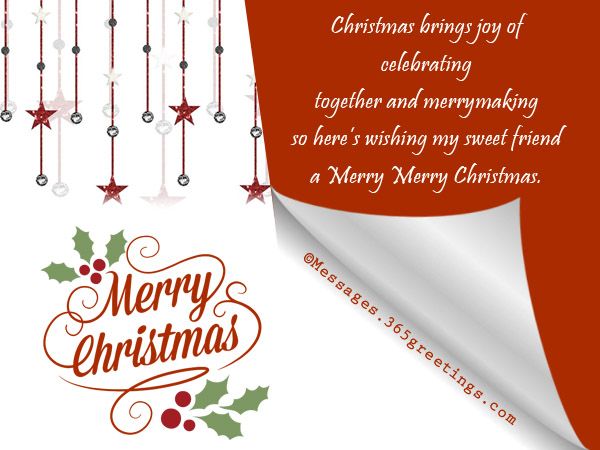 Wishing you and your loved ones
health peace and prosperity on this Christmas.
Merry X-Mas.
The best gift out of the gifts
from under the Christmas tree
can be the gift of your friendship.
Merry X-Mas.
I hope we have many jolly moments
this Christmas that
we talk about it in the coming years.
Happy Christmas!
May the good times
and treasures of present
become the memories of future.
Merry Christmas.
May the warmth of Christmas
bring love in your life.
Enjoy and Merry Christmas.
Special thanks to a friend
who has been the support throughout my life
and acted as a guide all along.
Merry Christmas Dear friend.
I hope Santa fulfills all your wishes
and bless you with health, peace and prosperity.
Happy Xmas dear friends
A friend like you in life
makes us feel like Christmas all year round.
Merry Christmas and a very happy new year.
Christmas card messages for friends:
Christmas is the time to remember
the past and hope good for the future.
Hope your future is full of success and wealth.
Merry Christmas.
Sending you messages of faith
and hope this season of holidays.
Merry Christmas and a very happy new year.
The eve of Christmas
is held in our hearts
and moments are shared with friends and family.
To the one friend
who is more of a family to me.
A Merry Christmas to you!
Christmas brings along love
and warmth in the house.
May you be fulfilled with the best of both!
Merry Christmas.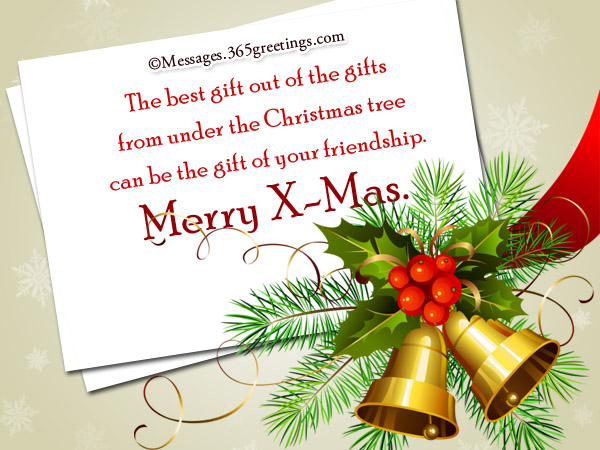 May the Christmas bells
fill your life with sweet music of
happiness, prosperity and love.
Merry Christmas.
On this Christmas,
I would like to take this opportunity
as a thank you to the one person
who has been there with me
throughout every phase of life.
Christmas and New year wishes for you!
It wouldn't be a Christmas
if we don't send greetings to our
near and dear ones,
who mean so much to us.
A merry Christmas to my dear friend.
Christmas celebrations with friends are priceless.
To all such priceless
and precious friends of mine,
a merry Christmas and a very happy coming new year.
May this festive season
come bearing with it fruits of
joy, happiness, laughter and prosperity.
The Christmas tree has so many presents
and candies and goodies on it
but the best present in my life
is the one with whom
we decorate this Christmas tree i.e. You my friend.
Wishing you a merry Christmas
and a very happy new year.
Hope you enjoyed reading these merry Christmas wishes for friends. So without wasting your time, just hop on and send these lovely Christmas wishes to friends and make your best buddies happier in this happy holiday season.