Sending congratulation messages is a beautiful way to praise someone's efforts and send good wishes when something wonderful and pleasant happens. This doubles the happiness of one's achievement. You can congratulate a person on an achievement of something or on a pleasant event occurred. Reasons of sending a congratulation messages may be many, like academic achievement, graduation, getting a new job, wedding, expecting or arrival of a new baby etc.
Here are some heartfelt sample congratulation messages that can be sent in order congratulate your near and dear ones.
Wedding Congratulation Messages
Is your friend, family or colleague is getting married? Send these beautiful wedding congratulation messages to double their happiness. It is always a good thing to congratulate the new couple and to wish them good luck for their new beginning.
I would like to congratulate you for getting married. May this new beginning bring lots of love, luck and joy in your life! Congratulations… God Bless You!!
This is a very special day, as it is a day when you are going to start a new phase of life. I am really happy that you found your soulmate. Hope your bond of love grows stronger and stronger with time. Congratulations and wish you a very happy married life.
Heartfelt congratulations to you a wonderful couple. May you live a life which is as beautiful as bed of roses and as joyful as the chirps of birds! Congratulations!
You have found your soul-mate for life, She is now officially your wife, I wish you both live with joy and love… And God showers his blessing on you, From the heaven above!!
Today is really a beautiful day? You know why? Because, today is the union of two people in love, And they will become two-bodies-one-soul forever!! Congrats!! Happy Wedding Day!
I am so happy, To see you get married to the one you love, I pray to God, To make you life beautiful, And fill it with warmth of love, And the graciousness of luck!! Congratulations!!
New Baby Congratulations Messages:
Arrival of a new baby is an incredible moment for parents. For them, it is a reason to celebrate and a reason to enjoy. You should congratulate the new parents for the arrival of their new family member and wish them good luck as they begin the parent-hood phase of their life. Your simple congratulation message can brighten that special moment of their life. So, here are some beautiful new baby congratulation messages that you can send to the parents of a new born baby.
On the arrival of your priceless treasure, I would like to congratulate you both, as you are now promoted to a designation, that is above all the designations in the universe. Congratulations new mommy and daddy!!
It time to adore the cute wriggles, The delightful sight of newborn baby's jiggles, Heartfelt congratulations to the new parents, For it is time to celebrate your baby's giggles!
As the newest member of your family arrives, I pray to almighty to combine all the happiness, And love and luck of the universe, And gift it to this beautiful child, Making him/her the luckiest child in this world! Congratulations!
I wish was I was there, To hug you tightly, And congratulate you for the arrival of an angle, In your family!! Please accept my wishes for you, and blessings for your baby girl. Congratulations!
I am running short of words, to express my happiness and joy. I would like to congratulate to both, For, God has blessed you with a baby boy!!
May your cute little pie, rise like sun, shine like moon, and sparkle like the stars. Congratulations and best wishes for your baby's future!
We praise God for the safe arrival of this new baby. It has been a long and challenging journey but you have all come through safely. May God grant you the grace to care for the little one, and may your baby be safe and protected always. Congratulations on your new baby.
We have all been blessed at the birth of this new baby. We share in your joy and we will always be there for you whenever you need us. This baby belongs to us all. Congratulations on your new baby.
Congratulations Graduation Messages:
Graduation day is a memorable day in one's life. It is proud moment for each and every student. Whether you are a parent, relative, spouse, sibling or just a friend, you should not miss a chance to congratulate the near and dear one on its graduation day! Here are some wonderful graduation messages that can be sent. Check them out!!
Go chase your dreams, You now have the wings,
Your are now a graduate,
Come on, let's celebrate!!
Congratulations!!
It's a new beginning of your life,
It's a brand new endeavor,
I wish you get what you dream for,
And achieve lots and lots of success!!
Congratulations, you are a graduate now!
May God bless you with strength and determination,
And prepare you for the unseen future!
But for now, it's time to celebrate…
Cheers to you, my new graduate!!
As you graduate today,
I and your uncle John feel really proud of you!
Keep up the good work,
And never ever stop working hard!!
Congratulations and Enjoy!
With all my heart,
I would like to bless you my Son/Daughter,
For now, you are a graduate with such good grades!!
You truly made us feel proud today!
Congratulations!!
Congratulations on a New Job:
Finding a new job is an achievement. It is very essential that you congratulate and wish luck to your friend, colleague or a relative on getting a new job. This provides encouragement and strength to the person who is about to step into a brand new work environment. Check out the wonderful list of congratulation messages below and feel free to share with your near and dear ones.
May this new job of yours be fun and impelling, May you enjoy your work to the fullest! May you accomplish you new goals; And may you get lots of success!! Congratulations for new Job.
Luck is a stalker! It stalks hard working people, Enter their lives, And surprise them by gifting, Such wonderful gifts like your new job! Congratulations Dude, It's all because of your hard work and good luck!!
New Job is a start of a new phase, Remember to learn from the failures of past, Cherish your achievements, And move ahead will full confidence, And I am sure… Success will be yours!! Congratulations!!
It was not a matter of chance, But it is a matter of your ability, And your hard work, And your determination, that has gifted you A new opportunity, a new job, To prove yourself once again, Reach the soaring heights of success!! Congrats… Its time to celebrate!!
It is not about the salary package, It is not about paying the bills, It is not about the company's name… But It is about your happiness, Of getting this Job, And you efforts and hard work, that has paid off!! I wish you a very good luck, With you new job role!! Congratulations buddy.
It is a brand new opportunity for you. Just grab with all your heart and soul, And take the best out of it!! Congrats and best wishes for new job!
New opportunities will bring new challenges with it, Never feel afraid and give your best, I am sure… you will reach the heights of success!! Congratulations on getting a new job.
Congratulation Messages for Achievement:
Behind every achievement, there is the hard work, efforts and sleepless nights! It is very important to praise one's achievement. This encourages the person to work more hard and put more efforts for the next goal. Here are some sample congratulations messages for achievement. You can send these messages in order to congratulate and praise your dear ones for their achievement.
Congratulations!! It is a very proud moment for us. You have achieved what you dreamt of! Long way to go!! God Bless You.
Your sparkling eyes reflect the joy, and excitement of your achievement! May God fill your life, With endless moments like this!! Congratulations.
Your hard work, Enthusiasm and dedication is commendable. Many congratulations to you! Hope you witness many more achievements like this.
Success is like climbing a hill, It is hard and full of failures, But in the end… everything is worthy!! I glad you reached at the top of the hill! Congratulations for this achievement of yours.
Your efforts, Sleepless nights, Enthusiasm, Hard work, And determination Finally paid off!! You are true inspirations to all around you, And we are really proud of you!! Congratulations!
These were some sample congratulation messages. We really hope you liked these messages. You can send these messages by writing them on a card, or by text message, SMS or email. You can also send beautiful tweets on twitter and post status on Facebook along with these messages and tag the ones, to whom you wish to congratulate.
Congratulation Messages for Success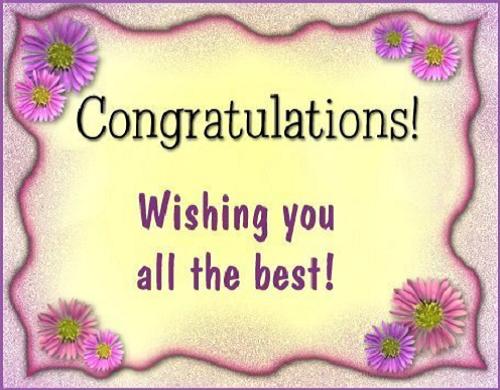 Behind everyone's success, there is effort and dedication present. Anyone's success should be given recognition by sending them congratulation messages for success. Sending them congratulation messages for success will make them understand how you recognize their work and their efforts to reach that.
Here is my heartfelt congratulation on your success. I wish you to attain many more success and let all the happiness in this world will be yours
Congrats! This is not a new surprise for us to see your success. Success is all your right from day one when you started achieving.
The new success of yours is yet another milestone in your success story. You are for sure going to attain new heights with lot more successes.
I know you would attain this success very soon and easily than anyone can achieve it. Congratulations my dear!
Let's celebrate your success! Expecting for a big party on the way! Continue breaking your own records! Congrats!
Proud to be your side while you rock achieving success in all the things you do. It's time to hear the success news! Congrats on your success!
You always fulfill the expectations of the people around you. We expected your success and here you have made it! Congrats!
Success is yours always on the new ventures you take every now and then. We congratulate you on this wonderful moment of success.
Short Congratulation Messages for Achievement
But if you want to keep your congratulation messages short and simple, you can choose from below samples. These short congratulations messages are perfect to be sent as SMS or as dedication for celebratory gift note. Either way, choose from these hand-picked congratulation messages and tweak according to your recipient.
Something great I am overjoyed with your success. Congrats
You have done remarkably well at such a young age. My best wishes are always with you. Hey you have done well. Keep it up! My best wishes are with you. Congratulations!
You are truly an inspiration for others. Congratulations and Keep it up
Hey you are woman who will inspire others. You are a proud for us. Congratulations
You made it and we are proud of you. Keep it up. Happy Wishes
Wonderful achievement! Your hard work has paid off!! Congratulations
I am feel proud about you. Congratulations!
I am so proud of you. You've accomplished a wonderful thing by dreaming, planning and believing in yourself. Sending my heartiest congratulations on your achievement. Congratulations!
I am so happy for you. You deserve this huge success. Congratulations on your achievement!
Your wisdom, enthusiasm and dedication are so inspiring. Wishing you greater achievements in the future. Congratulations!
All this time, I knew you could do it! Now, your hardwork and dedication is finally paying off. I'm so happy and proud of you. Congratulations!
Congratulation Messages to a Winner
Someone bag an award or won in a competition. You want to congratulate them but you don't know what to say other than a single word "congratulations? No worries, we have some samples of congratulation messages for winners and to those who won something amazing. Here are they:
You have proved that you are hardwork and Honesty are the best policies Congratulations
You are a shining star Well done.
Congratulations! May this moment shine forever
Keep climbing new heights of success, this success is milestone Congratulations
Congratulations for you and I am sure that this is the start of a bright future
Congratulations for setting new standards. May you scale new new heights. Keep it up!
Congratulations on winning this year's competition. You deserve such award because you truly are a dedicated and hardworking person. I wish you more accomplishments and awards in the future. You can do it!
My heartiest congratulations to the most dedicated and hardworking athlete. You deserve winning the competition. The efforts and dedication for many years is finally paid off. Congratulations and more power to you!
Congratulations for bagging the award. I wish you more awards and greater achievement on the following competition. More power!
A round of applause for you for winning an award. May you be blessed with more achievements and blessings. Congratulations!
Congratulation Messages For Achievement
Making the impossible into possible is your own style. Congrats for your success!
The secret of your success is your way of greeting tough and easy things in a lighter way and winning them over in your style. Keep going and success will be yours always! Congrats!
You very well deserve this congrats for your hard work and dedication. Congratulations on your success.
Living up to the expectation is itself a great success and you have made it! You have a promising future ahead! Congrats!
You are an inspiring personality and you are an inspiration for the young followers. You deserve every single success in your life! Congratulations!
Strength, determination, challenges and confidence counts your success! And that is the secret of your success! A big congrats for you!
May this success lead to a greater achievement in the years to come. Congratulations for present and upcoming successes.
Even though you have faced hardship in many forms, you held your head high and didn't back down. I am so happy for you for your achievement. Congratulations.
I knew you could do it! You have it in you. You deserve everything. Congratulations!
My warmest congratulations for your achievements. I and the rest of the team are so happy for you. More power to you. I bid you good luck and best wishes as you face new challenges on greater heights. Congrats!
And there you have it! We hope that our collection of congratulation messages help you as you write the perfect congratulatory notes for your friend, loved ones, co-workers or teammates. Don't forget to share you opinion or feedback by commenting or sharing our post. Best of luck!