Angels, or messengers of God, come in our lives in many forms; often as parents, sometimes as lovers, as mentors or even as children. They are special people who make our life fulfilling. Whatever form they take, they spread happiness in our lives and give warmth to our hearts. They guide and protect us at every stage and make sure that we are safe. Though we always feel unlimited love and gratitude towards our angels, sometimes we wish to express our feelings by thanking them. Here are some messages which will make it easy to tell them how special they are.
Angel message for today




You look upon me like an angel from the skies.
Angelic halos shine around you,
your wings protect me from the world;
you are my guiding light.
If ever there was an angel on earth,
it has come to me as you.
An angel came down from heaven
and was born to love me deep from the depth of heart.





I have thought of you often before,
in my dreams and thoughts.
I never knew God would bless my dreams and send to me an angel.
As you tread the heavens,
it seems you look upon me and ask the stars to make my fortune shine.
I am in doldrums, o God;
please send an angel to save my soul tonight.
Hear my prayers and help me see my guardian angel.
                                       Thou art an angel from the heart;
                                       your soul as pure as dew drops,
                                       your eyes shining divine,
                                       and your touch heals my wounds.
I know that angels are watching over me as you are holding my hand.
I know I cannot go wrong as you guide me.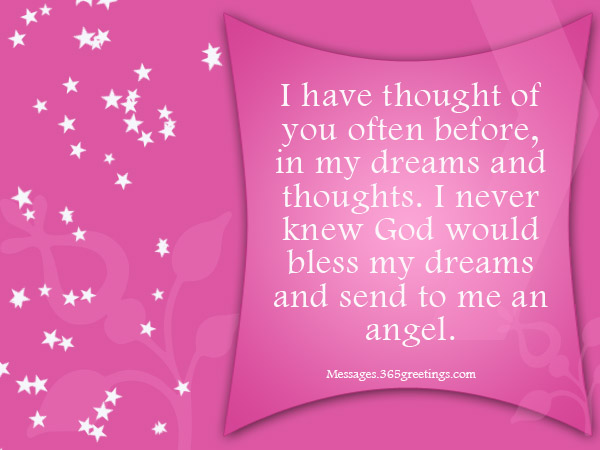 Your love is as blissful to me as angels showering their blessings,
and caressing me with affection.
Free angel messages
I was walking alone along the path,
an angel came down from the heavens and completed my life. Be with me forever my love.
I know that there are angels somewhere. But for me they are all around me, just with a different name. I call them by friends for life.
I spent an eternity with an angel.
I realised it was just a sweet dream with you at my side.
The way you correct my errors, make my tears disappear,
bring smile to my lips, and make me a better person,
it's easy to believe that my angel has been sent.





I must have done some good deeds to deserve such an angel as you.
I'm spellbound by your beauty. It is like looking at the face of an angel.
One day God left behind an angel,
and she came to me to make my life special.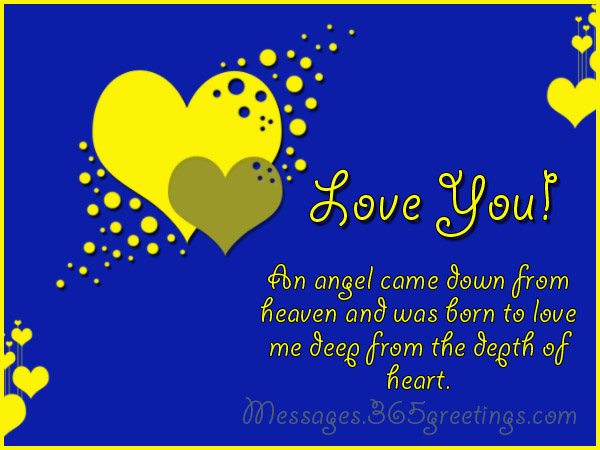 If you spread your angelic wings and fly to the paradise,
tell God that I love Him for sending you to me.
 Angel card messages
Relations you cannot choose, but friends you can.
So choose your angels with care and don't ever let them go.





Raise your spirit and look towards the heavens.
An angel is there, made just for you. He lives in your heart.
                            Mothers are angels whom God sends,
                            as he cannot look after everyone himself.
Why do people wait for angels? I redeemed my soul when you touched and blessed me.
                        An angel will envy your smile and pray that he could be as pretty as you.
Angels are sent down seldom on earth.
I, thank God, do not need to wait for them.
I have my best friends by my side.





Angel relationship messages
You taught me to be good and to make mischief.
You held my hand and explored the world.
Brother, you are my guiding angel.
I was praying silently, kneeling down before an angel.
It came to life and smiled upon me,
held my hand and blessed me with eternal love.
There is no man without fault; thus you appear to me to be an angel.
Only an angel can be as selfless as you.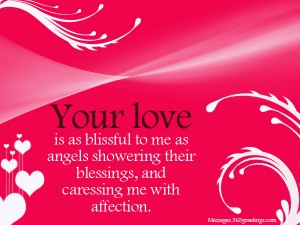 Since the time you held my hand, wiped my tears,
gave me strength and led my path,
I have stopped looking for angels.
Angel love messages
I have waited for you for long, dreamt of you, and prayed for you.
Now, my little angel, I have you in my arms and tears of joy in my eyes.
If it is true that fools dare where angels fear,
then I will put my steps with caution.
Amongst the stars you shine,
and look upon us from the heavenly abode.
Though you have left the world,
we know you are with us, our guardian angel.
There is no power on earth that can make stones melt,
but your angelic love and warmth is beyond worldly powers.




I met you when I was in despair,
                         and trusted you to make things better.
                         Only now I can see your halo and wings,
                         and realise that you are an angel indeed.
I thank my stars for blessing me with father like you. There is nothing that you won't do for me, no promise that you will break. You are my hero, my angel.
Your presence is special; in the way you make me feel and elate my senses,
I can say for sure that you are an angel at heart.
From this day, I bid adieu to all other supports in my life,
to lean only on you.
Hold my hand gently forever,
be my loving angel, and make my prayers come true.
I did not believe in angels till the day I met you.
Now, next to you, I feel I am a lesser human being
and can be better with your help.
It is your angelic love that has made you so special.
It wants nothing in return and never exhausts itself.
With wings of love we can soar through the air,
reach anywhere and touch the skies.
Lend me your wings dear angel of love.
When you hold me, I float in the clouds like an angel.