Are you looking for beautiful words of love to express your love? If yes, then this post is just for you. Finding the apt words of love to express your feelings can be difficult, but not here. In this post, you are going to explore the most romantic, inspirational and encouraging words of love. These words of love will surely provide words to the unsaid and untold feelings of love in your heart for that special person of your life.
Inspirational words of love:
This is out first section where you will read the best inspirational words of love. These beautiful words will make your lover feel love-inspired. Not only this, but if you have a love interest or you have a crush on someone, you can send these messages to make this realize how beautiful the feeling of love is… and you never know, they might just fall for you!!
**********





Do not dwell in the past.
Always live in your present
for its worth your time.
And present is really beautiful,
as it is full of love!
**********
In true love,
age and distance
are just numbers.
**********
Love is one such pure feeling
where only hearts talk
and everything else seems
to be unnecessary.
**********
Always love yourself
first then only you can learn to love others.
**********
Love not to bind them
but to unwind them.
**********
Remember them with soft love songs
instead of sad emotional songs.
That's when love grows manifolds.
**********
Love should be your strength
instead of being your weakness.
**********
Find love in the eyes of person
in which you see everything.
**********
Love is the most beautiful disease
that can be spread around.
**********
Love each other till the height,
width and breadth your soul can reach.
**********
Where there is love,
there is liveliness.
**********
There is no limit to love and spread love!
**********
A loved soul is the most
blessed soul in the world.
**********
Love also instills
a feeling of maturity in oneself.
It lets you see the world differently and with care.
**********
Love is 'smiling you'.
Love is 'laughing you'.
The most cherished part
of my daily living is always 'loving you'.
Words of Wisdom about Love:
Words of wisdom play a very important role in inspiring the person for positive and joyful thoughts. Words of wisdom about love can help people understand that beautiful feeling called 'love' in a much better way. In this section of ours, you will get to read the best words of wisdom about love. You can share these words of wisdom with anyone in your social or personal circle.





**********
Love is not only between lovers.
It can be between any two souls
sharing a strong relationship.
**********
The bond of love
is the strongest for it is tied
with the most tensile thread
of feelings and emotions.
**********
Love is when
there are words unsaid
but feelings felt closely.
**********
Love should be
the reason to success
in every aspect
as it is the most
beautiful feeling in the world.
**********
One who hasn't loved,
hasn't experienced the world's most divine feeling.
**********
Let yourselves be loved
and you shall have power
to conquer anything in the world.
**********
Love is not about
having similarities between the souls,
its about respecting the differences.
**********
Love is when he/she is beside you every time,
be it time of sorrow or happiness.
**********
If love makes you look stupid,
never step back from it,
as this is the stupidity
that you will cherish forever.
**********
Love is having four eyes,
four legs, four arms,
but a half heart.
**********
Do not look for love,
instead look for person with love.
**********
Love is not loving each other young,
but it is more about dying old together.
**********
Love makes
even the most imperfect souls
to thrive perfectly.
**********
If I would be asked
what I am thinking at any point of time,
it is you.
**********
Love is when
words become superfluous
and feelings talk to each other.
Romantic Words of Love:
Are you looking for romantic words of love to send to your lover? If yes, then this section is surely going to help you. Here, you will read the most romantic words of love. These romantic words of love will help you in expressing your feelings to your lover and will also spark up your romantic life.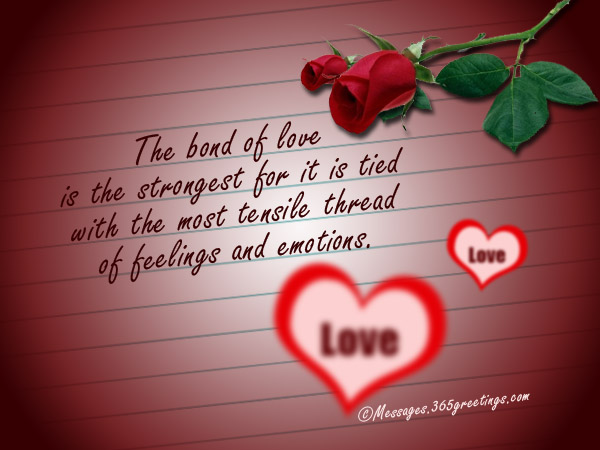 **********
Bring love in any relationship
or work that you do
and you shall start enjoying it differently.
**********
Rise in love
and you shall possess
the power to overcome
any difficulties you may face in future.
**********
Falling in love
can't be a one time practice.
I fall in love over and over again
on seeing you smile.
**********
Love makes your life a fairy tale.
**********
Love makes you fly high
even without alcohol.
That's the magic of it.
**********
Love for me is,
when everything starts with you
in the morning
and ends with you in the night.
**********
Love is a feeling
that drives us crazy
and that craziness lets you experience a different world.
**********
When you love someone,
the only thing that matters
is their happiness no matter what it may cost us.
**********
Love makes that one person
your world even though
they are just a person for the rest of the world.
**********
Its not about dying together
like Romeo and Juliet
but living and growing old like grandparents.
**********
Everything becomes just perfect
when your loved ones are with you always.
**********
Love is like
making that beautiful dream come true
of spending moments together.
**********
Love is when
they understand your feelings
even without you saying a word.
**********
Love is about silently
caring for him/her
and looking after them without their noticing.
**********
Love need not be perfect,
it just needs to be true.
Words of Love and Encouragement:
There are many people who are scared of taking risk in love. These people need a dose of encouragement on love and life in order to make them realize the worth and importance of it. This is the last section of our post where you will read the best words of love and encouragement. You can send these wonderful messages to anyone who is in need of encouragement regarding love and life.





**********
It is not about
changing just a relationship status,
instead its about changing lives.
**********
Love happens to all.
It's just that
we need to wait for the right moment.
**********
Love God
and God will hand you
to the best person suitable for you.
**********
You should have
the best understanding
of the differences in love.
**********
True love doesn't have
a happy ending,
because it never ends.
**********
Don't wish for someone
to love you completely
but wish for someone
who will complete you!
**********
Love is not only about caring
and showing love on a date
or beside a beach or at a dinner,
it is also about respect,
trust and compromises.
**********
Always keep love in your heart,
for without it,
heart is like a flowerless garden.
**********
In love, other person's happiness
is more important than your own.
**********
Just like a flower can't blossom without sunshine,
similarly a person cannot survive without love.
**********
Never fall in love,
instead rise in it
for love has the power
to rise dead from the graves.
**********
It is love when two souls unite to form one.
It is love when two hearts beat like one.
**********
Love completes life,
it redefines living.
**********
Love not only brings
two souls together
but it also helps us
to gather strength overcome the barriers
and shortcomings in between.
**********
Love brings music,
joy, comfort, happiness
and all worldly pleasures
once you start experiencing it.
**********
In order to be love,
spread love!
Love is such a beautiful feeling. But very few people realize it. Therefore, in order to spread love in the world, it is very important to encourage them for love and make them realize how beautiful it is to be in love. Hope you enjoyed reading all the lovely sections of this post. Even I enjoyed writing all these messages for you, with a hope in my heart that these messages will help you and other people around you in some way.
Remember, keeping spreading the magic of love. After all, In order to be love… first you need to spread love!!