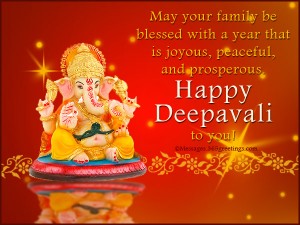 Diwali is probably one of the most festive holidays for Hindus. Also known as the festival of light, Diwali is celebrated with so much merriment and zeal. It marks the legend of God Rama and his wife Sita, returning to the kingdom after he defeated the demon king Ravana. The people in the kingdom welcomed their return by lighting their way with lamps, also called as Diyas.
Diwali is a five-day celebration which usually falls between the months of October and November. You can feel the festivities in every corner of the country during the holiday. There are overflowing sweets and delicacies, parties and family gatherings. Of course, like in any other Hindu holiday, there are prayers and worshipping as well.
As part of the celebration, people also exchange Diwali cards among friends and family. This year, if you want to send your Diwali greetings to your loved ones, you can do it the traditional or digital way. You can send these Diwali e-cards through emails or share on social media accounts. OR, you may download these printable Diwali cards and print. You may insert your own Diwali messages on them. Happy Diwali!
Diwali Greeting Cards
This Diwali, don't forget to extend your warmest greetings to your family, loved ones and friends. Send them these heartfelt and beautiful Diwali ecards. These colorful and lovely Diwali cards will surely lift their mood even more this festive occasion.
I wish you have the best Diwali with the best people around you and may the best of your wishes come true. Stay blessed! Happy Diwali

May the most desperate wish of yours be granted this Diwali. May Lord Ganesha bless you. Happy Diwali

On the divine evening of Diwali, may Lord Ganesha grant you your dearest wish ever. Be blessed. Happy Diwali

As the festivities and celebrations of this wonderful festival of lights begin, I pray to the Universe to bless you with abundance. Happy Diwali

As you silently make a wish on the auspicious occasion of Diwali, I'll silently make a wish to make all your wishes come true. Happy Diwali

God is always listening. So, make the most of this auspicious occasion of Diwali by offering the best to God and making a wish and I will pray for it to come true. Happy Diwali

Light diyas, perform puja, burst crackers and eat sweets. May you have the best of best. Have a happy and safe Diwali.

Diwali is truly a splendid occasion when we meet the loved ones and exchange greetings and gifts. May you get the experience the best of it. Happy Diwali

Diwali is not always about being together; it's a festival of love and light. I may be away from your eyes but know that my best wishes are always with you. Happy Diwali

I wish I could fly to you this very moment and celebrate Diwali but not to worry; my best wishes are with you to keep you warm and safe. Have a fabulous Diwali.

I remember how we used to burst crackers together on every Diwali. Don't be sad if we are not together. Know that you are always in my thoughts and I am always praying for all your wishes to come true. Happy Diwali

It is time to be with family, meet neighbours, visit relatives and friends. The fun and frolic time of Diwali is here. Happy Diwali

May you be blessed with the wealth, health and prosperous life; this is my wish for you this Diwali. Happy Diwali

May the almighty from up above the heaven grant all your wishes as you perform the Diwali rituals. Have a blessed Diwali.

May the wonderful spirit of Diwali gladden your heart and fill your life with joy. Happy Diwali

May you get to celebrate the spirit of Diwali with your dear and near ones. Happy Diwali

I wish you be blessed with good fortune and prosperity on this special occasion of Diwali. Happy Diwali my dear!

Sending your way the warmest, happiest and most joyous Diwali wishes. Kindly accept it and give a huge smile in return. Thank you!

Please accept my sincere wishes for you on this Diwali. May you have a great time with the ones you care for! Happy Diwali!

The most gracious and joyful festival is here! Yes! It's our favourite DIWALI my dear! Happy Diwali

May the delightful evening of Diwali makes you experience the beautiful moments that touches your heart like never before. Happy Diwali!

Diwali is all about sharing sweet, treats and feasts with your loved one, may you you have a memorable time. Happy Diwali!

That beautiful time of reunion with the ones you love, is here! I hope you have the best Diwali my dear!

May the glowing diyas illuminate your heart and soul with joy that never ends. Have a beautiful and memorable Diwali.

May Lord Ganesha bless you with wealth and wisdom on the divine night of Diwali. Happy Diwali!

May the best of fortune be with you as you try your luck when playing cards of the Diwali night. Have a great Diwali.
Free Diwali Cards and E-cards
Gone are those days that you have to buy your own traditional Diwali card. Now, you can just browse your choice of card and send them instantly to your recipient. There are so many free Christmas electronic cards or e-cards that you can use and share. Here are some of them:
Happy Diwali Cards
Send your warmest and best Happy Diwali greetings with these beautiful and colorful cards featuring the diyas. Diyas are known to be one of the spectacles of Diwali. Illuminate your life with the light of Diyas and wish the same to your dear ones by sending out these greeting cards.
Diwali Cards Images
Are you looking for images of Diwali cards to send? Or maybe you're searching for free printable diwali cards that you can personalize and print for this coming Diwali 2014. Well, these cards can also be used with that purpose. You can download and personalize these cards. You can also add your own messages on them if you wish.
Romantic Diwali Cards
Aside from your close friends and loved one, don't forget to greet those who are close to your hearts a warm Happy Diwali. Be it your spouse, partner in life, or boyfriend/girlfriend, make sure that you still let them feel that they are remembered on this special occasion. Be sure to send these sweet diwali cards created just for them.
Diwali Cards for Friends
Diwali Cards for Family