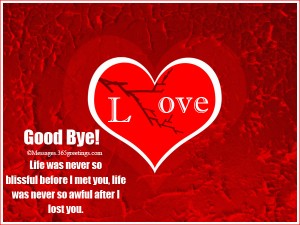 Not all love stories are successful. Not all love stories have happy endings. The pain of breaking up with your lover is really intolerable. What has happened cannot be changed. But there is always a way out. And that way is to express your feelings. When you will say-out your feelings with your friends and close pals, you will feel much better and much lighter. Every time you feel low, you should ping your friends and talk to them about your feelings. You can also update status on Facebook or Twitter. Your friends provide you strength and will make you strong. Some will tease you to make you smile. This will help you forget your pain.
In this post, you are going to read the best break up messages. Feel free to share these messages with your near and dear ones to express your heart out.
Break Up Text Messages:
This section has some of the best break up text messages. If you like forwarding messages to your friends and close buddies, then you can send these break up text messages to them. You will also get to explore some messages that you send to your ex-lover in order to express yourself. Apart from SMS, you can also send these messages on WhatsApp, ChatOn, WeChat, BBM etc.
**********





I wish you were here,
just when the rain pours down,
I wish you were near,
when my tears roll down.
**********
No matter what they say,
in my heart you will always stay.
the joy of togetherness was a blessing,
but now the fear of loneliness is a suffering.
**********
I think of you the whole time,
with you my life was a beautiful rhyme,
your presence filled it with pleasure,
your absence makes it a lot more miserable.
**********
If you were the waves,
I am the rock at the shore,
no matter how much you hit or hurt me,
I am always there to calm you down.
**********
I wonder what hurts more,
the realization of you going away,
or the fear of me not taking,
that road of love, anymore.
**********
you left a void in my heart,
I cannot survive with the thought of living apart,
you come and go in my dreams every night,
my mind has lost the ability to decide,
what was wrong and what is right?
Sad Break Up Messages:
Are you unable to find the exact words to express your sadness or depression? Do want someone to give words for your feelings? We are here! Below, you will read the best sad break up messages. These messages will surely provide words to your feelings. We really hope you find these messages helpful and useful.





**********
Love should also come with a statutory warning –
"Falling I love will be disastrous for life."
**********
A good cry is much better
than a woeful relationship.
At least it clears the burden of heartbreak.
**********
It's the silence that hurts the most,
it's the ignorance that rips out the life.
Thought we were two inseparable souls,
it was this belief that had kept me alive.
**********
My heart still beats for you,
My life still thrives for you.
You may have left me alone forever,
but I am still waiting for you.
**********
The moments of togetherness, I miss,
The laughter that we shared, I miss.
You were the one with whom
Life spent was such a bliss.
**********
If only,
I could have got to express my feelings.
If only,
I could have shared more moments.
If only,
You could have turned back once.
If only,
My heart would not have been broken..
If only…
**********
You cared for me, I cared back
You shared with me, I shared back
You said you don't love me, I can't do that
You walked away from life, I can't forget that.
**********
Waiting for you to come into my life
could have been more bearable
than the realization that you will never
return back after breaking my heart.
**********
If only dreams were the place
where I can be with you even if you deny,
I would never want to come to real world.
**********
If there were times I could get back to,
it would be those moments spent with you
If there were laughs I could get back to,
it would be the ones shared with you.
If there were any life I could get hold on to,
it would be the one spent with you.
If there was a chance to correct the wrongs,
it would be the one where I proposed you.
**********
Life was never so blissful
before I met you,
life was never so awful
after I lost you.
**********
This heart would forever beat for you,
This soul would forever crave for you.
If only you would have stayed longer in my life,
I would have shown how much love I have for you.
**********
It is easy to love but difficult to forget,
It is easy to give away love than to get.
You never realized my worth in your life,
But you hold a very special place in my life.
Break Up Status Messages:
In this section, you are going to read the most amazing break up status messages. You can put up these messages as your WhatsApp status or BBM status. You can also update these messages as your status on facebook. This will save you time which you will invest in sending the messages to your friends circle individually. A common status update will help your feelings reach each and everyone in your network and would let people know what you are going through. So, go on read these break up status messages and update the suitable one.





**********
Being loved is a blessing,
one which I am deprived of from you.
**********
The silence of words, the sadness in smile,
None of these would have happened
if you understood the feelings of mine.
**********
It would be a fault in my stars
only for not getting loved back,
for you are the gem
that has the purest of ingredients.
**********
Seeing old pictures and remembering
the happy times spent together…
Gives me Heart-Ache!!
**********
**Feeling heartless**
**********
No feeling left now
**********
And one of us walked away
**********
Still my heart beats for him/her
**********
Love No-One, It Hurts
**********
Still love you, with shattered pieces of my heart
**********
You cannot love me back is your choice,
but still not getting loved is not your option.
**********
Sometimes it's better to keep on loving
than succumbing to the thought of
never being loved back.
**********
Never try to mend a broken heart,
for once its only heart,
second time it would be a person.
**********
The most loving ones are the ones
who are loved back the least.
**********
To love someone is to love unconditionally,
no matter how much they hurt you.
**********
Reading old conversations
and realizing how close and loving we used to be.
Break Up Love Messages:
In this section, we have the best break up love messages for you. There are times in life when you want to say so many things with your closed ones, but you run short of words. You try to speak up but in vain. Those are the times when these messages should be sent in order to pour your heart out and share your feelings.





**********
Love gives pain,
so never fall in love.
**********
It is the love,
that can make your life,
as beautiful as heaven,
and as woeful as hell
**********
She left me,
my mind knows this,
but heart is not ready to accept it.
**********
Someone has right said-
'Promises are meant to be broken'
especially promises made by lovers.
**********
Dying unloved is better than
living with the thought of never being loved back.
**********
Love is just a part of life,
don't make it the heart of life.
**********
That face I admired the most,
that smile I cheered for the most,
that girl I loved the most..
How it turned to that girl who hurt me the most!
**********
No one can love you as much as I do,
No one will care for you as much as I do,
You were the one I did anything for,
No one will die for you as happily as I do
**********
Keep their memories,
not the person in heart,
For when they leave,
at least the memories won't make
that much an empty space.
**********
The feelings of love for you
will always grow,
But how much it hurts to lose you,
You will never know.
**********
It is hard to replace the ones you loved
even though knowing the fact
that you have already been replaced.
**********
Don't cry for me like I cried for you
Don't wait for me like I waited for you
I might not be the one you left
So don't try to love me like I loved you
**********
You may break the heart,
you may rip the soul apart
But you can't take away the memories
which have made a home in my heart.
**********
Tears may dry,
heart might beat again
But once you are gone,
nothing will ever be the same again
**********
Loving you with every broken piece
is the only choice I am left with after you left.
**********
'I love you'
how these three words can catapult a heart
or build castles of faith,
only a person with courage
to express his feelings can understand.
Funny Break Up Messages:
If you are amongst the few cool people around, who understand the fact of break up and you are looking for funny break up messages to share with you friends, then this section is for you. We really want that every single person going through this phase of break up try to understand the fact, accept the reality and try to move on with a happy heart.
What is gone, is gone. It will never come back. You should try to take things in a lighter way and should not loose hope. You can also send these messages to your friends or closed one who has broke off recently, in order to make them smile for a while. This will help them take things in a lighter way.
**********
Roses are red
Sky is blue,
Forget her dude,
she never loved you!!
**********
Never feel sad about three things in life:
-Missed local train
-Missed Bus
-Gone Girl
because all these go,
and another one is ready to come.
**********
Let's party,
You broke-off finally.
And you are free to
flirt around with hot guys
in the pub!
Cheers!
**********
Crying for break up
is like crying over the spilled milk.
Its totally of no use,
better fill your glass with
another drink and enjoy life.
**********
Happy Independence Day Buddy!!
Confused?
ohh, my reason for sending this is
your BREAK UP !!
**********
It's the boy,
who is gone…
Not your iPhone,
neither your facebook account.
See the scope,
don't loose hope.
Not every problem is permanent, neither is this phase of your or your friend's life. All we want to say is cheer up and enjoy. Life is very beautiful. Live it to the fullest.
These were some of the most unique break up messages. Hope these messages and quotes would have helped you in expressing your feelings out. You can explore around our website for some really cool, funny and unique text messages, wordings and sayings.
Happy Reading & Stay Connected.