Love is a gift of God. If you are in a relationship with the one you love, then you should consider yourself lucky. But with the passing time, people tend to loose that magic and spark of love in their relationship. Therefore, you should try to maintain that spark and magic of love in your relationship. There are many ways to maintain the spark in your relationship. Those ways can be by sending gifts, planning romantic surprises, going on a short romantic holiday, taking your loved one for dinner, or by sending sweet and Romantic SMS Messages and text messages.
In this post, you are going to read the best romantic SMS messages. These short messages can brighten up the face of your loved one with joy. Simplest way to send these messages is via SMS on your phone. If you are frequent Whatsapp, WeChat or BBM user, then you can also send via those instant messengers too.
So what are you waiting for? Scroll a bit to explore the new world of romantic SMS text messages.
Romantic SMS Messages for Girlfriend:
Is you girlfriend angry with you? Are you looking for some unique romantic messages that can make your girlfriend happy? Are you feeling loved and want to express your romantic desires to your girlfriend? If you answer is yes, then this section is an end to all your searches. Check out below, the most romantic SMS messages for girlfriend. Feel free to send these SMS text messages to your girlfriend to express your feelings.
I never make a wish,
when I see a shooting star at night.
Wondering why?
Because I have you in my life,
And I want nothing else.
Love you.
**********
In this lonely night,
I want to hold you tight;
I swear this feeling is true,
Yes tonight, I want to love you!
**********
My heart is on fire,
It is having a burning desire;
To have you beside me tonight,
And to love you all the night!
**********
Your eyes are magical,
Your face is charming,
Oh my dear,
You are such a darling.
**********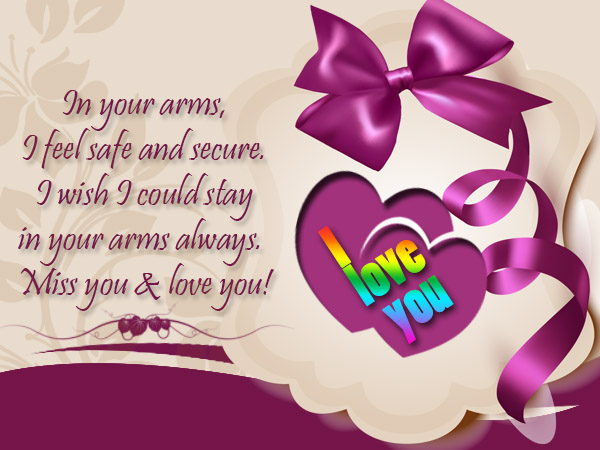 I am jealous of your teddy bear.
Why?
Because every night you hug
your teddy bear tightly,
Before falling asleep!
**********
If ever I make you angry,
You have a right to hurt me anywhere.
But please don't hurt my heart,
because that is the place where you live.
**********
Butterflies may fly,
Up high in the sky;
Oceans may also run dry,
But my love for you,
Will never ever dry!!
**********





Your wholehearted
And unconditional love
Clearly depicts your loyalty
and faithfulness.
Love you a lot dear.
**********
Let's play the game of love tonight.
Either you will loose in to me,
Or I will loose in to you.
But winner will be both of us.
**********
Your red cheeks,
Your blushing face,
Your sparkling eyes…
Oh dear,
I really want to love you tonight.
**********
When I met you,
I was scared to love you.
Now that I love you,
I am scared to loose you.
Romantic SMS Messages for Boyfriend:
Having a loving and caring boyfriend is matter of luck. Now days, it is really hard to find a boyfriend who is faithful, loyal and loving. Therefore, if you have a boyfriend who possesses all of these characteristics, then you should consider yourself lucky. It is very important that you try to maintain the charm of your relationship. I have already mentioned the ways to maintain the charm and magic of love in a relationship in my previous section. So, here you are going to explore the most unique and romantic sms messages for boyfriend. Go ahead, read and send these messages to your boyfriend to make him smile and express your feelings.
**********
In your arms,
I feel safe and secure.
I wish I could stay
in your arms always.
Miss you & love you!
**********
When you hug me,
I feel complete!
I wish I could hug you right now.
Miss You!
**********
It is really hard to find a person,
who is so sweet, lovable and romantic.
I feel lucky that I have you.
**********
Let this feeling of love,
Drench our souls,
And take us to the world,
where we can be all alone.
We would love each other,
from our heart and soul…
I grant you permission,
Please make me your own.
***********
Beautiful is the feeling of walking with you,
In the rain with a single umbrella;
But best is the feeling,
When you would hold my hands,
And we get drenched together.
**********
Hug me so hard,
That I can feel your heart beats.
***********
Your smile brightens up my day,
Your voice makes me feel alive;
Your hug is source of strength to me,
Oh dear you are LIFE!
***********
My eyes are always
searching for you in the crowd.
I wish we could spend
each and every moment of our day together.
Romantic Good Morning SMS Messages:
Wishing your lover with a romantic good morning messages is a silent way of expressing that he or she is the first person of whom you think when you wake up in the morning. This is also a wonderful way to start your day. After all, what can be better than starting your day by making your lover smile and express your love for them? In this section, you are going to read the most romantic good morning SMS messages. You can send these messages the moment you wake up in the morning. You can save these messages in your phone drafts at night and can send them in the morning. This will help you save your time.
**********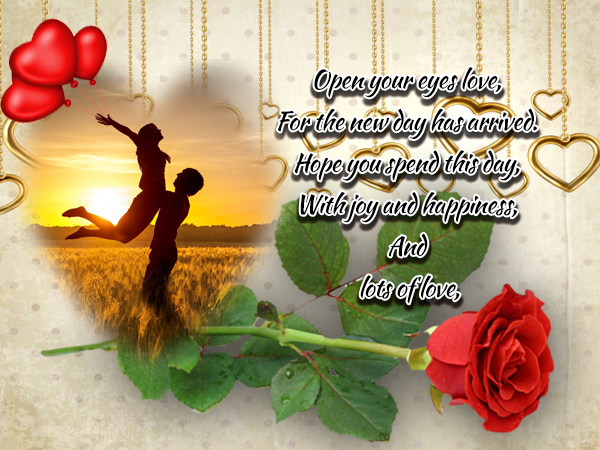 No special graphics to send you,
No rhyming words to send you,
Just a simple text,
To wish you Good Morning,
And to remind you that I Love you.
**********
A beary beary good morning wish,
for my tweenie weenie sweet heart.
May you have sweety sweety day.
**********
Open your eyes love,
For the new day has arrived.
Hope you spend this day,
With joy and happiness,
And lots of love,
**********
Open your eyes,
Get up and please come out
in your balcony.
I have sent soft and cool breeze
To kiss your cheeks
And wish you Good Morning.
**********
Please wake up,
So that sun can shine,
Breeze was blow,
And birds can sing;
All of these are waiting
for you to get up and smile.
Good Morning Sunshine.
**********
After a sweet sweet sleep,
With lovely lovely dreams,
Get up and open your eyes,
As my tiny tiny text has arrived
to wish you good good morning!
**********
Hope to see that day soon,
When I will wake up in the morning,
with you having by my side.
Good Morning.
**********
The warmth you are feeling
In this morning's breeze,
Is because I have send this breeze,
Filled with loads of
Warm hugs, kisses and love.
Good Morning.
**********





I start my day with
a smile,
A cup of tea
and
your lovely thoughts.
*Thinking Of You Baby*
Good Morning
**********
That morning will be
The best morning of my life,
When I will open my eyes
In your arms,
And will start my day with
a warm hug from you.
Good Morning Sweetheart
**********
You are my sunshine,
You are my air,
You are my morning,
I love you oh dear!
Good Morning.
**********
To start your day,
I am sending you
A hot cup of love,
A bowl of crispy kisses,
A plate of warm hugs,
And a spoonful of love,
Have a goody good morning.
**********
No flowers,
No butterflies,
No cakes,
But I have
Lots of love,
Warm hugs,
And joy
To keep you feeling loved,
and to make you smile.
Good Morning.
**********
*Ting Tong !!*
Get up,
My messages has arrived
To wake you up,
To kiss you,
And to hug you,
So that you start your day,
with a bright smile on your face.
Good Morning Sweetheart.
**********
Your thoughts kept me awake whole night,
Now I cant wait to see you today.
So please get up and come near me,
I am missing you a lot.
Good Morning.
Romantic Good Night SMS Messages:
When you are in love, the one you love is always in your mind. Your lover is in your thoughts when you wake up in the morning, and you fall asleep wondering about him/her only. If this is happening with you, then you should let your lover know about this feeling. In this section, you will read the most romantic Good Night SMS Messages. You can send these messages to wish your lover good night and to let them know that they are ruling over your heart and mind, even when you fall asleep.
**********





I am going off to sleep,
just because I can't wait
to meet you in my dream.
You too sleep.
Good Night.
See Me Soon!!
**********
Dream is the only place,
where fantasy and reality unites.
I wish you the most
romantic and magical dreams
of ours.
Good Night.
**********
As you get ready to sleep,
I silently whisper
in your ears,
that I am here with you,
by your side,
to guard you whole night.
Have a sound sleep.
**********
Night has parted us,
but you are still with me
in my thoughts,
in my heart
and in my soul.
**********
I wish I could
hug you right now.
This night is making
feel so lonely.
I really wish you were here!
**********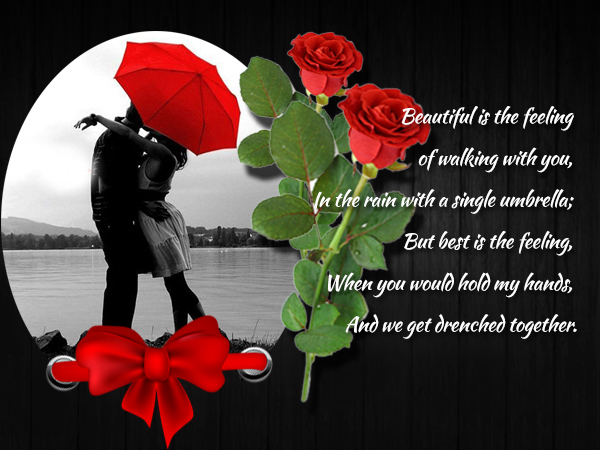 If God would have granted me one wish,
I would have wished
to have you beside me tonight,
and for all the coming nights.
It is really hard to live without you.
Good Night.
**********
Just a simple message to say,
that I really really love you.
Hope to see you in dreams.
Good Night.
**********
As I look at this moon
shining above tonight,
I silently make a wish,
that you have a sound sleep,
and our dreams.
Good Night.
**********
Night without you
can never be a good night,
and dreams without you
can never be sweet dreams.
So, I wish you sweet dreams,
full of love, romance and ME.
**********
I wish I was there with you,
holding you tight,
switching off the light,
and wishing you in your ears,
a very romantic good night!
**********
Wishing Good Night,
is not a way to end up our day…
but it silently says that,
you are the only one I remember,
when I go to sleep.
Hope you enjoyed reading these romantic messages. These messages will help you express your feelings to your lover. The feeling of love makes everyone romantic. Yes, you too can be romantic in your own ways. Apart from the above written SMS romantic messages, you can also send short and sweet notes to your lover like:
-Thinking of you honey
-Your thoughts are making me blush
-Love to love you
-Without you, I am like a rainbow without colors.
-You make me feel complete
-I feel safe in your arms.
The list of romantic messages is endless. What you should keep in mind while sending romantic messages is that you are able to express exactly what you are feeling for your lover. We really hope the messages and notes written above will be able to help a bit in expressing your feelings to your lover.
So what are you waiting for? Go on and send these messages to the love of your life.