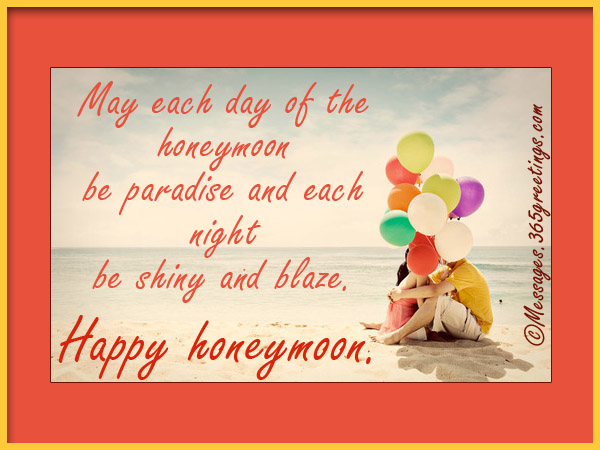 Being the first trip with your wedded husband or wife after marriage, honeymoon is always special. Couples are nervous, excited and happy before they go on a honeymoon. It is chance when newly wedded couples get to spend some quality time alone and get to know each other in a much better way. Honeymoon is a life time experience. Great and love-filled memories are created on honeymoon. If a friend of yours or colleague in your circle is going on a honeymoon, you should always wish them with good luck and send happy wishes to them. These simple and sweet wishes will surely double their joy and happiness of going on their honeymoon.
And if you are searching for the most beautiful and joyful wordings and wishes to send to someone who is going on a honeymoon, then this post is just for you. Here, you will get to read the best honeymoon wishes and greetings. You can send these wishes via SMS, greeting cards, e-cards or e-mails.
Honeymoon Wishes For Cards:
This is our first section where you will read the warm and sweet honeymoon wishes for cards. You can choose your favorite wish, jot it down in the honeymoon greeting card and gift it to your friends or colleague who is going on a honeymoon.




Let this be the
honeymoon of your dreams.
Enjoy it to the fullest.
Take Care!
Wishing you two lots of love
in the journey ahead.
Happy honeymoon.
May each day of the honeymoon
be paradise and each night
be shiny and blaze.
Happy honeymoon.
Enjoy your honeymoon
in the nest of love
with the warmth of togetherness.
Stay blessed!
It's going to be
the most wonderful days
of Your life.
Happy married life,
and enjoy your honeymoon!
May you two discover
true love in this
period of heaven ride
called honeymoon.
Keep loving each other
endlessly as you two embark
upon the journey of love.
Happy honeymoon
May this be
the most romantic trip ever…
May you both enjoy it
to the fullest,
and come back with
loved memories in your heart!
Happy honeymoon
Honeymoon Messages For Couples:
Are you looking for sweet and cute honeymoon messages for couples? If so, then this section is surely going to delight you. Here, you will get to explore the most romantic and cute honeymoon messages for couples. You can send these messages to the couple going for honeymoon in order to wish them and double their joy of honeymoon.




May your honeymoon days
be filled with the blissful romance
and exotic unforgettable memories.
May this honeymoon be a
dream come true vacation
for you both.
You two deserve each other.
Enjoy the company of each other
and drown yourself in the pool of love.
Have a joyful romantic honeymoon.
May this honeymoon period
never ends until the end of life.
Wishing the strongest of bond for life,
for you two!
Stay sweet and
keep loving each other!
Indulge in romantic togetherness,
participate in playful activities
and may you have a pleasant stay
at your honeymoon destination.
Have love filled moments
and memories worth cherishing forever.
Have a beautiful honeymoon
Have a pleasant
and loving time of togetherness ahead!
Enjoy your honeymoon!
Honeymoon is just the beginning
of a love filled journey
walking hand in hand.
Hope you both make this beginning,
most memorable and joyful!
Best Wishes For Honeymoon:
Welcome to another section of this love-full post. Here, you will explore the best wishes messages for honeymoon. Sending best wishes to the honeymoon couple helps in providing them strength and confidence for the unknown unseen journey on which they both are going for the first time together. You can send these messages by any means you wish, like cards, SMS, emails etc.




Enjoy the most precious time
of your wedding by being
close and cosy with each other.
Best wishes for you two!
May you two discover
the eternal love and happiness
in each other during your honeymoon.
Best wishes for your honeymoon
Get ready for some
romantic getaway
as it is your honeymoon time.
Loved wishes for you two!
May you two be blessed
with shower of love
and God fill your paths
with flowers of warmth and happiness.
Best wishes for the most wonderful couple on Earth!!
May your honeymoon destinations
be filled with love and joy
to the extreme
and it be your most wonderful trip.
Best wishes!
Fall in love, yet again.
Enjoy your honeymoon.
Best wishes for you two!
Your honeymoon will be
the happiest of holidays
that you ever had.
All the best!
Ride your journey
through the sea of
love with the warmth of togetherness.
Stay blessed!
Honeymoon is the time for couples
to indulge in love and affection
and forget the rest of the world.
Have a happy honeymoon.
May you two live happily
with love growing eternally, everyday.
Best wishes on your honeymoon!
Wishing you the sweetest of memories
and craziest of adventures for your honeymoon.
Stay blessed!
Discover love, care,
warmth, affection,
intimacy, togetherness
and peace in your honeymoon.
Take care!
May the places welcome you
with arms wide open of affection
and your stay at honeymoon destinations
be sweeter with your better half.
My best wishes are with you!
May you never ever
have a dull moment
during your honeymoon.
Enjoy and take care!
May the beautiful beaches,
serene hills
and pearl like lakes
fill your honeymoon
with eternal love.
Bless you both!
Let there be
love, love and love
during your honeymoon.
Best wishes!
Enjoy!
May the love grow exponentially
and finances be in control
on this joyful honeymoon.
Enjoy it to the fullest
Walk by the sea hand in hand,
visit the old monuments together,
discover new places of love
and immerse in romantic activities.
Have a happy honeymoon.
Wishing a lovely
and most precious of the times together
for the amazing couple.
Happy honeymoon
Wishing you
a very happy married life
as you take first step
in this journey together.
Happy a loving honeymoon!
May the beauty of places
be more graceful
with your romantic presence.
Have a wonderful honeymoon.
My best wishes with you both!
Honeymoon Wishes SMS:
Now a days, SMS is the most convenient and easiest way to convey wishes and send messages to the near and dear ones. You or the receiver need not to have an internet enabled phone for SMS and not everyone wants to get disturbed on their honeymoon with emails and social networking notifications. That is why; we say that SMS is the easiest and convenient way to send wishes and greetings. Now, this section has the best honeymoon wishes SMS. All you need to do is simply pick up your favourite wish SMS and send it to the one going for honeymoon in your social or personal network. If you want, you can also send these SMS wishes via emails or instant messengers on phone, but make sure that the receiver has enables internet on his/her phone.
Your honeymoon marks
the first step of your marriage.
Let it be a wonderful start to the lovely journey.
May you enjoy the destinations
with full love and affection
and every place you visit becomes
an unforgettable memory of togetherness.
With love and best wishes
for your honeymoon.
Happy vacations.
Have a lovely and cosy honeymoon!!
Honeymoon is the period
to find the best of each other
and spread love and care.
Wishing you both
a very romantic getaway this honeymoon.
May your honeymoon be
full of charming moments
and joyful memories forever.
Love shall grow
and bond of togetherness shall strengthen.
This honeymoon will be
a trip of your lifetime.
Wishing a blissful journey ahead
to the newly married couple.
Enjoy your honeymoon
with utmost love and affection.
It doesn't need a special place to visit,
it just needs two loving souls
to celebrate the togetherness.
Happy honeymoon.
The love of hearts
shall grow endlessly
in this vacation of romance.
Have a loving honeymoon.
My heartiest wishes
for the loving couple
departing for their journey of love.
May your honeymoon
be the most beautiful song ever
depicting the eternal love
and care that you two share.
It doesn't need to be flashy,
it doesn't need to be expensive.
It just needs the two souls uniting
and spending loving moments with each other.
That's what makes a honeymoon more beautiful.
Happy honeymoon!
Hope you enjoyed this post as always. We really hope we have helped you in providing words to your feelings for your near and dear one who is going on honeymoon. Feel free to hop onto the other categories of our website for more amazing and unique messages, wishes and quotes.