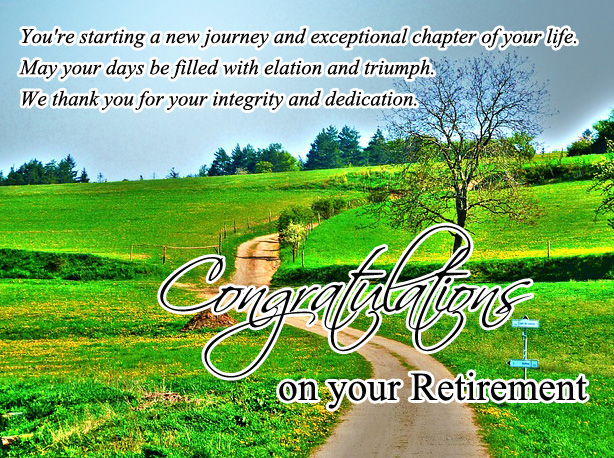 Retirement is the moment coming to a person, giving him the chance to relax and enjoy the life outside the office. This is also a time for one to enjoy the fruit of his hard working for all these year. As co-worker, it's just proper to send or express retirement wishes to someone who have been with you for years. When it happens to wish someone with a card on their retirement and when you puzzle yourself in finding words to greet them.
We are here certainly here to help you with wonderful greeting words through our retirement card messages section. Below you can find a collection of happy retirement wishes you can get right away start greeting the retiring people. We assure you with our messages you are sure to get the affection of your boss or colleagues whom they are going to retire.
What to Write in a Retirement Card
Retirement messages for colleagues, Retirement card wishes
Writing a retirement wishes can be a daunting task. Although your intention is to send him off with a lighter heart, something may turn out bad or worst you may hurt his feelings if you're not careful with your words. But don't worry, I'll give you some samples of retirement card messages that you can include to your notes for boss or colleagues.
You are retiring.
Want to let you know that we are so jealous
Why wouldn't we?
You can do whatever you want now.
– – – – – – – – – – – –
Retirement doesn't mean the end of your active life.
It just signifies another chapter and journey.
Enjoy it!
– – – – – – – – – – – –
Now that you're free,
You can do the things that you've always wanted to do when you were busy
Have a great time!
– – – – – – – – – – – –
For the person who gave his best, cheers to your retirement
May you have the best and most fulfilling one.
Enjoy!
– – – – – – – – – – – –
The vacancy you'll leave behind may be filled in
The position you'll have right now may be held by others,
But in our hearts, you're simply irreplaceable.
We're gonna miss you!
– – – – – – – – – – – –
For the dedication and hard work, you deserve the best retirement ever.
Enjoy this new journey of your life. Cherish every moment and have fun!
– – – – – – – – – – – –
From the bottom of our hearts, we're going to miss you.
Best wishes to your retirement.
Feel free to call and visit when you get bored playing around.
– – – – – – – – – – – –
Working in the office without you around will never be the same.
I salute the most dedicated and hardworking man I've ever known
Congratulation on your retirement. Make the most out of it!
– – – – – – – – – – – –
Your presence, your guidance and your supervision inspire us to do better.
A colleague like you is simply irreplaceable.
No one can ever replace your position here and in our hearts.
Happy Retirement for you!
– – – – – – – – – – – –
May every day and every moment of your life be fulfilling and full of joy,
Enjoy your retirement and have more time with your family and friends.
Best wishes for you on retirement.
– – – – – – – – – – – –
You are now moving to the next journey of your life,
keep in mind that we will miss you.
Our greatest and warmest wishes for you on your retirement.
Cherish every moment you'll spend outside the work.
It's time to enjoy your life.
Happy Retirement!
– – – – – – – – – – – –
We will surely miss the friendship and guidance you gave us in work
We wish nothing but the best for you on your retirement.
May you enjoy the playing time with your family and grandchildren.
Have a fulfilling retirement full of joy and happiness.
– – – – – – – – – – – –
Rejoice and be happy.
Now, you don't have to wake up early in the morning as you're now the boss.
You don't have to rush down the road as you can stay at home as much as you wish.
You can now enjoy the life outside the office.
That's retirement!
Have an amazing one!
Funny Retirement Card Messages
Retirement card wishes funny, funny retirement wishes for cards
Although retiring can be somewhat sad and gloomy moment, you can cheer your friend up with funny retirement messages that you can write to your card. Be careful on using funny context and wordings though to avoid offending them.
They say, we stop playing because we grow old.
Some say that we grow old because we stop playing.
Now, you can play again and feel young.
Enjoy your retirement!
– – – – – – – – – – – –
You can now be the boss of your own,
That's what you've been always working hard for, right?
Have an awesome retirement!
– – – – – – – – – – – –
When you're still working, you're making money.
Now that you're retiring, there's one tough task for you – keeping your money.
Good luck buddy!
– – – – – – – – – – – –
Retirement is a good thing,
You are now free to do the things you want
And not worry about getting caught.
Don't think that when you retire you can play,
You're simply retired from your working boss,
But now you have a new, tougher boss – you spouse.
Good luck! May you have a happy retirement!
– – – – – – – – – – – –
All the best for you on your retirement.
Good luck in your new life's task.
Watch grandchild and making coffee!
Retirement Wishes Examples, Retirement Wishes Messages
Retirement messages for teachers, retirement best wishes messages
You deserve all the best things in this world in your retirement years to come.
Have a happy and rocking retirement days!
Wishing you a healthy, wealthy,
long and happy retirement life!
Let me take this wonderful opportunity to wish the hardest worker I know,
which is expected to continue the spirited works even after retirement.
Congrats! May all your future dreams come true and may your life be filled
with joy and happiness.
Happy retirement!
Let you find the heaven on earth after your retirement.
I wish you to get everything you hoped for after your retirement!
It is a true fact that we may not see you anymore over the bay
and during the working hours but we will be in your remembrance.
Wish you happy retirement!
Make the most of every single day!
I hope you will find your family by your side to support you in all the ways.
Have a happy retirement years!
Hurrah! You are entering a new adventurous life of retirement
and may you have all the good experiences in it.
Happy retiring!
You are going to join your family and friends.
You will be so busy with your grandchildren,
take a moment to remember all of us here at your office.
We will miss you badly. Happy retirement!
Congratulations on your retirement!
The best inspiration for all of us here
and you had given us a great support and
please continue supporting us even after your retirement.
We need you still!
We wish you to have an awesome retirement.
You deserve a great years to come after the retirement.
Have a wonderful retirement!