Spread the spirit of Good Friday with these good Friday messages and good Friday wishes. Send these quotes about good Friday to your friends and loved ones using your cellphone or computer. These good Friday wishes can be send as good Friday text messages and sms messages. These inspiring words of Jesus would surely encourage your loved ones to live their life clean and truthful
Greetings and Wishes for Good Friday
He died on the cross. What a pitiful scenario!
It because we are sinful and bad.
Repent and be thankful.
God will be happy if you do.
Love is the reason why He has given His son to us.
Love is the reason for Christ's death.
Love is still the reason why we are still alive.
Celebrate the blessing of love!
If you put God first, everything good will follow.
Have faith and you will definitely have a life that follows the light of the Lord.
You are blessed to be given another chance to live.
Make use of it and be a blessing just like what Jesus Christ is to us.
Have a Good Friday.
The greatness of the Lord is once again proved!
He died will be alive again so soon.
Be prepared for His coming!
A life He sacrificed means a new life and hope for us.
He is our Savior and forever
He will be with us!
He may be dead this day.
Soon, He will rise to prove that He is the Son of God.
Believe and have faith.
Good Friday Messages
This day is a sorrowful day for us. Still, there is a reason to be thankful for. His death has given us life that is renewed and blessed. Let's celebrate this auspicious day and spread the words of God with these Good Friday messages, quotes about Good Friday and greetings for Good Friday. You can also send these good Friday wishes as good Friday text messages and sms messages.
Messages for Good Friday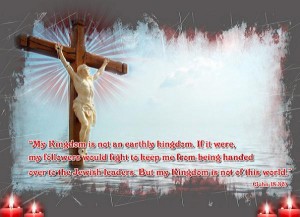 Give glory to God who has offered His Son for our salvation.
Live well and be worthy of this blessing!
His cross was heavier because of our sins.
Kneel and offer Him a prayer of glory and thanks.
Celebrate the love of God and the enduring sacrifice of Christ.
He offered His own life for us.
Repent and be clean.
Live a life that renewed and cleaned by the blood of Christ.
Honor Him with all your heart.
Look back and realize all things that have hurt our Savior.
He has paid for our sins so that we will not be harmed with death.
Human are vulnerable to sin but there are ways to avoid temptations.
Have a strong faith and you will definitely live a straight path to God.
We can do wrong but still be sorry.
We can say sorry and choose to do wrong again or do better next time.
Weigh things out and always put Christ in your heart.
It is sad that Christ is physically not with us today.
He has died because of you and me.
Offer Him a silent prayer and feel His Holy Presence.