Reach out to your brothers and sisters by sending raksha bandhan Messages to convey your love and affection your siblings! These raksha bandhan Messages are one of best collection available in the Internet. All raksha bandhan Messages are specially written with best wordings. You can also post these Rakhi messages to face book, twitter or you send as an email directly from our website.
Within this small interval of time you become part of my life. As my dearest friend, as my loving sister to share everything. My heart full rakhi wishes to you…
With lots of love




Happy Raksha Bandhan to all of you. Sorry I cannot be here this week. Hence just to tell all of you that you are the best people I have had in my life. I shall always be there for you.
I miss you very much now as you are far away in USA. My blessings and love are always with you!!
My Sister, I wish u a Happy Raksha Bandhan. I miss u very much now as u r far away in USA. My blessings and love are always with U!!
Today is Raksha Bandhan…And I really wish you were here to tie the rakhi for me…We would have celebrated this occasion together…But wishing you Happy Raksha Bandhan…
Love
I hope this is my last rakhi with you, kyonki tum apne sasural me hogi next year.
Thanks for your love & care.
Rakhi Messages for Sister




Some rakhi messages for sister are here to greet your sweet sisters on Raksha Bandhan or rakhi – one of the joyous festivals of India. It serves as a holiday for siblings to once again reunite and make their bonds stronger. Here, Raksha Bandhan messages for sisters are collected for your usage. You can freely express your sweetest rakhi greetings for your sister using these sister rakhi wishes. We also include some rakhi sms for sister for you to greet her even she's miles away.
Having a sister like you reminds me how lucky I am. It also reminds me how God has been so good to me. Thank you for caring, understanding and guiding me. Happy Raksha Bandhan!
Your beautiful smile make my day complete. Your affection and warmth make me feel at home. My dear sister, I thank you, really. And I love you. Happy Raksha Bandhan.
I may have teased you many times before. I made you cry, I made you hate me. But nothing will change. I will always love you. And I will cherish the memories we shared together. I love you, sis!





Second to our mother, you're the most special girl for me. Nothing will ever replace you in my heart. I miss you, dear sis. Happy Raksha Bandhan!
I miss those times when you scold me for something I did or said wrong. The times you do my homework. The times you stand by me when I need someone to cry on. Thank you so much, sis. Happy Rakhi to you!
God gave me an angel in disguise… An angel that cares for me… An angel that loves me… An angel the scold me when I did wrong… And angel that praise me for my achievements… And that angel is called Sister. Happy Raksha Bandhan, my dearest sister!
We may be miles apart, but I will always be there for you, by heart and by soul. In this year's Rakhi, I will cherish the happy moments, and not so happy moments, we shared together. Happy Rakhi to you, sis!
 Raksha Bandhan Messages for Brother




With Raksha Bandhan messages for brother, you are able to express and show the love and affection you feel for your dearest brother. And with this collection of raksha bandhan messages, you don't have to look any further. Here are some brotherly rakhi messages that you can use and send as rakhi sms messages and rakhi text messages especially if your sibling is abroad.
You say "you can do it" when the world says no. You believe in me when the world doesn't. You're always there to guide and to support. For that, thank you so much. Happy Raksha Bandhan.
Distance will never keep us apart. You will always be in my thoughts. The memories we shared will always be cherished. I love you and I miss you, bro.





Bro, thank you for everything. No words can ever express how thankful I am to have you as my brother.
My devoted fan, May real-time superhero, My protector, I called him – Brother. Happy Rakhi to you, bro!
Thanks to Raksha Bandhan, I will be able to say, I Love you, bro" without being teased as cheesy. But I do love you and I'll be there for you no matter what. Happy Raksha Bandhan to you!
God may not be there physically to care and support us. Mothers may not always be present to enlighten us. That's why they gave us brother who can look on us. Thanks for being such a reliable and compassionate brother to me.





You not only stand by me, you also help me make my mind when making decision is hard. You let me learn things on my own and help me get through my failures. I feel so really lucky to have the best brother. Happy Raksha Bandhand!
Rakhi Messages
Sending your sweetest rakhi messages and rakhi wishes is the perfect way to reach out to your siblings. With our collection of inspirational rakhi messages and rakhi SMS messages, you will be able to express your care and affection towards your brothers and sisters. So what are you waiting for? Pick from these sweet rakhi messages and send right away.
Happy Rakhi Messages for Sister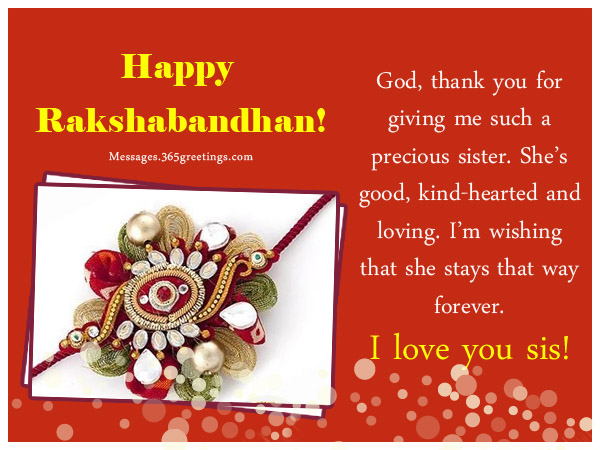 Dear sis, I may not be always there to protect you just like before, Just remember that you can rely on me whenever you need. I may be far but I'll always look up on to you. Missing you this Raksha Bandhan.
Sister is one of the most wonderful gifts that God gave to me. Thank you for being my sister. Best Wishes for you, Sis!
Thanks, sis! For the care, For the affection For the understanding. No words can ever express how lucky I am to have you. I Love you and Happy Rakhi!
I wish that our sweet bond will remain forever. Sending my warmest Rakhi greetings to you way.
For the most wonderful, exceptional, brave and caring sister, Happy Rakhi to you. Thanks for making my life easier and happier. I love you, sis!
Sis, I may not show this very often, but I do love and care for you. You're one of the most important persons in my life. If there are times that you feel frustrated about me, I apologize. This Rakhi, I hope I can make it up to you. I Love you!
God, thank you for giving me such a precious sister. She's good, kind-hearted and loving. I'm wishing that she stays that way forever. I love you sis!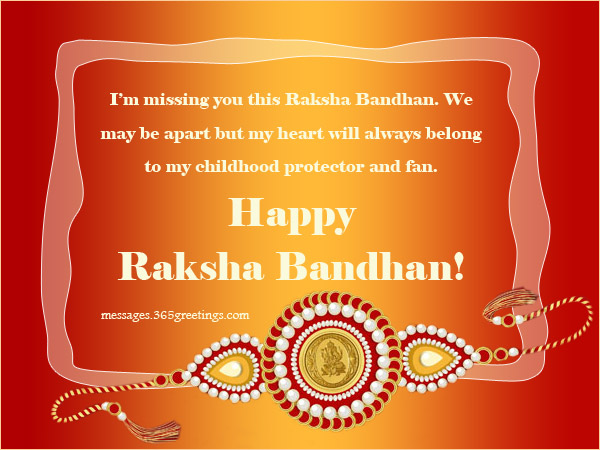 We have fun, We play, We cry, We fight, Those memories I will forever cherish. Happy Rakhi to you, sis!
Miles apart, I'm sending my love to you, Sis. Take care and don't forget that you have a brother/sister that loves you all the way. Happy Raksha Bandhan
Happy Rakhi Messages for Brother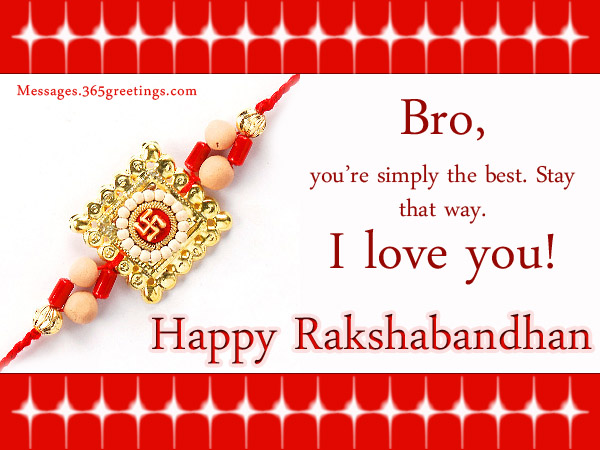 Make the bonds stronger with these Raksha Bandhan wishes and rakhi messages for brothers and sisters. These happy rakhi wishes will let your siblings know how much you love them. Choose the best rakhi greetings from this collection of messages for rakhi that includes happy rakhi wishes, rakhi text messages and rakhi quotes and sayings.
Dear brother, I feel so lucky to have a wonderful and handsome brother like you. Though this Raksha bandhan, I feel blue. Coz we're thousand miles apart and can't celebrate this day with you. Nevertheless, I love you!
Dear bro, I'm wishing that the bond between us will get stronger and stronger. May all of your dreams come true. Thank you and I love you!
Happy rakhi to the most kind-hearted and loving brother in the whole wide world. I Love you!
For being a loving brother, thank you. For being an avid fan of mine, thank you.
For being such a strong protector, thank you. No words can ever express how much I appreciate you. Happy Rakhi!
For the most handsome, intelligent, humorous and best brother in the whole wide world, Happy Rakhi!
Bro, you're simply the best. Stay that way. I love you!
There are times that we're having misunderstandings, We fought, we cried… But let me make those up to you, and thank you for your everlasting affection for me. Happy Rakhi!
I'm missing you this Raksha Bandhan. We may be apart but my heart will always belong to my childhood protector and fan. Happy Raksha Bandhan!
I'm wishing you a successful career, happy love life, and good health. All the best for my dearest brother. Happy Rakhi!
Rakhi SMS Messages
With the advance technology today, sending Rakhi SMS messages has made faster and easier. Today, you can easily express your sweet rakhi messages and inspirational rakhi wishes to your siblings even they are miles away. All you need is the right choice of Raksha Bandhan SMS messages and type them to your cellphone. Some charges may apply depending on your network provider. Just pick from these samples of rakhi sms and rakhi text messages.
Rakhi SMS for Sister
My best friend, My avid fan A wonderful sister. I Love you sis and Happy Raksha Bandhan!
Lots of prayers and blessings to your way. I'm missing you this Rakhi. I love you!
I'm wishing all the best for the best sister in the world. May you achieve all your heart desires. Lots of love and hugs for you.
Rakhi is one of my favorite festivals, Why? Coz I'm given another day to express my affection and love for my dear sister. I love you sis. Take care and lots of love for you. Happy Raksha Bandhan!
Dear sis, You're such a good friend I've ever had. We've been through good and bad times. But those just made our bond stronger. And I really wish that we remain together. For sweet person like you, thank you. Happy Raksha Bandhan!
Rakhi SMS for Brother
If I will be given a chance to choose who's gonna be my brother, I will choose you. Coz you're the most wonderful brother I've ever had and no one's gonna replace you for that. Happy Raksha Bandhan!
I thank God for giving me an amazing brother like you. Through thick and thin, we stick together. Hope we stay this way, forever. I love you bro. Take care! Happy Rakhi!
I know you're strong enough to handle yourself. But please do me a favor, when you need someone to rely to, don't hesitate to call me. Remember, I'll be there for you no matter what. Happy Rakhi!
There may be rough times that we misunderstand each other. But those are just part of brotherly bonds. They actually make our connection stronger. So, whenever you need me, I'm just sms away. Don't hesitate. I'M HERE.
I consider myself lucky for having a brother like you. I really thank God and our parents for giving me such a wonderful gift in life. Happy Rakhi to you, bro!