Here you can find a great collection of eid Mubarak wishes to send your friends and relative to convey your warm regards and wishes on Eid holidays. Get ready to start expressing your very own Eid greetings to your loved onesWe all know that Eid al-Adha (the festival of sacrifice) and Eid al-Fitr (Breaking the Fast) are important holidays in Islamic religion. During these days, prior to Ramadan or the month of fasting, Muslims all over the world express their common goal for unity and peace.those who can't still find the words to say "Eid Mubarak" to your Muslim brothers and sisters, here are some samples of happy Eid messages that you can use.



Eid Mubarak Wishes Eid Mubarak Greetings
Happy Eid!
May the great Allah prosper the works of your hands.
Enjoy this joyous feast!
Sending you warm hugs and best wishes on Eid day.
Happiness and prosperity are on your way.
Love, joy and peace in a wonderful array.
Blessings throughout your days.
Salam my friend!
Wishing you a blissful day on Eid!
Good fortune surely awaits you.
Greetings!
I may not be there to share this festive event with you
But know that my heart and mind will be with you always.
I miss all of you.
Best wishes on Eid!
It takes faith and perseverance to succeed in life.
May Allah continue to give you strength and wisdom in all your days.
A blessed Eid to you!
Success in life is determined on how willing you are to bend your knees in prayer.
May Allah answer all your prayers on this Eid day.
Best wishes.
May this Eid add a lot of milestones in your life.
I'm super excited to see how Allah will pour down his blessings upon your life.
Eid Mubarak Messages for Cards




Eid Mubarak to your family!
Enjoy this day to the fullest.
This is truly a day of joy, peace and love
When loved ones are near.
Prepare to grab the best time of your life
As Allah answers your prayer one by one.
Have a blessed Eid.
Success in everything you do.
Heart filled with love so true.
Home full of smiles and laughter.
And a happy life ever after.
These are my warm wishes for you.
Eid-ul-Adha Mubarak.
Happy Eid Mubarak Wishes, Quotes and sayings
Cheers on Eid!
May you have all the fun and joy on this day.
This will truly draw a lot of smiles in your faces.
I rejoice with you on Eid day!
My prayers include your welfare and prosperity.
Lots of smiles today!
May all your wishes come true.
Keep up the faith!
A blessed Eid-ul-Adha to you.
Happy Eid Mubarak Wordings for Eid Mubark Cards




It's time to shout out loud and express your happiest "Eid Mubarak" wishes to your friends and muslim brothers. Grab some of these nice happy eid messages that I've written especially for you!
Let me be the first one to greet you happiness on Eid day.
Have a great time in this season!
Eid Mubarak!
Receive my warm greetings on Eid day!
Hope your days will be brightened up
With blessings and favor from Allah.
Eid Mubarak!
Rise and shine!
It's Eid already!
Tons of fun is on its way!
Let's share a toast in this festive season!




Greetings on Eid day!
I pray that Allah will pour down countless blessings in your family.
Receive them all with gladness.
Have a great Eid!
Eid Mubarak!
Praying for many returns from the mighty Allah.
Be blessed on this day!
May the hand of Allah be with you and your family always.
Sending you earnest prayers and best wishes.
Eid Mubarak!
Eid Mubarak Quotes, Eid MubarakGreetings Quotes
Anyone looking for some meaningful and and heartwarming eid quotes? Then this part is for you. I've created some of the eid wordings that you can write in an eid card. Feel free to share to your friends this Eid festival.
May your home be flooded with blessings and favor.
Continue to walk in abundance!
Eid Mubarak!
Cheers!
It's a season to be merrymaking.
As we anticipate immeasurable blessings.
Warm wishes and hugs to you
Eid Mubarak!
May your days be filled with good fortune and favor.
May all your dreams come true.
Eid Mubarak to you and your family!
Eid Mubarak!
May Allah continue to bless the path he chose for you.
Wishing you success in everything you do.
As we come together on this joyous day
Hope you feel my warm embraces
I thank Allah for allowing me to celebrate this feast with you.
Eid Mubarak!
Eid Al Adha Greetings, Eid Ul Fitr Greetings, Best Eid Wishes
Warm greetings to you!
May this Eid be as wonderful as you.
Eid Mubarak!
Eid Mubarak to the love of my life.
I wish Allah will continue to bless our bond all the days of our lives.
I love you.
Enjoy this day.
Allah sees all your sacrifice.
Wishing you blessings and rewards of hundred folds for your family.
Have a blessed Eid-ul-Adha!
On this Eid-ul-Adha, may all your prayers be answered by Allah.
Believe on him and he will grant you your heart's desire.
Eid-ul-Adha Mubarak!
May Allah fill your home with hope and gladness throughout the year.
Eid Mubarak SMS, Eid Mubarak Wishes SMS
I know most of you have loved ones abroad and those who are working miles away. They might not be home to celebrate this auspicious day with you. But don't worry, with the help of new technology, you can now send your bestest and happiest eid mubarak wishes quotes or eidh greetings messages to them via SMS.
I pray that blessings will chase you for the rest of your life.
Happy Eid-ul-Adha.
A blessed Eid-ul-Adha to you!
May Allah flood you with favor and prosperity as your faith in him is strengthened.
May we mirror the faith of Ibrahim towards the mighty Allah.
This will truly please Allah and give us the rewards that he only can give.
A blessed Eid-ul-Adha.
On this warm breeze of Eid-ul-Adha,
I pray for warmer bond of love between your loved ones.
And warm wishes on your future too.
Happy Eid-ul-Adha!
As you lift your faith and prayers towards Allah,
May he hears them and pour out innumerable blessings
Upon you and your loved ones.
Continue to walk by faith.
Happy Eid Mubarak Messages, Eid Greetings Messages
I'm sending you a bouquet of flowers to draw smiles on your face.
I may be oceans apart but I'm just close to your heart.
Wishing you a very happy Eid!
A life sprinkled with blessings
Like cool dews in the early morning
A life of overflowing gladness
With joy, peace and contentment.
Have a happy Eid.
Best wishes on this day of Eid
Smiles and laughter are best shared when loved ones are near.
I'm sending you a bouquet of wishes on Eid day.
May all these wishes come true.
Together we stand and let our banners fly high.
Together we bend our knees to pray to Allah, the Most High
Eid Mubarak!
Eid Mubarak Messages, Happy Eid Mubarak in English
May this Eid bring you enormous blessings to and your family.
Celebrate this Eid with heavenly bliss.
In every shared smiles and laughter
In every prayer answered
In every opportunity that comes your way
May Allah bless you greatly.
Happy Eid to you.
Happy wishes for you this Eid day.
May Allah guide your footsteps in achieving your dreams and goals in life.
Eid Mubarak Quotes in English
I wish you success in all you endeavors.
But I also wish that your faith be strengthened and your hope be tightened at all times.
Eid Mubarak!
May Allah bring serenity to your days as you reach for your dreams and aspirations.
God bless all your undertakings.
Happy Eid.
I wish you nothing but happiness .
May this Eid bring you sweet blessings.
Your future looks bright in the shadow of Allah's providence.
I wish you more blessings to fill your days.
Enjoy this Eid!
A great Eid for you!
More success and victories to come your way.
Enjoy them all!




This is a special time to wish your loved ones all the best that this life could bring.
May Allah bless us all.
Happy Eid.
A bouquet of warm wishes I send to you on this festive day of Eid.
You deserve the best of everything.
Have a great day ahead!
Wishing you tons of smiles every single day.
For Allah's surprises are surely on their way.
Blessing and serenity be to you always on Eid.
Eid Wishes and Greetings
Looking for Happy eid Wishes and Eid messages to send your friends and Family to convey your eid greetings. Yes here you can find a great collection eid wishes, and greetings. We also include happy eid greetings in English and Eid sayings.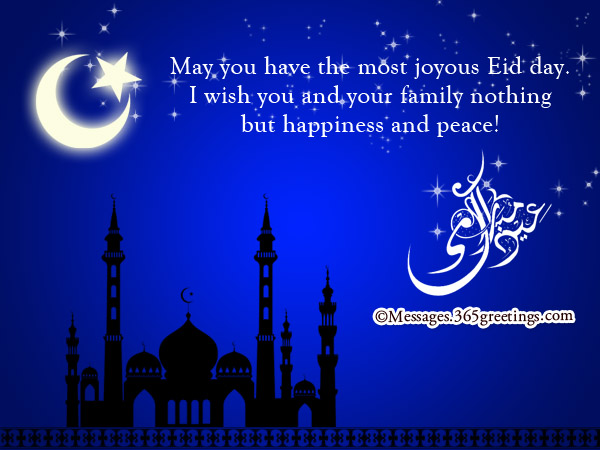 May Allah bless you and your family. Eid Mubarak!
Families gather and celebrate. We are brothers created by one Father. Greeting you a Happy Eid!
Thank Allah for this great day of celebration. Happy Eid Mubarak!
I wish you all a very joyous eid. I pray that Allah will grant all the wishes you have! Eid Mubarak!
How I wish to spend this special day with all of you. I miss you all this Eid!
Children are excited to see surprises that await them this day. Make them feel happy and give them some gifts to enjoy. Eid Mubarak!
May you have the most joyous Eid day. I wish you and your family nothing but happiness and peace! Eid Mubarak!
I wish you all the blessings not just for this Eid but for all the days to come! Eid Mubarak!
I may forget to greet you on your birthday or to say how much I care. One thing is definite. You are the first person that I greeted on this day. Eid Mubarak!
Eid Messages and Happy Eid Wishes




May Allah cleanse your mind, heart, and actions so that you will be worthy of His blessings and love. May He protect you not just on Eid but all the days of your life.
Be worthy of Eid by being thankful of all the things you received. Be a good person that Allah wants you to be. Eid Mubarak!
Eid Mubarak! What a pleasant celebration for us. Celebrate by offering prayers to Allah!
A festivity where friends and families gather to be happy and united. Let us have a joyful Eid!
I wish you all the goodness of Eid. Thank Allah for this moment of celebration. Eid Mubarak!
Eid Mubarak to all! Happiness, success, and strength be with us all! Let Allah guide us as we take our journey towards the path to goodness and kindness.
EId Messages and Eid wishes for Cards
May your day be filled with joy, May your heart be filled with happiness,
May your life filled with contentment,
Eid Mubarak!
May the blessing of Allah make your days be filled with peace and prosperity,
Eid Mubarak!
My wish is not just an ordinary to wish,
It is a wish for your life,
My greetings are not just a simple greeting,
It is the greeting of a thick friend, Eid Mubarak!
eid wishes For Friends




Share the happiness with your Lord,
Enjoy the happiness with your friends and relatives,
Make the happiness double the quantity,
Eid Mubarak!
A warm heartfelt wish is on the way from me to you,
May you find all happiness in your way,
Eid Mubarak!
On the day of this Eid Mubarak,
I take the opportunity to wish you all success and endeavor in your life!
May Allah shower his blessing on you and your family,
Eid Mubarak!
You will be in my prayers,
You will be in my mind,
You will be in my life forever,
Happy Eid Mubarak!
Eid Greetings and Messages for Eid Cards





May joy, happiness, contentment,
fulfillment, success, smile, enjoyment all be yours!
Eid Mubarak!
May the God be with you in all the endeavors you do,
May the God be with you in your life,
Eid Mubarak my friend!
Here is my wish to bring joy into your life,
Have happy days in your whole life,
Have a great year, Eid Mubarak!
On this auspicious day of Eid I wish you to be happy forever,
Let this day finds you in good health,
God will be with you forever,
Eid Mubarak!