There's a new fad in the block. It's called Nail Art. I've always been a fan of colorful things that's why this newest craze caught my eye. Seeing those itsy bitsy nails with pretty designs and patterns, I couldn't help but to wish that I've the same nail art designs too. Nail designs with elaborate and intricate patterns, the colors and the application in nail art designing are truly an ART.
At first I thought they were very complicated that it's almost impossible to achieve them if you're not an expert. But later I've found out that with enough practice and patience, you can get yourself a pretty and chic nail art designs in no time. Want to try some? Browse some of the simple nail designs for beginners.
1. Simple Nail Art Designs
I admit that when I saw a nail art gallery the first time, I felt intimidated. Who wouldn't? With those intricate designs and patterns, I'm not even sure if they will be suitable for my not-so-beautiful nails. But then again, when I searched for simple designs of nail art, I've found some that I think I can do for myself. Here are they:
See that one? The combination of colors attracted my eye. I never thought that a nail with different colors will look so pretty rather than messy (I tried coloring my nails before with water color and it sure looked so messy).
But this one did some wonder. It simply shows that the mixed colors can match somehow. I love it!
Simple to the higher level. Yes, this nail art looks so pretty, featuring the combination of pink and white pattern. Beginners can easily achieve this one, with patience and practice of course.
How about this one? this one surely looks a little messy, but in fashionable way. It looks intricate, yet can be easily achieved by dotting nail polish in different colors.
Two words for this one: Neat and Pretty. Notice how those colors complement each other to create a simply yet neat nail art pattern. Amazing.
2. Easy Nail Art Designs
Now we're moving to Nail art 101. While most of the nail art designs you can find online feature complex patterns, beginners like me, can start with easy nail designs. Here are some of the simplest and easiest nail designs I've found online, but I think they're still complicated for me… Let's get started.
This nail art features transparent background coating and small leaf design on the side. I think using the right nail art kit and loads of patience, I can achieve this, say 2 months? LOL
A combination of black and white pattern, this has the hint of coolness and funkiness. I'd really love to have one on my nails! A major down for me though is that I have short nails.
Is that glitters? Yes, those are glitters! See how those glitters give sparkle to your nail! It's neat, simple and easy nail art design. The artist put some glitter nail polish on the tips of the nails.
Image: Becomegorgeous
3. Nail Art Designs for Beginners
Here's another example of glitter nail art. This simple and easy to do yourself nail art feature french tip nail art, plus a single flower design in one of the fingernail. It looks sweet.
Want a unique yet clean nail art that will make you stand out? Choose this one featuring fuchsia pink and transparent nail polish.
3. Nail Art Designs for Short Nails
For those who have short nails, the length of you nails can't stop you from having these pretty art. There are many nail designs that you can apply to your itsy bitsy short nails.
Are you a fan of polka dots? You can apply it to your nail too! In the sample above, the artist use the alternate colors of red and white to create a polka dots pattern.
4. Cute Nail Art Designs
Cuteness can be yours with these cute nail arts. In the picture above, the artist use the pattern of a panda, how cute that can be? I simply love it!
5. Acrylic Nail Art Designs
Nail arts use nail polish of different types and colors. One of the most popular and widely used is acrylic nail polish. you can achieve the right design using the combination of colors of acrylic polish. Here are some samples.
You can get an animal-print patterns plus neat look with this french tip nail polish. It has that print in the tip that imitates leopard skin.
This one is pretty simple and neat. It uses minimal colors, yet it achieve the looks of chic yet classy.
Image: Artnail.Altervista
6. Cool Nail Art Designs
Want to be cool and chic? Then these nail art designs are for you. You can mix match colors to create an extra cool patterns.
In this nail design, I have two words: chic and fabulous. You will surely look elegant yet cool in this type of nail art featuring pink nail polish designed with flower patterns.
7. Water Marble Nail Art
Water marble is one of the most popular nail art designs. Many women, and even kids, use these designs as their beginner's nail art.
Fuchsia pink and violet can be mixed into a water marble nail art. This one looks classy and elegant.
8. Halloween Nail Art
Who says that nail designs are just for a ramp and special occasion? You can also have a theme for your nails based on the holiday like Halloween. I really enjoyed browsing these cute arts with cool halloween patterns.
Nail art featuring jack-o-lantern character. I love the combination of orange and black in that tiny fingers.
Make your fingernails a little bit spooky with these bloody and funky halloween designs. A spiderweb, monster and jack-o-lanterns are some of the mostly-used figures that you can put to your nails.
Image: Nail-art-101
9. Christmas Nail Art Designs
Christmas is a festive occasion and calls for festive appearance. Why not play for a moment and put some Christmas feel, not just on your house, but for your nails as well.
You just have to think of the things that are usually related to Christmas like snow, reindeer, Santa Claus, Christmas hat, etc. There are so many Christmas cliparts that can be used as the design for your nails.
Like for this one, the artist used several clip-art and drew them using a white nail polish against the red nail coating.
…. and since Christmas is always associated with Santa Claus and red color, who would forget to use it as the theme of any Christmas design?
10. Hello Kitty Nail Art
Are you Hello Kitty Fanatic? One of my cousins is an avid fan of Hello Kitty. Almost all of her stuff has hello kitty print on them. I sometimes wonder why coz most of those stuff are expensive. But I know she's not alone. Many people, especially teens, would love to have hello kitty stuff. There are hello kitty nail designs too.
Here's an example of nail design featuring the character of Hello Kitty. Notice that the main color used is white and pink (coz that's what hello kitty appears like)
And it's not Hello Kitty without that pink ribbon and yellow nose. This is a beautiful and cute hello kitty nail design.
Image: Olszowy
11. Zebra Nail Art Designs
Like I said earlier, many use animal print patterns as their nail art. Just like this one. It used zebra patterns which give the nail the feel of class and glamour.
12. Easter Nail Art Design
Not just for Christmas and Halloween, Easter is also a time when you can have a fashionable look to your nails. Easter cliparts like bunnies, eggs and cross can be used such as below picture.
In this nail design, the artist use variety of colors and create cute bunny patterns on the nails.
13. Easy Nail Art Patterns
For those who want easy yet classy nail art, you can use above design. It only uses few colors of nail polish such as black, fuchsia pink and yellow.
Image: Donotfreeze
14. Rainbow Nail Art Designs
Now you don't have to wait for the rainbow to appear in the sky. Why would you if you can have one on your nails? However, this one is a little bit more intricate which requires higher level of experience in nail art.
15. French Tip Nail Designs
As the name says, it's only the tip of the nails is being designed. Different patterns and colors can be used to apply art on the fingernail tips.




This one uses black coating on the nail tips and blue nail polish as the main design.
16. Black and White Nail Designs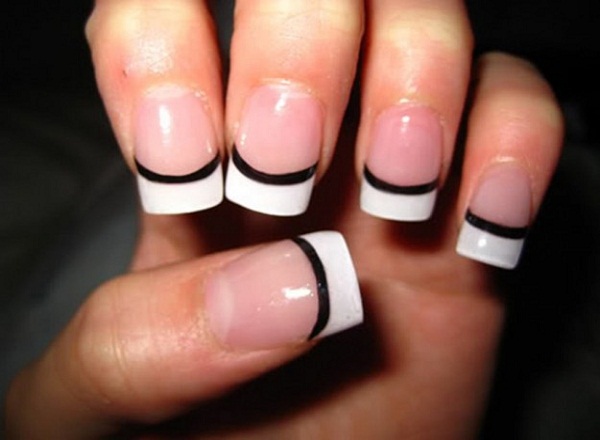 Here's another example of french tip nail art, only this one features combination of black and white design.
17. Flower Nail Designs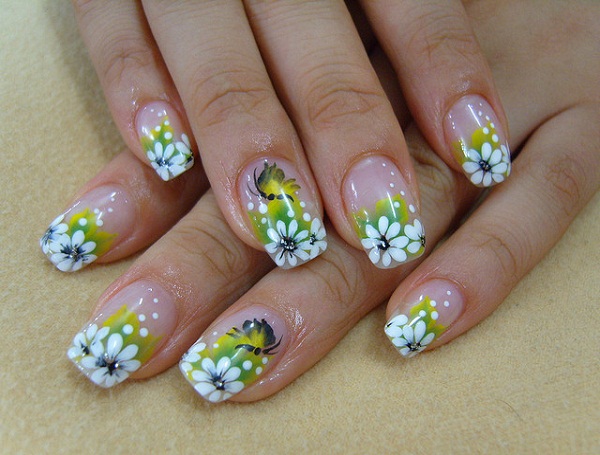 Want something refreshing? Then go for flower nail designs. But the details in this nail art is a little bit more complex than other designs so you may want to practice and practice to achieve a detailed flower nail art such as above sample.
18. Glitter Nail Designs




Here's another easy and simple nail art designs for beginners. It uses purple gradients of glitters and use it to create a chic and fashionable design on the nails.
19. Fake Nail Designs



Fake nails can also have art. Sample above has extra space on the nails to work with and apply some colors to.
20. Summer Nail Designs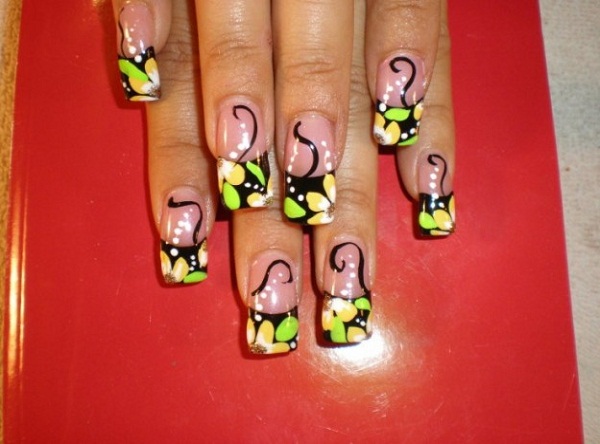 Getting ready for the summer? Not just your body, you can also accessorize your nails with nail art featuring summer theme.
21. Polka Dots Nail Designs



Upon browsing nail art design pictures, I notice many of them use polka dots design. I don't wonder why as polka dots really look great as nail art. This one truly a must-have. The combination of black and yellow is truly pretty.
22. Toe Nail Art Designs
Who says nail art is just for fingernails? Your toe nails can have some art too!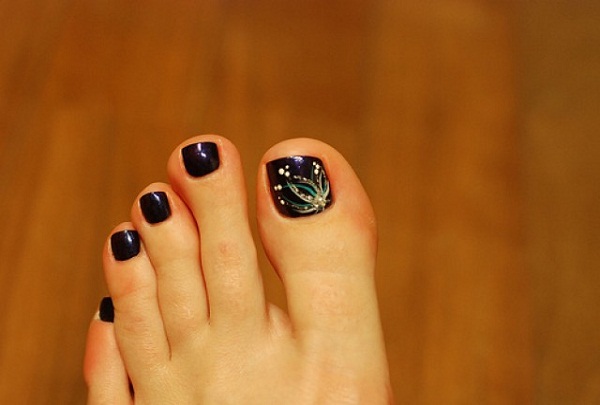 In this nail art image, since the thumb of the toenails is the biggest, the design focuses there while the other have plain color.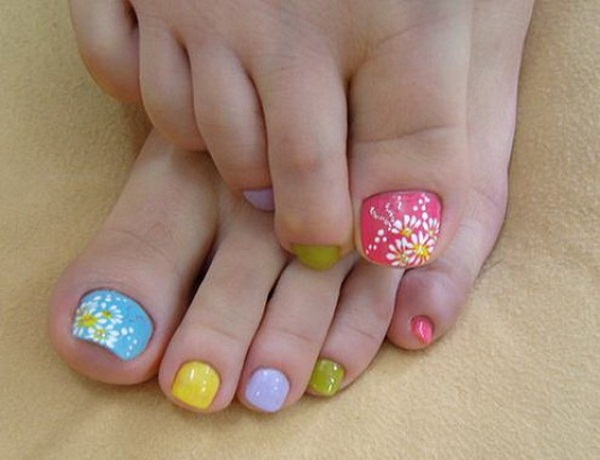 Same with this one. The difference is that the artist use different colors for each toe nail, which gives the hint of chic and cuteness.
23. Nail Art Designs by Hand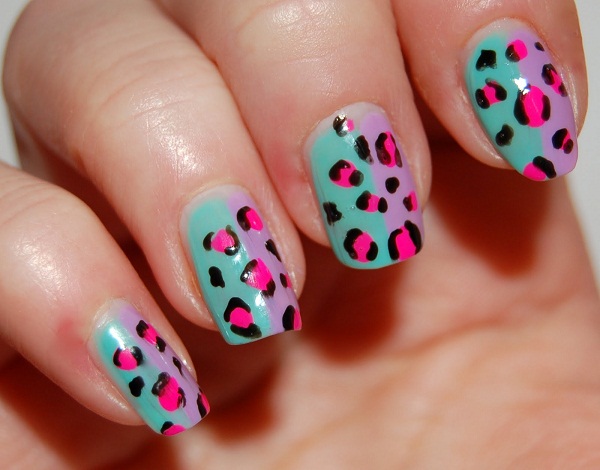 Looking for some hand painted nail arts? There are actually lots of it, but I've post the one I think beginners can do by themselves.
Image: Bigthinkidea.blogspot
24. Pink Nail Art Designs



Pink is IN in this nail design. It creates the fill of funkiness and coolness by combining two colors such as pink and black nail polish.
25. Nail Art Designs for Kids
Kids can also have some nail art. This one features watermelon art design for nails.
Image: Yaacaa
26. Gel Nail Art Designs
Gel nail polish is another type of polish that can be used in nail art. This on features flower designs, combined with french nail tip style.
27. 3D Nail Designs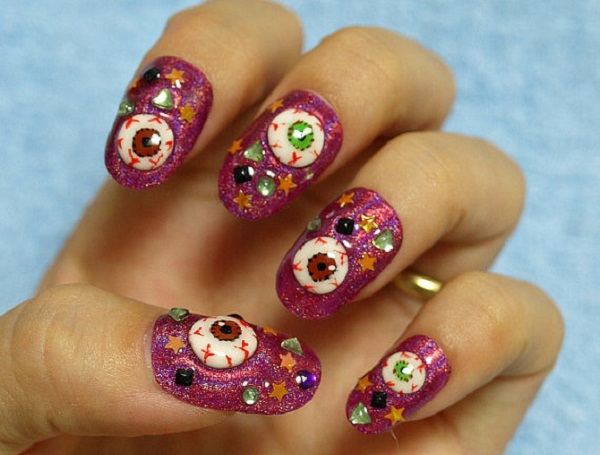 How about out-of-this-world designs for your nails? Look unique and different with this spooky nail art design.
Image: Nailartexpert
28. Animal Print Nail Designs
29. Leopard Nail Designs
30. Winter Nail Designs
Snowy scene is usually associated with winter so why not use it as your nail design? However, this one requires some skill in drawing I guess.
When we this images of nail art we will understand that the nail art is something fascinating and very important in women's everyday life and beauty. You can see lot of shops where women is sitting and doing nail arts for hours. Please see some related websites I have found on the web
Nail art designs from easy day

Nail art gallery from pinterest
nail art photos from tumblr