Aside from the wedding dress, bridal hairstyles are one of the things that most brides put to a consideration for their wedding day. Of course, the wedding hairstyle should complement with the chosen dress. As a bride, you want to make sure that you'll be the most beautiful lady in the crowd. You want to stand out. And to achieve that, a magnificent hairstyle that fits your facial features, wedding theme and your dress is a must.
But of course, wedding hairdos may vary depending on your hair length and the theme of your wedding. You shouldn't look so regal on your hair if you're having a beach wedding. Such wedding calls for casual yet romantic hairstyle. So, let's get through different hairstyles for wedding.
1. Bridal Hairstyles for Long Hair
As a bride, it's an advantage to have a long hair. It's easy to choose and think of hairstyle for wedding if you have a long hair since there are tons of wedding hairstyle to work with long hairs. Here are some of the most popular long hairstyle for brides to look at their best on their special day.
A loose with big curly hairstyle, easy to achieve and gives the natural and casual look for the bride. This is perfect for those who want quick and easy style for their long hair.
One of the most popular and commonly used hairstyle for wedding, a half up half down hairdo for the bride, featuring curls and waves, adorned with glamorous hair clip.
Want to look fresh, natural and easy? Then go for this kind of hairstyle. A simple yet glamorous bridal hairdo, suitable for any kind of wedding. Adorned with simple flower on the side, this can also be used for beach weddings.
Braiding is one of the popular, and perhaps, commonly used fix to style a long hair. For brides with extra long hair, braiding it into big twist and twine would give gorgeous look.
2. Bridal Hairstyles for Short Hair
Although I said brides with long hair have some extra advantage, ladies with short hair should not feel depressed. There are several hairstyles for short hair to work with. I've compiled some of them.
Have a regal look with this loose bun wedding hairstyle. This gives the bride the simple yet serene look, perfect for those who want to look fresh and young on their wedding. Different hair accessories can be used to further beautify the hairstyle.
Here's another sample of loose bun hairdo for brides. This gives the bride a gorgeous look by letting some of her hair strands loose.  This can be easily achieve with some hair pins here and there.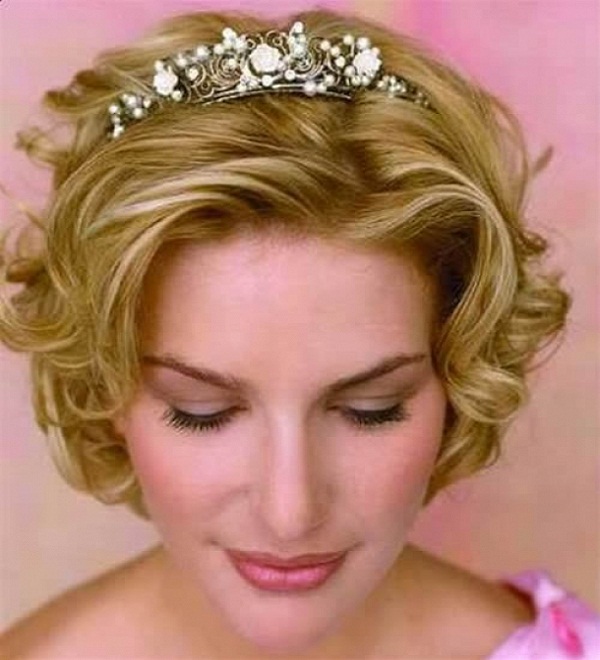 Tiara is one of the most effective hair accessories that can make anyone look regal in their wedding day. Brides with short hair can use thinner tiara, with simple embellishments. It's perfect to accessorize short with some curl hair.
3. Bridal Hairstyles for Medium Hair
Brides with not-so-short, yet not-so-long hair can definitely achieve the look they want for their big day by choosing the most beautiful hairstyle. Selecting the right accessory can also do some wonder.
Have a stunning look with just simple flower hair accessory plus veil with this hairstyle perfect for brides with medium length hair. This is the best choice if you want to curls and swirls on your wedding day.
Half up, half down hairstyle is not just for long haired women. It also works for those who have medium length hair.
4. South Indian Bridal Hairstyles
Indians are truly traditional especially when it comes to wedding. Most of their holidays involved flowers so it's surprising that their brides use flower of different colors and variants as their main hair adornment.
5. Bridal Hairstyles with Veil
Veil is one of the most important and always included in every bride's hairstyle. It also comes with different types and made. Some comes with long trails, some are like net-like. Nonetheless, it gives further impact to bride's overall hairstyle.
A hassle-free no fuss hairstyle for bride can give elegant and glamorous look for the bride with the help of white net-like veil, shaped into flower style.
Long haired brides often use veils with long trails, made of either chiffon or silk tulle fabrics. A soft and long veil further adds impact to the majestic look of the bride.
The bridal illusion veil gave the bride the elegant look, further beautified with the white ribbon entwining with her curly hair.
6. Half up Half down Wedding Hairstyles
The bride looks so breathtaking with this hairstyle featuring big swirls and curl on her long hair, tied into half up, half down hairdo and accessorized with small white synthetic flower.
7. Indian Bridal Hairstyles
Like I mentioned earlier, Indian brides often wear traditional hairstyle, featuring colorful and beautiful flower accessories. They often use gold and pearl jewelries to their headdress.
8. Bridal Updo Hairstyles
An elegant updo hairstyle for bride, featuring big curls and swirls, tied into loose bun. Simply accessorized with tiny, white flower.  The bride lets some strand down to create stunning look.
9. Braided Bridal Hairstyles
This is a popular type of braid known as Waterfall. This braid hairstyle create more stylish look by putting some curls and big swirls on the rest of the hair.
Want to look stunning and breathtaking on your wedding day? Then a french braid bun may be your choice of hairstyle. This wedding hairdo is simply beautified with big, loose braid and accessorized by tiny flowers.
10. Bridal Hairstyles for Black Women
Let your hair down and achieve the chic yet fabulous look with this curly, swirly black hairstyle. Achieve this by putting some curls on your hair then keep some of the hair onto the side by clipping it. You can use hair clips with jewels or flowers.
Stand out on your wedding day with this neat and swept bun hairstyle. Add some dash of grandeur and elegance by wearing jewel and flower accessories on the bun. You can maintain this neat hairstyle throughout the wedding by using special hairstyle gel or spray with anti-frizz formula.
11. Simple Bridal Hairstyles
A down hairdo, with side swept bangs hairstyle. This gives the bride the angelic and serene look. The fresh white flower on the side that serves as the main accessory gives the dash of freshness to the bride.
12. Vintage Wedding Hairstyles
Having a vintage-themed wedding? Then a hairstyle with a hint of vintage feel should be achieved to complement with your wedding theme. A loose bun works best in this case. Keep your hair up loosely and tie it into a bun. Adorn with classic-looking hair jewelry.
13. Beach Wedding Hairstyles
Keep it fresh, keep it clean, have some gleam with this summer outdoor bridal hairstyle. This is perfect for beach wedding. A swirly loose bun, adorned with flowers.
14. Romantic Wedding Hairstyles
Wedding is a romantic moment, isn't it? Then you may want to go for romantic hairstyles that will be suitable for the event. Here's an intricate and romantic wedding hairdo, simply beautified by flowers.
15. Curly Bridal Hairstyles
Curl and swirl will always be IN for brides.
16. Pakistani Bridal Hairstyles
Pakistani brides often wear majestic jewelries and extravagant veil with jewel and bead accessories.
17. Indian Bridal Hairstyles for Long Hair
Indian brides with long hair often use fishtail braid for their wedding day. They further beautify it with different flowers, jewelry and colorful beads.
18. African American Bridal Hairstyles
It's not really hard to find beautiful hairdo for brides with dark skin tone. There are tons of wedding hairstyle that can definitely make an american African bride look stunning on her wedding day. Some of the most commonly used hairstyle by black women are updo, bun and french braids.
19. Bridal Hairstyles with Flowers
Wedding will never be complete without flowers. But aside from decoration and bridal bouquet  flower can also be used in other purpose – hair accessory. Brides that prefer outdoor weddings such as beach and garden wedding prefer flower headdress as their main accessory.
20. Asian Bridal Hairstyles
Asian brides want to keep it simple yet elegant. They use flowers, English net veil and other synthetic accessories to beautify their hairstyle. In this bridal hairstyle picture, the bride used combination of veil and synthetic flower to make her side swept, straight down hairdo look fabulous.
More Related Resources
Wedding hairstyles from pinterest
Another 25 Hairstyles from confettidaydreams.com
wedding Hairstyle for long Hair