Share these good luck messages for exam to inspire your classmate or friends to do their best on their examination. These good luck messages for exam can boost their confidence and help them find the answers to the test questions easier, having that inspired mind and soul. You can send these good luck messages as email or SMS especially if you two are apart.
I told you to study hard and understand all our lessons.
I hope you did what I said. Good luck!
The more I review, the luckier I get.
I hope you reviewed for our test as well. Good luck, bud!
I wish sprinkles of luck will be showered upon you while you are taking the test.
Exams are very crucial determinant of our final grade so I am wishing you a remarkable score for this test.
If you take every lesson by heart,
you will sure get a high score.
Good luck!
good luck messages for exam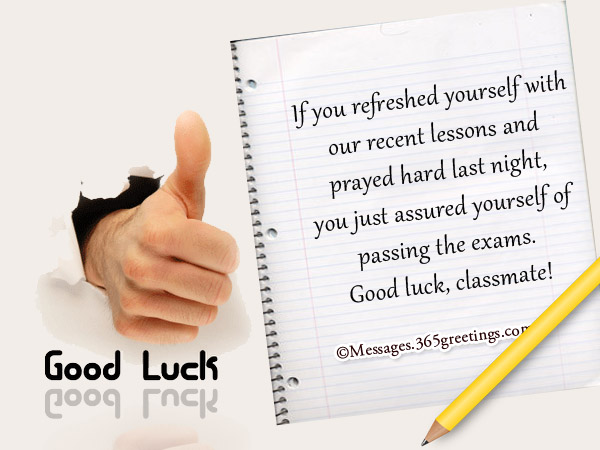 If you refreshed yourself with our recent lessons and prayed hard last night,
you just assured yourself of passing the exams.
Good luck, classmate!
Exam is a boulder blocking the road to being a graduate student.
Good luck with pounding those boulders!
good luck greetings for exam




I hope you studied and slept well last night so you will have a relaxed and focused mind while taking the exam. Good luck!
If you weren't able to study for the quiz, I hope you have enough intake of Vitamin A to improve your eyesight. Just kidding! Good luck!
Even though short quizzes comprise a little part on our grade, you still have to give attention to it. Remember: big things originated from numerous tiny things. Good luck!
I recommend you avoid cheating. You can cheat to pass the exams, but your skills will remain underdeveloped. How could you get a good profession in the future? Good luck with our exam!]
I am summoning all the good luck to surround you during the examination! God bless!





Exam helps us to be proficient in the field we chose to take so you better do your best every time. Good luck!
Examinations broaden our skills and sharpen our minds so you better take it seriously to seal a good future waiting for you. Good luck!
I included you in my prayers; for you to pass the exams without breaking the rules. Good luck!
You better double check all your answers before submitting your papers. Good luck! I hope you'll get a good score.
Do not panic. If you studied well, a very eye-friendly score will appear on your papers. Good luck!