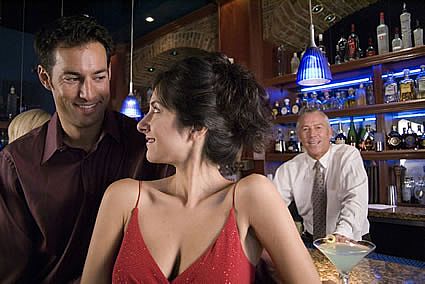 Flirty messages article contains messages which can be sent in order to flirt your girlfriend or boyfriend. If you want a help in finding best flirty messages, you have reached the right place. Flirting and getting flirted are done with proper flirt messages. Below you can find such messages.
I am so lucky and gifted to live with an angel,
Wanna meet the angel of my life?
Stand before the mirror to know who it is,
Yes baby it is you; you are my cute little angle!
Is there anyone who has seen stars in close contact?
I am seeing it in your eyes my dear,
You are so beautiful!
I have heard people saying God is a wonderful creator,
Now I am seeing it in real with you,
How creative he is in creating you,
With all the beauties in one place,
I always admire your beauty!
If God ask me to select one among two of good fortune or you,
I would definitely select YOU,
YOU are my big fortune my honey!
Love is the most beautiful thing in the world,
Love with such an angelic girl like you adds more beauty to love!
Honey you are such a dashing beauty,
You are incomparable to any beauty in this world,
I found the real meaning of the word beauty with you,
No added beauty is needed for a beauty like you!
Beauty and the Beast,
Yes I am the beauty and you are the Beast!
You are cre…
You are a bea…
You are such an abs…
Ok let me finish the sentences I can't keep the secret any more,
You are creaky, you are a beast, and you are such an absolute freak.
Honey, it is very rainy outside,
Don't try to go out today,
Stay in home and enjoy the day please,
If you go out in the rain then I have take a big risk,
Yes the rain will take away your make up,
I don't want to take the risk of seeing you without make up!
Lovely days,
Happy heart,
Romantic dreams,
Blessed life,
All become possible for me only after I met you in my life!
Meeting someone special in our life happens once in a life time,
It happened to me too,
I met you as a special person for my life,
I wish you to stay with me forever and ever!
Even if I am provided with the greatest award I would not have felt happy,
Your smile and hugs are the greatest awards in this world!
East or west, right or wrong, this or that, better or best,
I take no choices in my life,
I always want to stick on to you,
YOU are my only choice!
I am so crazy on you my dear,
I am going mad on you,
I cannot think of my life without you,
You are my God gift to make my life fulfilled with happiness!
I thought of quitting sweets,
Because I have you in my life!
Flirty Messages for Her



Are you searching for flirty messages for her? In this list of flirty messages, you can surely find the right words to say to your lady love to capture her heart Make her heart skip a beat with these cute flirty text messages to send to a girl. Sharing these flirty messages for girl in social media networking is very much welcome and appreciated.
If your beauty is a force, it must be a nuclear force! The radiation has already spread all over!
I wonder why did the miners dug deep in the mountains to find gold, when there is someone in here whose luster is brighter than gold.
I need no diamond ring; I got someone in here more precious than it.
Miss, can I ask you something? Did it hurt you when you fell from heaven?
Did you see my mind? I lose it upon seeing you.
I think I'm going crazy…. Crazy in love with you.
Feel free to fall for me. I'll be very happy to catch you.
You're like a star that brightens my darkest night… You're like a dream come true.
Every time I look at your beautiful face, it makes me feel so lucky as God sent me an angel from above.
Hey, wait. Let me get a sun block lotion. I'm afraid I get burn when I am with you coz you're so hot!
Hey, I think you should get insurance. Coz you got that killer smile.
I wish I could arrange the alphabet so I can put U and I together.
Are you lice? Coz you keep running in my head!
You are some kind of a drug. Coz you're so addicting!
Can I get your surname? So I can replace it with mine?
Are you a dictionary? Coz you give meaning to my life
Flirty Messages for Him



Express your interest with these flirty messages for him. This collection of messages includes flirty text messages to send to a guy to convey what you feel towards a certain guy. You can send these funny flirty messages to your husband, boyfriend, special guy or crush. Feel free to include your own messages on it.
With that perfection scattered fairly all over your well-shaped body, I literally drop my panty!
I bet you're tired running on my mind all day. Because of fatigue, you lose your balance and fell into my heart.
I thank God for giving me inspiration in the form of a gorgeous man like you!
Even if I didn't see you, my day is still all about you. You're in my mind all day.
Your memories must be great conquerors, for they invade the wholeness of my brain!
I just can't eat. Coz when you're around, I feel like I'm already full.
Now I know why my fingers have gap between them. That's for your fingers to fill with.
I'm so lucky! Imagine? I've got the most handsome and hottest man in town. Who would not be proud?
They say things that are too good to be true are not true. But please tell me this is true. Coz being with you feels really so good.
I don't have to win in a lottery because being with you gives me million-worth happiness.
Congratulations for captivating this precious heart! Your award will be spending a lifetime with me.
What else are your wishes aside from having me as your girlfriend?
When I look into your eyes, it feels like the world stops revolving and it's just you and me in this earth.
If this is just the dream, I don't want to wake up anymore. As this is the best dreams I've ever had.
They say all people have their match on this world. I'm lucky coz I've found mine.
Flirty Text Messages to Send to a Girl
Looking for flirty text messages to send to a girl? Capture your lady love with these funny and cute flirty messages for her. We include some flirty text messages that you can post to her facebook wall and send via SMS. Feel free to share these flirty messages to your friends.





Healthy flirting is adored by girls. In fact, light flirting is a way to pamper girls which girls love a lot. These cute flirty text messages will surely bring a smile of your crush's face and you will also be able to express your love for her indirectly.
So what are you waiting for? Scroll down to read flirty text messages to send to a girl and send them to your lady love, crush or girlfriend.
Flirty Text Messages:
Hey! Stop thinking about me.
I am getting so many hiccups.
And now, stop smiling!!
It's giving me a heart ache!
**********
Is your dad a drug manufacturer?
Who else can produce such an addictive drug like you!
**********
I am having two movie tickets
and the other ticket is insisting
to be taken by a beautiful girl.
Will you help this lonely ticket out?
**********





Dear Please help me!
I am going through a serious problem.
I can't stop thinking about you.
**********
You know what?
Yellow has become my favorite color,
since I have seen you
in that pretty yellow dress yesterday.
**********
I wish I could take you
on a long drive
under the moon light
and do a candle light dinner.
What say?
**********
Do you know what is for dinner today?
Your favorites-
French fries, Pizza, Chilled Beer
and Of-course ME!
**********
You are my closet friend.
Do you think we can become
friends with benefits?
**********
Do you believe in love at first sight?
Or do I need to walk in front of you again?
**********
Good Morning!
I just woke up
and you have already
started capturing my thoughts.
Flirty Messages For Girls:
Hey You!
Please stop being so pretty.
I can't concentrate on my work/studies.
**********
Oh come on!
I know you want to send 'XOXO' to me!
Send in. I am waiting!
**********
I can't sleep!
I can't stop thinking about you.
**********
In this world full of pollution,
your lovely face is a breath of fresh air.
**********
My day becomes beautiful when I see you.
So, will you make my day today?
**********
If girls are music,
you are the only beautiful melody
that serenades my ears.
**********
Your voice is my favorite song.
I want to hear it on repeat mode.
**********
I was to look out for fishes in the ocean,
but what I found is a gorgeous mermaid!
**********
You are the most beautiful flower
in the garden of this world.
Please be mine.
**********
I heard Venus is going to retire
as the goddess of love and beauty,
and Zeus is looking up
for someone to fill up the vacancy.
The replacement could be you, possibly!
**********
Your eyes are so beautiful,
I really want to live in them forever.
**********
I wish I am your hugest teddy bear,
the one that you embrace
so tight when you sleep at night.
**********
Will you become mother of my future kids?
Flirty SMS For Girls:




With a captivating face like that,
I bet your mother must be so beautiful.
**********
Dear please help me.
I have no place to live.
Is your heart vacant?
**********
My memory is almost full of files:
all of those are your images.
I tried to delete it all
but a dialogue box appears and says,
"Unable to delete! Too irresistible!"
**********
Hey tell me? Do you like me surname?
[When she replies Yes]
Ohh Great, when you are willing to change yours to mine?
**********
My geometry teacher asked me to define angle,
and the first thing that comes to my mind
is your body instilled with beautiful angles!
**********
It won't be hard to solve
for the equation of curves,
if those curves belong to you!
**********
Could you be the pendant of my necklace?
Because I want to place you close to my heart.
**********
Firemen are badly needed in here!
A sexy woman set the whole room on fire!
**********
Are you an orthopedic doctor?
I think my legs are broken;
I fell for you so hardly!
**********
Hey, police officers.
Get this pretty lady arrested!
She abducted my innocent heart!
**********
When you pass by a garden,
every single flower in it blooms;
every single bird starts to sing;
every single butterflies starts to appear;
every single cloud gives way to the sun;
every single tree sways to the tune of the wind.
Whenever I look at you in the eye,
the wind whispers a beautiful melody.
Ain't these flirt text messages cute? If you share a good bonding with your crush or lady love, then I am pretty sure she is going to love these messages. Also, if she is your good friend and you want to take this friendship to another level, then send these messages to express your love indirectly. If she replies positively, this means its a green signal for you.
Whatever the matter is, these cute flirty messages and SMS will surely bring a bright smile of your girl's face.