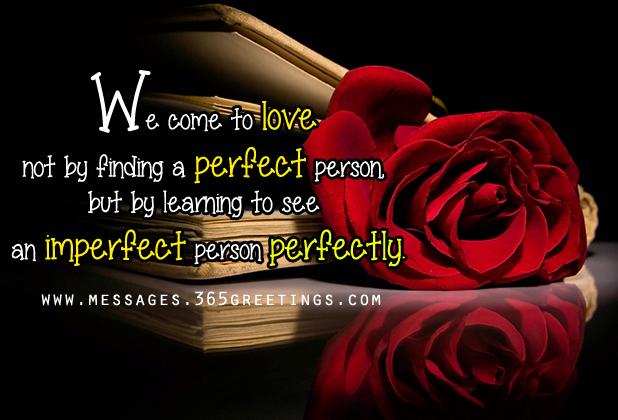 Wanting to send your lover, boyfriend, girlfriend, husband, wife or a person important to you an I love you message, but are not sure just what to say? Here are some Romantic love messages and romantic love wordings to help you!
Romantic Love Greetings
In my whole life I never found another guy,
Who is so understanding and caring!!!
I love you my dear !!!
I read and heard about love!!
But I cam to know the true love
From you. You are so lovable by dear!!
I love and Believe in God,
Because he has given you to me
I love you so much dear!!!
My life has became a poem!!
Ever since You came to my life!!
I love you dear!!
People say romance and romantic!!
But for me you are everything!!
May be that is called romantic
I love you my dear!!!
When you are near to me
my heart beats for you!!
When you are away from me
My heart beats for you !!
May be you are so romantic!!
I want to send a romantic message to you!!
But for me everything about you is romantic
So the words wont be enough!!
I love you so much Dear
I used to think that the world was unfair
and cruel until it gave me you!
If love is a sickness then consider me sick.
I wouldn't ever take medicine or get a surgery to get rid of you!
There is a saying that there is somebody for everybody and
I know that it is true because I have you.
Romantic love messages for her, romantic love messages for girlfriend
Now you have found your life partner. And you know that your life will be a success if she comes to your life like an angel, who will care you, who will inspire you. And you are sure that the love and affection she is offering will be the foundation for your life. So send some romantic love messages to her so that she will understand how much you love her, how much you value her. Please find some messages which will express your love and affection to her



You like an angel to my life
without you my dreams will be dreams for ever!!
Please come and make my dreams true
I love you sweet heart
My dreams are build around you
Without your love and care
It will not become true!!
My love!!
I am like shore of river!!
If you are not flowing side of me
I will not flourish!!
I love you so much dear!!
Without you I am not complete.
So always take good care of yourself because I would hate to lose a part of me.
I hope that every dream of yours comes true, and that in your dreams we are together.
My biggest reward in life is making you smile, knowing you are happy and making you feel you are loved.
There is a saying that goes as long as you have one person loving you, life isn't a waste. I want you to know that your life will never be a waste because I will always love you!
If you ever feel lonely, remember that you have someone who loves and supports you very close by.
You look amazing today! How do I know without seeing you? Because you look amazing every day.
There are only two reasons that I wake up every morning, the alarm clock and you.
I love you more today as yesterday, but not as much as tomorrow..
Whether it be here or there, near or far, my love will be with you wherever you are.
If love could be avoided by closing our eyes, I would never blink!
I love you because you are always there to catch me when I fall, to listen when I need you, and to be there when I feel alone.
When I close my eyes, I see only you and when I open my eyes, you are all I wasn't to see. I love you!
Sweet Text Messages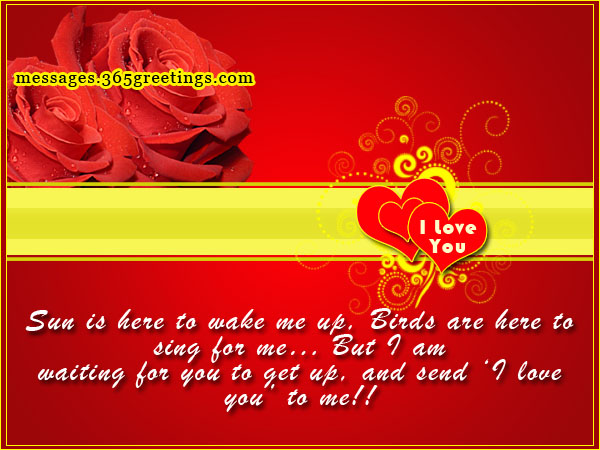 Text messages are always good in order to express the unsaid feelings. And if you are in a relationship, a sweet text message can brighten the day of your lover and can bring a big smile on his / her face. It is not possible to meet and see each other every time. But by sending sweet love text messages, you can express your love and importance to your lover easily. The best part of sending text messages is that you can send these messages any time. May it be early morning or late night, from your office or home, you can connect with your lover any time you miss them.
Here are some really sweet text messages which you can send to your lover to express your feelings. You can send these sweet love text messages anytime you feel like sending. So what are you waiting for? Scroll down and pick up the perfect message and send it to your lover.
Sweet Love Text Messages:
Send these heartfelt sweet love text messages to express your feelings. You can send these text messages via sms, whatsapp, etc. You can also take a plain paper and write these sweet love text messages and give it to your lover.





First thing I want to see in the morning is your face.
First thing I want to hear in the morning is your voice.
And first thing I wish for in the morning is you and your love.
Today is different from yesterday.
The only thing which is same is our bond of love.
And I know, it will remain same forever…
I am sitting by my window, listening to the dumb noise,
I wish to hug you tightly and I want to listen to your voice.
I feel scared when I am alone,
please come soon and make me your own.
Your voice is so sweet; I want to hear you every moment.
Your face is so beautiful; I want to see it every day.
And you heart is so lovable; I want to live in it forever…
Every moment I realize that I have you to love me and care for me,
I feel like thanking God to bless me with an angel like you in my life.
Love you sweet heart.
You are my cool boyfriend, I love you style.
I promise to be with you always… You are the reason for my smile.
Sun is here to wake me up,
Birds are here to sing for me…
But I am waiting for you to get up,
and send 'I love you' to me!!
Just like honeybee is addicted to honey,
and butterfly to flower…
I am addicted to you,
and I can't live without you even for an hour.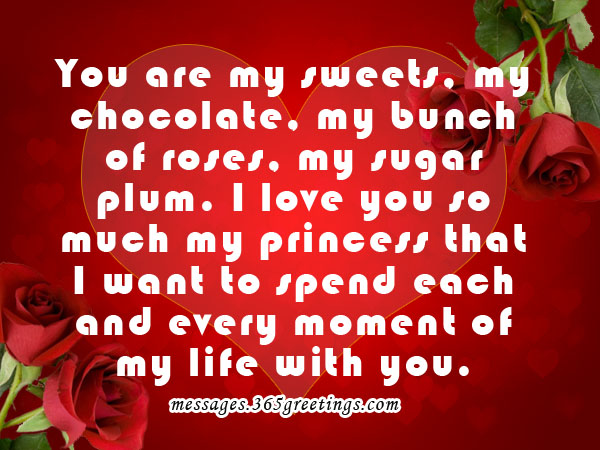 You are warm as sunshine, sweet as sugar, bright as stars and beautiful as moon.
I am so lucky to have you in my life.
You are a thief! Yes you..!! I never expected this from you.
Gosh, you stole my heart and I didn't even know.
Now that you are caught, I would like to imprison you in my heart and punish you to be with me forever.
My feelings are true.
I really need you.
My love for you will always be there,
it will never make us feel blue.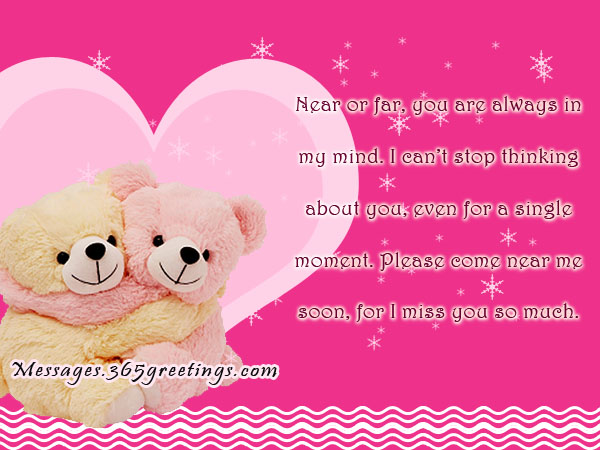 It is the rope of love that has bound our hearts together.
I hope it never break and our love for each other always stay.
You are far, I am alone,
All I can do is text you from my phone.
I wish I could hug you with all my soul,
Making you mine is now my life's goal.
I must have done some good deeds in my past life, this is why because God has blessed me with a sweet and loving lover like you.
I feel so lucky to have you with me.
Near or far, you are always in my mind.
I can't stop thinking about you, even for a single moment.
Please come near me soon, for I miss you so much.




Sweet Text Messages to Send to Your Girlfriend:
Who said it is hard to impress girlfriends and make them smile. A girl can be impressed by small little things. Have a look at these sweet text messages for your girlfriend. You can send these sweet text messages to your girlfriend to make her feel loved and to make her smile for a moment.
You are my sweets, my chocolate, my bunch of roses, my sugar plum.
I love you so much my princess that I want to spend each and every moment of my life with you.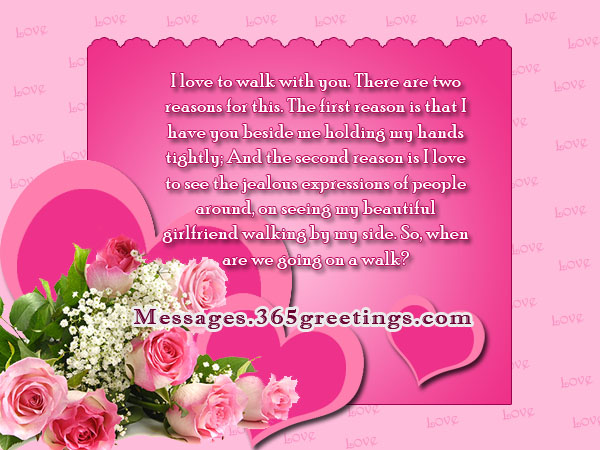 This is to certify that the reader of this message is no less than an angel who spreads the smiles and joys among the people around her.
I am happy to have such an angel in my life. Love you.
The toughest thing in my life is to stay away from you.
Please come soon. I love you so much.
You gifted me the gift of love,
I will cherish it whole my life.
If you will ask me what I can gift you,
I will say I can only afford to gift my surname to you in return to your priceless gift.
Please accept it and be mine forever.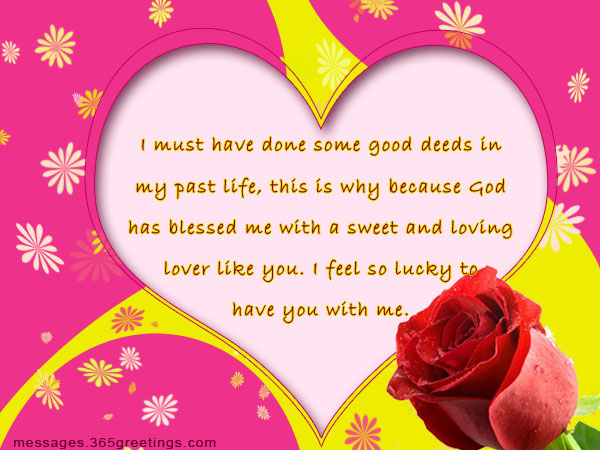 No facebook, no twitter, neither linkedIn, nor google+, My social channel starts from you and end with you.
I really don't need anything as long as I have you with me as you always to 'share' my sorrows, 'like' my happiness, 'tweet' with me when I am sad and the best part is our 'Status' is always same.
I love to walk with you.
There are two reasons for this.
The first reason is that I have you beside me holding my hands tightly;
And the second reason is I love to see the jealous expressions of people around, on seeing my beautiful girlfriend walking by my side. So, when are we going on a walk?
Hey there? Please help me! I can't sleep right now. My heart has become a rebel because it knows that I can talk to you in reality which is much better than the dreams.
I wish I had met you when we were just 1, so that I could proudly say that I have literally known you since I have learnt to walk, talk, share and love.
Sweet Text Messages to Send to Your Boyfriend:
Is your boyfriend busy? Want to steal your boyfriend's attention for a moment? Send these sweet love text messages to him and drive all his attention towards yourself and express your love.





You are top class thief.
You stole my heart,
took away my breath,
and left me spellbound in your love.
I am totally crazy for you boy.
Since I have met you,
I have learnt why people look at someone and smile lamely without any reason.
Since I have met you,
I have learnt how special the feeling of being loved is.
I want to steal something from you?
You know what it is? It is your surname.
I want to steal it and make it mine forever.
Everyday is new, as time waits for nobody.
Only one thing is stale, and that is my love for you honey.
It is a beautiful feeling,
when you actually realize that,
you have someone to hold you back when you fall,
cares for you every time,
and loves you every moment.
You are not my boyfriend, but you are a true soulmate.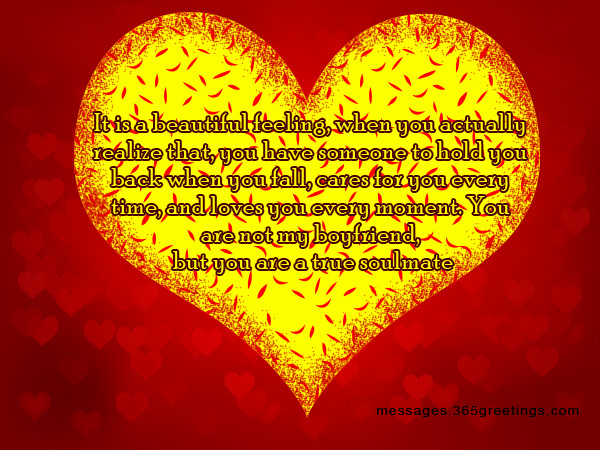 I want to watch the sunsets,
the shooting stars,
the sea waves,
and the whistling winds in a green garden with you.
I want to spend my whole life seeing love for me in your eyes. I want to grow old with you.
I love you.





I don't care if it is smoking summers or chilling winters.
I don't care if it is heavy rains or scary thunders.
All I care about is your heart which beats for me every moment!! You are very special for me. Love you honey!
Hey there? Can you please do me a favor?
Place your right hand on left shoulder and your left had on right shoulder.
Now squeeze it.
You know what it is?
It is a sweet lovable hug from me to you!! Love you dear.
Aren't these text messages so beautiful? Love is a very beautiful feeling. It is very important that you express your feelings in order to maintain that charm and spark of your relationship. I hope you loved these sweet love text messages. You can also look around this site and explore more cute messages which you can send to that special someone in your life.