Romantic messages for husband – sent to express your romance towards your husband. We are here to suggest you good romantic messages for husband. Rekindling the romance between you and your husband, the magic can be done by sending our wonderful messages. Our messages are going to make your husband turn and focus his attention towards you. Below you find romantic messages for husband send them to your husband and make him feel romantic.
I am going to steal away the letter U from the alphabets,
because it belongs to me.
I LOVE YOU my dear!
God has given me a wonderful gift,
he has made you mine.
I always thank him for this valuable gift in my life.
Love you my honey!
Humble, genuine, caring, admirable, lovable
these are all the words I use it for describing you
I know these words are very mere and not enough to describe you.
You are a great stuff within yourself!





The relationship and the bond between us
can't be explained in words.
Words will definitely fail to describe.
I can just simply tell that
you are everything and everything is only YOU!
Anything on this world can take a change over,
but my love towards you is not going to change forever.
I love you all my life!
Life becomes colorful and beautiful
when I am only with you.
Thank you so much for entering into
my life and lifting me to the heights.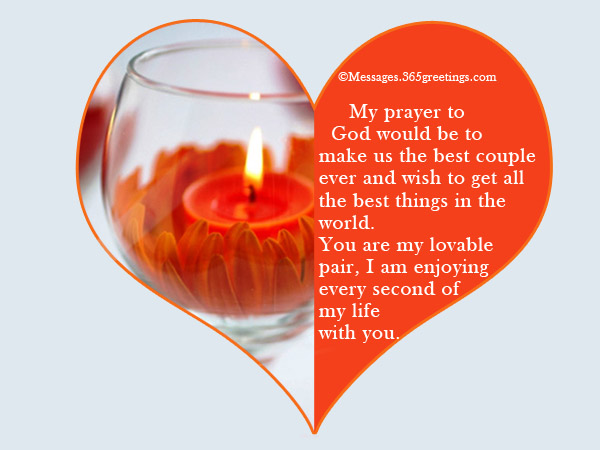 You are my superhero and you are my life's romantic hero
whom I feel proud to possess.
You are my finest gift of God! I love you my hero!
Today is the special day for us to celebrate our love,
affection, care and warmth. We are perfect soul-mates.
My prayer to God would be to make us
the best couple ever and wish to
get all the best things in the world.
You are my lovable pair,
I am enjoying every second of my life with you.





I wish to have all my mornings with your warm hug and sweet kiss.
Your hugs and kisses are loaded with care and affection.
I would like to be the stream of the river
because the stream always stays with the river
wherever it goes and wherever it falls.
I am happy to be your side ever and forever.
You are there for me when I am in my horrible situations,
you are there for me to console me
when I was in desperate situations and you will be there for me whenever
wherever I need you.
I am a gifted person to have you as my gifted husband.
The wisest decision I made in my life is choosing you,
I have made the right choice. Proud and excited to be your wife.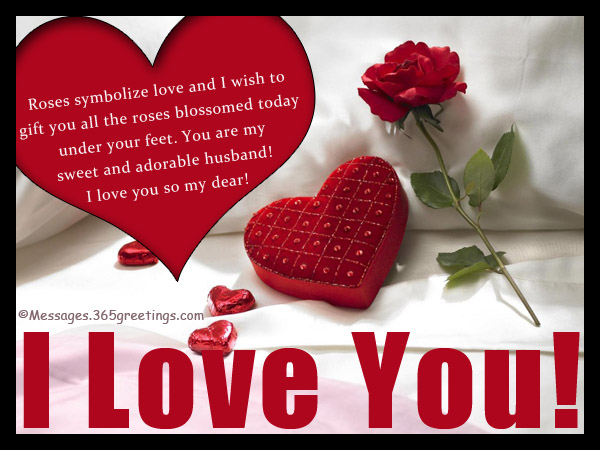 Roses symbolize love and I wish to gift you
all the roses blossomed today under your feet.
You are my sweet and adorable husband!
I love you so my dear!
Without you I cannot think my life on this earth.
My days spin around you.
You are my mentor and you are my life!
Love you to my heart!
———————————————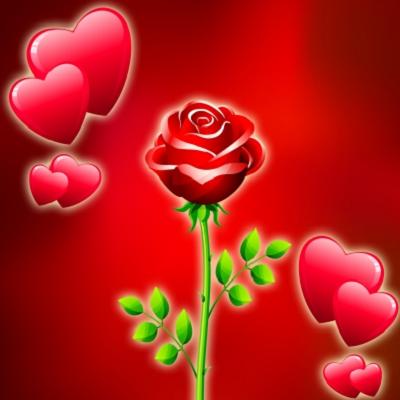 Love and romance is the base of existence of mankind. It has changed history and life of lot of people. You may be looking to find some good romantic messages for him. Then you can have a look at below,
In this article you can find excellent collection of romantic messages for him. You can write the romantic messages for him choosing from various messages which will be apt to suit your boyfriend's mood. He should feel embarrassed and happy being your boyfriend with your romantic text messages and this will be made possible with our article section of romantic messages for him.
 Romantic messages for him
Every time when I missed you,
I felt the importance of you and the emptiness in my life without you.
It's a very horrible situation to come across.
I always wanted to be under your warm hugs and kiss my dear.
Your touch, your hug, your kiss make me hang around you.
I admit myself to you for your single smile,
for your warm touch and your sweet kiss.
I am longing to reach you and be with you forever.
Waiting for the moment to come
You are like the candy in my mouth,
melts and spreads its sweetness.
You spread the love and happiness within me and I love the feel to be loved by you.
Love you so much!
Romantic Text Messages
Romantic text messages section contains text messages for romantic lovers whom they want to express and convey their love. We assure you your love relationships becomes strong and deep with our sweet and cute Romantic text messages. Even though we may find many ways to express our love sending romantic text messages to your beloved ones will fetch a strong relationship. If you are not confident enough about your words to express your love, let 365greetings.com find you words to show your romantic love through its romantic text messages section.
I am not sending this message to reach your heart;
I am sending this to touch your soul and to remain as your soul mate all through your life…
I love your eyes and the way it looks at me makes me go so craze at you.
The silent language spoken by your eyes makes my life more romantic.
I want to get myself lost in your smiling eyes.
The most embarrassing moment in my life is when you whispered those 3 little words on to my ears "I love you"… That was the day I realized you as my heart beat.
I am nothing without you my dear. Be with me forever.
Love is not a responsibility,
love is not a game,
love is a magic happens in everyone's life.
I can define love in a single word – love is YOU!
I would never get tired of saying "I love you" to you my dear coz it's my breath,
I can't live without my breath. I love you!
I treasure my heart because it has YOU inside it!
My heart overwhelms with joy when I am with you!
"I love you" – the three lettered sweet sentence when it is heard from my dazzling beauty!
Whatever you do is my deed, whatever you speak is my pleasure!
It's all my great moments in my life when am with you! I like and love you so much my dear!
Darling you are the start and end of my day!
When I wake up in the early morning you are in my first thoughts,
when I go to bed you are on my dreams!
I feel elevated with confident thoughts
when I hear your words to comfort me when I am in my critical situations.
You are my mentor, always be with me to reach fruit of success!
My heart beats listening to the rhythm of your heart!
You are my world and you are the sunshine on my world!
My life becomes meaningful when my day starts with you!
You are my God's gift and you are my dream!
The petals of a flower won't be as soft as your lips!
I like to see the twinkling in your eyes when I kiss you!
Silence is the most beautiful language in the romance!
Even when we are so close to each other the silence speaks more than our words!