Romantic messages help us express our feelings to our loved ones. While some use romantic gestures like bouquet of flowers, a love song or candlelight dinner date, you cannot underestimate the power of passionate and romantic messages to melt your partner's heart. The gesture of expressing your love through romantic notes is very sweet and can make your partner fall in love with you all over again. Below you can find romantic love messages, which you can send it to your lovable persons, capture the romance and win their heart.
Romantic Messages for Your Love
Being in love is a wonderful thing. It means having a permanent smile on your face each and every moment as you think about the one you love and who loves you back. Express your love deep from your heart with words that are true. Here are some of the most romantic love messages that you can utter to your significant other.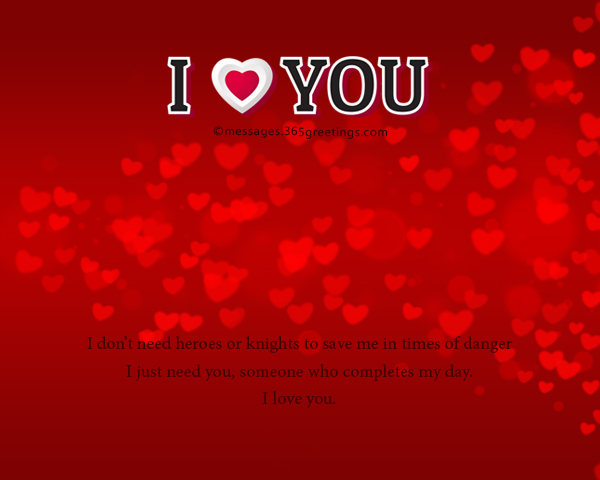 I don't need heroes or knights to save me in times of danger
I just need you, someone who completes my day.
I love you.
I love you.
It resounds in my heart.
It echoes in my thoughts.
Love is what I truly feel for you.
They say poets are writing about romance
But I think They do not know what is it
For me words are not enough to express
My feeling towards you
This feeling I have for you
Seems heavy for me to bear
I can't seem to reach you
You don't even seem to care
Nevertheless, I'll keep it within my heart
And pray that together we'll make a sweet start.
This won't take long.
I just came by to tell you
I love you.
I really do.
How can I win your heart?
When you have captured mine?
I love you.
Sweet Romantic Messages, Cute Romantic Messages
Sweep your love off her/his feet with these sweet and cute love messages. You can choose from these cute notes and edit as neccesary. These are perfect for birthdays, anniversary, monthsary or Valentine's day.
Roses are red,
Violets are blue,
Since I met you,
All I think about is YOU.
What can I say except "I Love You?"
All these years, I have loved you.
But then, I love you more today.
I will always continue to love you more tomorrow.
Until I take my last breath.
When I think of love
I think of you.
You are my air.
I couldn't live without you.
I love you.
With you I am free to be me
With you I am worry free
With you I feel no fear
With you I see forever.
Don't sing to me a thousand songs
I don't need bank accounts
Don't hand me flowers and chocolates
I just need your heart.
I Love you!
If Rose is the symbol of love
Then the whole roses available now
is not enough to express my love to you
Romantic Love Messages, Sweet Love Messages
My life becomes so colorful and meaningful because I have you in my life.
You are the only one who can make this possible.
I am so thankful for my eyes because it showed my heaven to me
that is YOU my dear, yes you are my heaven.
Am so lucky to have you
When I think of love
I think of you.
You are my air.
I couldn't live without you.
I love you.
With you I am free to be me
With you I am worry free
With you I feel no fear
With you I see forever.
Don't sing to me a thousand songs
I don't need bank accounts
Don't hand me flowers and chocolates
I just need your heart.
I Love you!
You brighten my life and one smile from you is like a 100 watt bulb flashing in my face.
The radiance that you have brought into my hitherto dark world is beyond explanation.
Simply put, you are the one for me. I love you with all of my heart.
Romantic Text Messages

I wanna be your pillow and I wish to feel your warmth always under your cute face.
I am your lucky pillow to get your hugs and kisses every night
Nowadays I am not worrying or straining myself too much because I am in the hands of you
hands of the right person and the right place where I will be guided perfectly to the destination of success
I want to give you a tight hug,
a warm kiss on your forehead,
hold your hands and say I love you and treasure you so much
I always want to start my morning with your cuddling,
romantic hug around my neck. Your lips kissing my cheeks.
Your heart beat tapping the rhythm of my heart beat.
Your first smile I saw on your face it is the one which drove me towards you.
There is nothing valuable in this whole world except your smile on your cute face.
I whispered my love to your heart and not into your ears;
I kissed your soul not on your lips.
Your love humbles me because I know that it is not because I am the best there is,
but it is because of special grace that this love came my way.
Romantic SMS Text Messages
Romantic sms text messages article contains cute little messages, text and sms to your girlfriend/boyfriend/lover. Romantic messages sent to your loved ones can be in any way of sms, text or messages but it all goes to convey your love, care and affection to them. Love without romance is like flower without nectar. Messages/sms/text sent without romantic feel in it is of vain to convey the love feel. We serve your need in finding good romantic sms text messages for your lover.
The petals of a flower won't be as soft as your lips,
the butterflies won't be as cute as your eyes,
and you are so beautiful my lovely angel
I always have your shoulders by my side to lye down,
close my eyes and forget my world in you.
You are my handsome guy forever
Standing close to you, my arms around your neck,
eyes closed, stepping my feet on your feet and placing my lips gently on your lips
the most romantic moment we had together
You are my very special person as you have lit the light
in my life and showing the right path to success.
I always focus on things which will make you happy forever.
I want to place the smile on your face permanently.
I love you so much my love
From the moment that we met I knew that you would be a special part of my life.
I love you for who you are, just the way you are and I would not change a single thing about you my love.
I know that you are not perfect for indeed there are no perfect human beings,
but you are just perfect and just right for me.
Romantic SMS Messages for Special Someone




You are the rarest kind of person to find, you have all the good qualities to be a lover.
I am so happy to have you on my life. I love you!
The understanding between you and me is so perfect,
so we have not faced any problems.
You are such an understandable person I have ever seen.
We met as strangers in the past;
you are there to care about me in my future,
you can understand me very well in the present.
I have you in my past, present and future so I need not worry about things.
You are the best thing I have been gifted by God.
My mind is addicted to you and never wants to be away from you
I want to spend the rest of my life with you
wish to get melted with your smile,
make my heart beat sing a song along with your heart beat,
get myself lost within your love
I would give up everything I hold dear just to be with you always.
My heart is fixated on you and you are my number one person on this planet.
You are so splendid and I have no qualms about giving all my devotion to you.
Romantic Love Text Messages




I can very easily adapt to you my dear, as you are my soul mate.
Sun and Moon envies on you for the bright light you have on your face more powerful than them!
I will never leave you alone in our life, if at all I leave you and go that must be my death
You entered my eyes, reached my heart and stayed there forever.
Can you hear my heart beat; it's only beating for you my dear!
I will make you sleep inside my heart;
it will be the safest place for you,
so stay there permanently.
The first gentle touch of you,
I could not forget easily,
you took my hands into your hands
and said I am here for you and I love you.
My heart delights itself in you for you are lovely to behold,
not just physically but also emotionally, psychologically and in every other way.
If I were to give you a new name my darling I would call you Love.
Short Romantic Messages for Love

I wish to prolong the time span of the day because I don't want to miss you during night
My mind won't feel tired thinking of you, my eyes won't sleep without seeing you for the day, and my heart won't stop its beat until you leave me and go.
You are the sweetest thing that ever happen to my. I couldn't ask for more!
If you want to know how much i love you, count the stars. My love for you is as limitless as the galaxy. I love you.
Everyday I feel like my love for you is getting stronger. Who could blame me? I'm with the one who melt my heart and make me fall in love with her over and over.
Romantic Messages for Girlfriend

My days are not moving without your presence on my life. My garden does not bloom flowers without seeing you smile every day.
I don't want to be the thorn in the flower but I want to be the color in the flower.
Love has no language and love is beyond barriers. Love does not happen by compulsion, it should happen natural to anyone.
Each and everything I come across in my daily routine reminds me of you.
The cool breeze passing me reminds me of your warm breath.
The twittering of birds reminds me of your sweet voice.
The flowers remind me of your cute face.
The kids playing across the streets remind me of your innocent, childish acts.
You have become a part of my life
You are my joy my darling and I want to express deep gratitude for all the beautiful things you have done for me since we met and fell in love. I love you so much!
Saying I love you may seem simple for these are just three little words, but when they are said with the full force of the love that is within me, my love, accept these words for their true worth. I love you.
Romantic Messages for Boyfriend
Baby you have changed my life. From the first moment we met my soul recognized its mate in you, and my happiness knew no bounds when you asked me to be yours.
Just letting you know how much I love you, and all I can think about is you. I miss you when I can't be there, how I wish we could always be together. I love you and I miss you, dear.
There are things that I couldn't say on ordinary days. But today, let me tell you this: I loved you, I love you and I will always love you. Now and forever.
A part of me will always be with you when we're not together and that is my heart. I miss you.
I can't believe that I have you as my boyfriend. Having a supportive, kind, thoughtful and (not to mention) handsome boyfriend. How lucky I can get? I love you honey!
You have imprisoned me with your love and I am totally and completely enamoured with you.  My love, you make a wonderful jailer and I take pleasure in the bonds which you have so tightly wound around me.
Amazing Romantic Messages for Special Someone
My love, there are not enough words in any dictionary in the world that can express how deeply I feel for you, but as the days go by may my actions show you what my words cannot express. I love you with all my heart.
Before I met you I merely existed but now I can truly and honestly say that I am finally living life as it should be. Because of you, my life becomes more colorful. Thank you.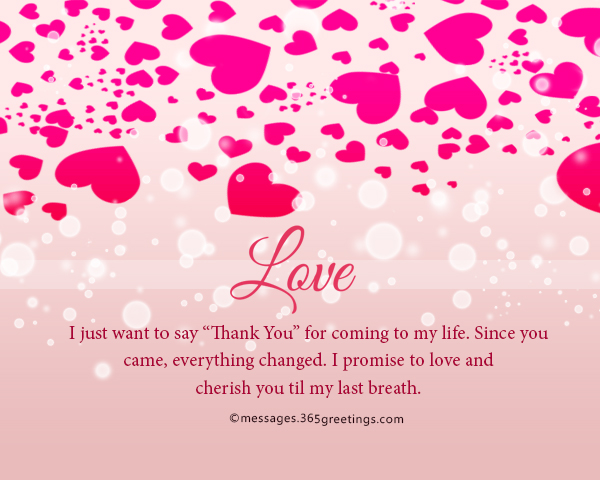 I just want to say "Thank You" for coming to my life. Since you came, everything changed. I promise to love and cherish you til my last breath.
You are the answer to my prayer. I never knew that I will be blessed with someone as special as you. I feel so lucky. I love you, honey.
You understand me like no one else ever has, you know my every moods and what is even more amazing is the fact that before I begin a sentence you already know what I am going to say. This is deep and true love my darling.
Romantic Love Message Quotes
"You know you're in love when you can't fall asleep because reality is finally better than your dreams." ― Dr. Seuss
"I love you without knowing how, or when, or from where. I love you simply, without problems or pride: I love you in this way because I do not know any other way of loving but this, in which there is no I or you, so intimate that your hand upon my chest is my hand, so intimate that when I fall asleep your eyes close." ― Pablo Neruda, 100 Love Sonnets
"So, I love you because the entire universe conspired to help me find you." ― Paulo Coehlo
"If I had a flower for every time I thought of you … I could walk through my garden forever." ― Alfred Tennyson
"As he read, I fell in love the way you fall asleep: slowly, and then all at once." ― John Green, The Fault In Our Stars
Our words of love should enlighten and inspire others to reach for this wonderful gift and embrace it. In this vast and fast paced life the word love is often misused and misinterpreted by many, and lovers or those who would find true love with us need to find inspiration and wisdom that will enable them know that they made the right choice when they chose us. We hope that these romantic messages help you express your true feelings to your love.