A dream has two definitions. One refers to the involuntary event that usually occurs when the mind is at rest or sleeping. These dreams could either be images, situations, feelings or ideas but without exact interpretation when the person wakes up. To some, it could be a warning or a reminder for something that might be happening in the future. In short, it's when the body is resting but the mind is still active.
Even the history states that people paid so much attention to the meaning of their dreams before. To mention Joseph the Dreamer of the Bible. He gave interpretations of his brother's dream that came true at some point of time. He said he will be above them and that his brothers shall bow before him.  The Egyptians even wrote their dreams on papyrus and people with significant dreams are considered blessed and special for they believed it was a message from gods. While early Greeks believed that dreams are the physical visit of their gods to the dreamer to send a heavenly message.
The second refers to hopes, aspirations, wishes or visions for the future. Some people have ordinary dreams while some would dream big time and requires great determination to make it a reality. This dreams are usually of good purpose or something favorable and beneficial in the future.. To dream would mean to desire for something making you a person with direction. This time, it's VOLUNTARY and you are aware that you're thinking about it.
So, here are some "Dream Quotes".  For the second definition of dream, these quotes are really encouraging. Telling you unless you work out for your dreams, it won't really come into reality.

The future belongs to those who believe in the beauty of their dreams. -Eleanor Roosevelt

I'm sick of following my dreams. I'm just going to ask them where they're going and hook up with them later. -Mitch Hedberg
You have to dream before your dreams can come true. -Abdul Kalam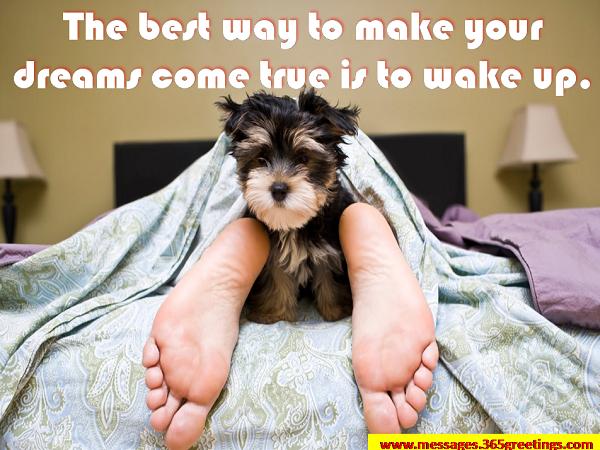 The best way to make your dreams come true is to wake up. -Paul Valery
The world needs dreamers and the world needs doers. But above all, the world needs dreamers who do. -Sarah Ban Breathnach

Only in our dreams are we free. The rest of the time we need wages. -Terry Pratchett



We all keep dreaming, and luckily, dreams come true. -Katie Holmes
Some people dream of success, others make it happen.
A dream doesn't become reality through magic; it takes sweat, determination and hard work. – Collin Powell
All our dreams can come true, if we have the courage to pursue them. – Walt Disney
Stay focused, go after your dreams and keep moving toward your goals.
Follow your passion, be prepared to work hard and sacrifice, and, above all, don't let anyone limit your dreams. – Donovan Bailey
Follow your dreams, believe in yourself and don't give up. – Rachel  Corrie
You have to dream before your dreams can come true. – P. J. Abdul Kalam
Live the Life of Your Dreams: Be brave enough to live the life of your dreams according to your vision and purpose instead of the expectations and opinions of others. – Roy T. Bennett
The future belongs to those who believe in the beauty of their dreams. – Eleanor Roosevelt
A dream you dream alone is only a dream. A dream you dream together is reality. – Yoko Ono
I like the dreams of the future better than the history of the past. – Thomas Jefferson
If you take responsibility for yourself you will develop a hunger to accomplish your dreams. – Les Brown
To accomplish great things, we must not only act, but also dream, not only plan, but also believe. – Anatole France
The interpretation of dreams is the royal road to a knowledge of the unconscious activities of the mind. – Sigmund Freud
Never give up on what you really want to do. The person with big dreams is more powerful than the one with all the facts. – H. Jackson Brown, Jr.
The path from dreams to success does exist. May you have the vision to find it, the courage to get on to it, and the perseverance to follow it. – Kalpana Chawla
Believe in yourself, go after your dreams, and don't let anyone put you in a box. – Daya
Too many of us are not living our dreams because we are living our fears. – Les Brown
Don't let your dreams be dreams. –Jack Johnson
In dreams begins responsibility. – William Butler Yeats
If you can dream it, you can do it. – Walt Disney
Life is a dream for the wise, a game for the fool, a comedy for the rich, a tragedy for the poor. -Sholom Aleichem
You have to fight to reach your dream. You have to sacrifice and work hard for it. -Lionel Messi
The biggest adventure you can take is to live the life of your dreams. – Oprah Winfrey
You know you're in love when you can't fall asleep because reality is finally better than your dreams. – Dr. Seuss
You may say I'm a dreamer, but I'm not the only one. I hope someday you'll join us. And the world will live as one. – John Lennon
All that we see or seem is but a dream within a dream. – Edgar Allan Poe
Throw your dreams into space like a kite, and you do not know what it will bring back, a new life, a new friend, a new love, a new country. – Anais Nin
Dreams are the touchstones of our characters. – Henry David Thoreau
Don't be pushed around by the fears in your mind. Be led by the dreams in your heart. – Roy T. Bennett
If you can dream it, you can do it. Always remember that this whole thing was started with a dream and a mouse. – Walt Disney Company
You are never too old to set another goal or to dream a new dream. – Les Brown
A dream becomes a goal when action is taken toward its achievement. – Bo Bennett
A positive attitude can really make dreams come true – it did for me. – David Bailey
I'm a dreamer. I have to dream and reach for the stars, and if I miss a star then I grab a handful of clouds. – Mike Tyson
Trust in dreams, for in them is hidden the gate to eternity. – Khalil Gibran
Through hard work, perseverance and a faith in God, you can live your dreams. – Ben Carson
Your vision will become clear only when you can look into your own heart. Who looks outside, dreams; who looks inside, awakes. – Carl Jung
Help others achieve their dreams and you will achieve yours. – Les Brown
I dream of painting and then I paint my dream. – Vincent Van Gogh
Yesterday is but today's memory, and tomorrow is today's dream. – Khalil Gibran
A heart without dreams is like a bird without feathers. – Suzy Kassem
Cherish your visions and your dreams as they are the children of your soul, the blueprints of your ultimate achievements. – Napoleon Hill
We all have our time machines. Some take us back, they're called memories. Some take us forward, they're called dreams. – Jeremy Iron
The human heart has hidden treasures, in secret kept, in silence sealed; The thoughts, the hopes, the dreams, the pleasures, Whose charms were broken if revealed. – Charlotte Bronte
Follow your dreams. Just make sure to have fun too. – Chris Brown
Don't give up on your dreams, or your dreams will give up on you. – John Wooden
I never paint dreams or nightmares. I paint my own reality. – Frida Kahlo
The dreams and passions stored within hearts are powerful keys which can unlock a wealth of potential. – John C. Maxwell
Dreams are the seeds of change. Nothing ever grows without a seed, and nothing ever changes without a dream. – Debby Boone
Life is full of beauty. Notice it. Notice the bumble bee, the small child, and the smiling faces. Smell the rain, and feel the wind. Live your life to the fullest potential, and fight for your dreams. – Ashley Smith