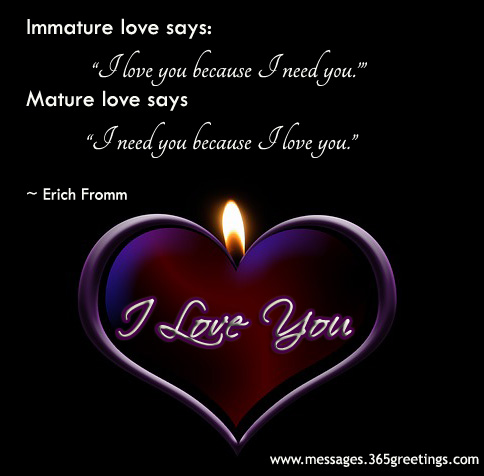 Love is probably the most natural feeling one can ever feel for someone. However, for many people, loving is something that is complicated to do – involves lots of feelings and emotions. Love comes in different forms – it can be love for your friends, lover, family and, sometimes stranger. There's no word to describe the feeling when you are struck by "Love". Love quotes can be used as you message and note especially if you're giving some anniversary gift or birthday gift to your someone special.
Don't know how to start your love messages for her or love messages for him? Then you may want to try starting your love greetings with cute I love quotes. These cute love quotes can be used as your love greetings introduction. Browse our wide collection of cute funny love quotes and short love quotes. These samples of cute quotes about love are quite comprehensive that you can find the best love quotes of all time.
Short Cute Love Quotes
I love you with all my heart quotes, Cute teenage love quotes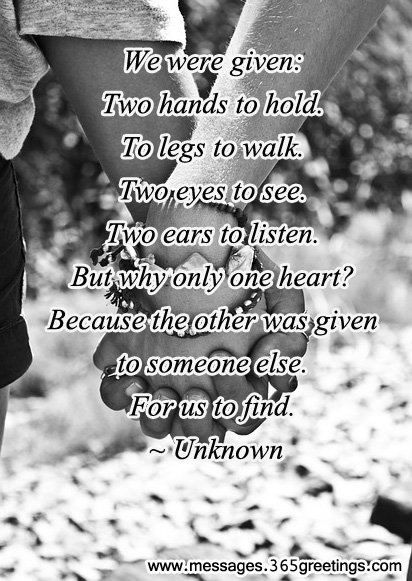 Love quotes and sayings are quite popular today especially for teenagers. They share love quotes with images and pictures to their social media sites like facebook and twitter. Here are some of the popular and short cute love quotes that you can share.
Gravitation is not responsible for people falling in love.
~ Albert Einstein
Love is a choice you make from moment to moment.
~ Barbara De Angelis
There is no remedy for love but to love more.
~ Henry David Thoreau
Love is my religion – I could die for it.
~ John Keats
I can live without money, but I cannot live without love.
~ Judy Garland
I love you more than I think I should.
~ Becca Fitzpatrick
I love you all too much, it's one of just of my problems.
~ Herve Villechaize
I've never fallen in love right off the bat. I get scared to say I love you too soon because it means so much. It means you're not seeing an end to things.
~ Leighton Meester
I love you without knowing how, or when, or from where. I love you straightforwardly, without complexities or pride; so I love you because I know no other way.
~ Pablo Neruda
You really shouldn't say "I love you" unless you mean it. But if you mean it, you should say it a lot. People forget.
~ Anonymous
I love you, not just for now, but for always, and I dream of the day that you'll take me in your arms again.
~ Nicholas Sparks, Dear John
Don't love with your eyes love with your heart.
~ Unknown
For you see, each day I love you more, Today more than yesterday and less than tomorrow.
~ Rosemonde Gerard
 Cute I Love You Quotes and Sayings
I love you quotes for him, I love you quotes for boyfriend
In the arithmetic of love,
one plus one equals everything
and two minus one equals nothing.
~ M. Mclaughlin
I will love you all my life and when I die,
I will still love you through eternity and beyond.
~ Anonymous
If grass can grow through cement,
love can find you at every time in your life."
~ Cher
Never ask why I love you,
just accept that I do,
and that I will for the rest of my life.
~ Anonymous
I love you the more in that I believe you had liked me for my own sake and for nothing else.
~ John Keats
I but know that I love thee, whatever thou art.
~ Thomas Moore
When I first met you, I honestly didn't know you were gonna be this important to me.
~ Anonymous
Passion makes the world go round.
Love just makes it safer place. "
~ Ice T
Multiply it by infinity, take it to the depths of forever and you'll still only have a glimpse of how much I love you.
~ Anonymous
I love thee to the depth and breadth and height my soul can reach
~ Elizabeth Barrett Browning
All the love beats of my heart and all the heart beats of my love, beats for you and says ' i love you'."
~ Angel Mary George
Trip over love, you can get up.
Fall in love, you fall forever.
~ Anonymous
You are the sun in my day,
the wind in my sky,
the waves in my ocean and
the beat in my heart…
I Love You!" ~ Helena
Tell me whom you love and I will tell you who you are.
~ Houssaye
A hundred hearts would be too few,
to carry all my love for you.
~ Unknown
My night has become a sunny dawn because of you.
~ Ibn Abbad
I love You More than Quotes
Cute love quotes for your boyfriend, Cute love quotes for your girlfriend
[snip msg]I love you when you bow in your mosque, kneel in your temple, pray in your church. ~ Anonymous[/snip]
[snip msg]The most beautiful view is the one I share with you. ~ Anonymous[/snip]
[snip msg]I love you, and because I love you, I would sooner have you hate me for telling you the truth than adore me for telling you lies. ~ Pietro Aretino[/snip]
[snip msg]"The fact that you are the first and only person Ive ever loved and the first person who ever truly loved me." ~ Anonymous[/snip]
[snip msg]We are the leaves of one branch, the drops of one sea, the flowers of one garden. ~ Jean Baptiste Henry Lacordaire[/snip]
[snip msg]I Love you with the breath, the smiles and the tears of all my life. ~ Anonymous[/snip]
[snip msg]For you see, each day I love you more Today more than yesterday and less than tomorrow. ~ Rosemonde Gerard[/snip]
[snip msg]The most important things are the hardest to say, because words diminish them. ~ Anonymous[/snip]
[snip msg]"You're the twinkling light in my eye. Your my shadow always protecting me. You've always got my back, and I love you for that" ~ Briana[/snip]
[snip msg]Love puts the fun in together, the sad in apart, & the joy in a heart. ~ Anonymous[/snip]
[snip msg]"You are my world, My everything. When you are near, my whole world is beautiful and full of wonder because I LOVE YOU more than anything." ~ Syini[/snip]
[snip msg]My love as deep; the more I give to thee, The more I have, both are infinite. ~ William Shakespeare[/snip]
Cute Love Quotes and Sayings for Him/Her
I love you quotes for her, i love you quotes for him from the heart
[snip msg]"I Love you with the breath, the smiles and the tears of all my life." ~ Anonymous[/snip]
[snip msg]"Without you in my life is like having a rainbow without its colors." ~ Selena Maynard[/snip]
[snip msg]It is astonishing how little one feels alone when one loves. ~ Anonymous[/snip]
[snip msg]"You are the sunshine of my life! Thanks for brightening my world with the warmth of your Love…" ~ Jennie[/snip]
[snip msg]Love makes your soul crawl out from its hiding place. ~ Anonymous[/snip]
[snip msg]For you see, each day I love you more. Today more than yesterday and less than tomorrow. ~ Rosemonde Gerard[/snip]
[snip msg]I beseech you now with all my heart definitely to let me know your whole mind as to the love between ~ King Henry VIII[/snip]
[snip msg]The most beautiful view is the one I share with you. ~ Anonymous[/snip]
[snip msg]"When I looked into your eyes I didnt see just you, I saw my today, my tomorrow, and my future for the rest of my life…I love you!!!" ~ Eliezer[/snip]
[snip msg]I've fallen in love many times… always with you. ~ Anonymous[/snip]
[snip msg]You cannot be lonely if you like the person you're alone with. ~ Wayne W. Dyer[/snip]
[snip msg]"Because of you, no matter what may come tomorrow, today my life is more complete." ~ Anonymous[/snip]
[snip msg]"You are in my heart and I would like for you to remain there forever, because I trust you know what to do with it. I love you" ~ Kyla[/snip]
[snip msg]I've fallen in love many times… always with you. ~ Anonymous[/snip]
Cute Quotes about Love
Cute love quotes to say to your boyfriend, Cute love quotes for teenagers
[snip msg]Grow old with me! The best is yet to be. ~ Anonymous[/snip]
[snip msg]Don't go trying some new fashion Don't change the color of your hair. . . . I could not love you any better I love you just the way you are. ~ Billy Joel[/snip]
[snip msg]Come, let us make love deathless. ~ Herbert Trench[/snip]
[snip msg]Gravitation is not responsible for people falling in love. ~ Anonymous[/snip]
[snip msg]"My heart is filled up with the love you have given me. In return, I will make yours overflow….I will love you forever." ~ Tonyman[/snip]
[snip msg]So, fall asleep love, loved by me… for I know love, I am loved by thee. ~ Robert Browning[/snip]
[snip msg]"I love you for being you and the way you make me feel when I'm with you!" ~ Claire[/snip]
[snip msg]I love Mickey Mouse more than any woman I have ever known. ~ Walt Disney[/snip]
[snip msg]"You fill my heart with the warmth of your love… I Love You" ~ Kate[/snip]
[snip msg]Love one another and you will be happy. It's as simple and as difficult as that. ~ Michael Leunig[/snip]
[snip msg]I love you like crazy, baby 'Cuz I'd go crazy without you. ~ Pixie Foudre[/snip]
[snip msg]"There are millions of things i love about you… but none of them as important as i love you" ~ Dutin Whetton[/snip]
[snip msg]Thou art to me a delicious torment. ~ Ralph Waldo Emerson[/snip]
[snip msg]Ah, lady, when I gave my heart to thee, It passed into thy lifelong regency. ~ Gilbert Parker[/snip]
[snip msg]If I had a rose for every time I thought of you, I'd walk through a garden forever. ~ Anonymous[/snip]
[snip msg]I love her and she loves me, and we hate each other with a wild hatred born of love. ~ J. August Strindberg[/snip]
[snip msg]How Can I Tell You "I LOVE YOU" After Hearing Cars Love Shell? ~ Jerry Rubin[/snip]