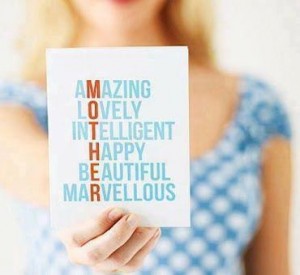 The bond between a daughter and mother is so special and last forever. If you have something to say to your daughter or mom, but ashamed or shy to show your love, a mother daughter quotes can help, express your true feelings about your mother or daughter. Make them feel that they are special to your heart. These mother daughter quotes may not be as valuable as expensive gifts but they can surely warm someone's heart.
Take a look at our collection of mother daughter relationship quotes that will help you express your emotions. You can use these quotes about mothers and daughters as scriptures in a picture or scrapbook. You can also give her a mother daughter necklace where you can engrave some of these short quotes on them. Whatever the purpose will be, we hope that these quotes about mothers and daughters can be of any use for you.
Quotes about Mothers and Daughters
Mother daughter quotes sayings, quotes about mother and daughter
Mother – that was the bank where
we deposited all our hurts and worries.
– T. DeWitt Talmage
I love my mother as the trees love water and sunshine –
she helps me grow, prosper, and reach great heights.
– Terri Guillemets
A man's work is from sun to sun,
but a mother's work is never done.
– Unknown
God could not be everywhere,
So he created mothers.
– Jewish Proverb
I cannot forget my mother.
She is my bridge.
When I needed to get across,
she steadied herself long enough for me to run across safely.
– Renita Weems
A mother is not a person to lean on,
but a person to make leaning unnecessary.
– Dorothy Fisher
The patience of a mother
might be likened to a tube of toothpaste –
it's never quite all gone.
– Author Unknown
Mother to Daughter Quotes
mother to daughter sayings, daughter quotes from mother, mother & daughter quotes
A daughter is a mother's gender partner,
her closest ally in the family confederacy,
An extension of herself.
– Unknown
A daughter may outgrow your lap,
but she will never outgrow your heart.
A mother's treasure is her daughter.
My daughter comes with me everywhere.
I don't leave her behind. But it is hard.
I mean, I think any working mother will tell you
that what kind of falls by the wayside, you know,
are the hours of sleep that you wish you had, and all that.
I feel incredibly lucky and blessed,
but I do sometimes feel like that exorcist lady!
– Kate Beckinsale
A daughter is a day brightener and a heart warmer.
– Unknown
A daughter is the happy memories of the past,
the joyful moments of the present,
and the hope and promise of the future.
– Unknown
You will always be my little girl.
A daughter is a gift of love.
A son is a son till he takes him a wife,
a daughter is a daughter all of her life.
You will always be my biggest reason to smile.
A busy mother makes slothful daughters.
– Portuguese Proverb
Many an Irish property was increased
by the lace of a daughter's petticoat.
– Irish Proverb
Watching your daughter being collected by her date
feels like handing over a million dollar Stradivarius to a gorilla.
– Jim Bishop
A daughter is a little girl who grows up to be a friend.
– Unknown
Mother Quotes from Daughter
quotes from daughter to mother, daughter to mother quotes
Who ran to help me when I fell,
or kissed the place to make it well?
My mother.
– Ann Taylor
My mom is literally a part of me.
You can't say that about many people except relatives, and organ donors.
– Carrie Latet
The coolest person in the world is my mom.
– Unknown
Any mother could perform the jobs of
Several air-traffic controllers with ease.
– Lisa Alther
To describe my mother would be to
Write about a hurricane in its perfect power.
– Maya Angelou
Now, as always, the most automated appliance in a household is the mother.
– Beverly Jones
My mother's love has always been a sustaining force for our family,
and one of my greatest joys is seeing her integrity, her compassion,
her intelligence reflected in my daughters.
– Michelle Obama
If you have a mom,
there is nowhere you are likely to go
where a prayer has not already been.
– Robert Brault
Motherhood has a very humanizing effect.
Everything gets reduced to essentials.
– Meryl Streep
Mother love is the fuel that enables a normal human being to do the impossible.
– Marion C. Garretty
A mother's happiness is like a beacon,
lighting up the future but reflected also
on the past in the guise of fond memories.
– Honoré de Balzac
Mother Daughter Relationship Quotes
cute mother daughter quotes, mother daughter inspirational quotes, mother daughter sayings
The mother-daughter relationship is the most complex.
– Wynonna Judd
What the daughter does, the mother did.
– Jewish Proverb
Mothers and daughters are closest,
When daughters become mothers.
– Unknown
And mothers are their daughters' role model,
their biological and emotional road map,
the arbiter of all their relationships.
– Victoria Secunda
A daughter is the happy memories of the past,
The joyful moments of the present,
And the hope and promise of the future.
– Unknown
A mother's love for her child is like nothing else in the world.
It knows no law, no pity, it dares all things and crushes down
remorselessly all that stands in its path.
– Agatha Christie
Some are kissing mothers and some
are scolding mothers, but it is love just the same.
– Pearl S Buck
We mothers are learning to mark our
mothering success by our daughters'
lengthening flight.
– Letty Cottin Pogrebin
What children take from us, they give.
We become people who feel more deeply,
question more deeply, and love more deeply.
– Sonia Taitz
Sometimes the laughter in mothering
is the recognition of the ironies and
absurdities. Sometimes, though, it's
just pure, unthinking delight.
~ Barbara Shapiro
There is nothing to suggest
that mothering cannot be shared by several people.
– H. R, Schaffer
No influence is so powerful as that of the mother.
– Sarah Josepha Hale
A mother is not a person to lean on,
But a person to make leaning unnecessary.
– Dorothy Canfield
Mother is the one we count on for the things that matter most of all.
– Katherine Butler Hathaway
Short Mother Daughter Quotes
Mom to daughter quotes, quotes about moms and daughters being best friends
Quotes doesn't have to be too long to convey the meaning, for the relationship between the mother and daughter is meaningful but few words can be enough to describe the intensity. Here are some short daughters and mothers sayings.
My daughter is the brightest star in the sky.
My goal is to be cool in my daughter's eyes.
You will forever be my little princess in pink dress.
I love it when my daughter says I am a supermom.
Being mother is the biggest blessing and the toughest job.
Being a great mother is a job for superwomen only!
Fame is rot; daughters are the thing.
– James Matthew Barrie
The woman who bore me is no longer alive,
But I seem to be her daughter in increasingly profound ways.
– Johnnetta Betsch Cole
Clever father, clever daughter;
Clever mother, clever son.
– Russian Proverb
We've begun to raise daughters more like sons,
but few have the courage to raise our sons more like our daughters.
– Gloria Steinem
The strength of motherhood is greater than natural laws.
– Barbar Kingsolver
Mother Daughter Quotes For Scrapbooking and Tattoos
Are you looking for quotes about mothers and daughters that you will put on any part of your body as tattoo? Or perhaps, you're looking for short wording that you will include to your scrapbook project? Then here are some options you may choose.
What the daughter does, the mother did.
– Jewish Proverb.
We laugh, we cry, we make time fly.
The bond between us will never fall apart.
As is the mother, so is her daughter.
– Ezekiel 16:4.
Like mother, Like daughter.
– Carol Maturo.
Our Bond Will Last Forever
All that I am my mother made me.
– John Quincy Adams.
Children and mothers never truly part…
– Charlotte Gray
Funny Mother Daughter Quotes
Want some humor about the relationship between the mother and daughter? Here are some funny quotes that will surely give you some humor and make you smile.
Daughters are like flowers,
they fill the world with beauty,
and sometimes attract pests.
– Unknown
If you would have a good wife,
Marry one who has been a good daughter.
– Thomas Fuller
As the lily among thorns, so is my love among the daughters.
– Solomon Ibn Gabirol
Every mother hopes that her daughter will marry a better man than she did,
and is convinced that her son will never find a wife as good as his father did.
– Martin Andersen-Nexö.
Ability is what will get you to the top if the boss has no daughter.
– Unknown
Of all the haunting moments of motherhood,
few rank with hearing your own words
come out of your daughter's mouth.
– Victoria Secunda
As long as a woman can look ten years younger than her own daughter,
She is perfectly satisfied.
– Oscar Wilde