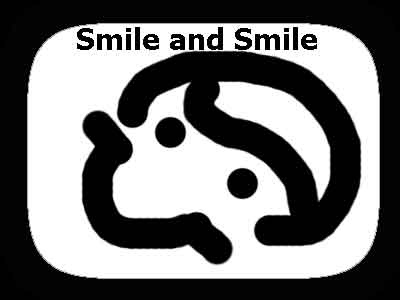 How to make a man smile? There is lot of ways but we need to have some ways that can make meaning and good understanding. If you take some complex things in your mind very comfortably and with a smiling face then I we hope the complexity will be less and the job will be comfortably done.
I'm here with some very special things that are quotes on smile. These things will make someone understand about how important quotes on smile are.
"Don't cry because it's over, smile because it happened."
― Dr. Seuss
"Peace begins with a smile…"
― Mother Teresa
"And then he gives me a smile that just seems so genuinely sweet with just the right touch of shyness that unexpected warmth rushes through me."
― Suzanne Collins, the Hunger Games
"If you're reading this…
Congratulations, you're alive.
If that's not something to smile about,
Then I don't know what is."
― Chad Sugg, Monsters under Your Head
"Every time you smile at someone, it is an action of love, a gift to that person, a beautiful thing."
― Mother Teresa
"I was smiling yesterday, I am smiling today and I will smile tomorrow. Simply because life is too short to cry for anything."
― Santosh Kalwar, Quote Me Everyday
"Dare to Be
When a new day begins, dare to smile gratefully.
When there is darkness, dare to be the first to shine a light.
When there is injustice, dare to be the first to condemn it.
When something seems difficult, dare to do it anyway.
When life seems to beat you down, dare to fight back.
When there seems to be no hope, dare to find some.
When you're feeling tired, dare to keep going.
When times are tough, dare to be tougher.
When love hurts you, dare to love again.
When someone is hurting, dare to help them heal.
When another is lost, dare to help them find the way.
When a friend falls, dare to be the first to extend a hand.
When you cross paths with another, dare to make them smile.
When you feel great, dare to help someone else feels great too.
When the day has ended, dare to feel as you've done your best.
Dare to be the best you can –
At all times, Dare to be!"
― Steve Maraboli, Life, the Truth, and Being Free
"Laugh, even when you feel too sick or too worn out or tired.
Smile, even when you're trying not to cry and the tears are blurring your vision.
Sing, even when people stare at you and tell you your voice is crappy.
Trust, even when your heart begs you not to.
Twirl, even when your mind makes no sense of what you see.
Frolick, even when you are made fun of. Kiss, even when others are watching. Sleep, even when you're afraid of what the dreams might bring.
Run, even when it feels like you can't run any more.
And, always, remember, even when the memories pinch your heart. Because the pain of all your experience is what makes you the person you are now. And without your experience—you are an empty page, a blank notebook, a missing lyric. What makes you brave is your willingness to live through your terrible life and hold your head up high the next day. So don't live life in fear. Because you are stronger now, after all the crap has happened, than you ever were back before it started."
― Alysha Speer
"You can only hold a smile for so long, after that it's just teeth."
― Chuck Palahniuk, Invisible Monsters
"Sometimes your joy is the source of your smile, but sometimes your smile can be the source of your joy."
― Thich Nhat Hanh
"Oh no. Don't smile. You'll kill me. I stop breathing when you smile."
― Tessa Dare, A Lady of Persuasion
"If I saw you hitchhiking, I'd smile and return your thumb's up, just for you doing such a great job of being a positive roadside influence."
― Jarod Kintz
"It's so curious: one can resist tears and 'behave' very well in the hardest hours of grief. But then someone makes you a friendly sign behind a window, or one notices that a flower that was in bud only yesterday has suddenly blossomed, or a letter slips from a drawer… and everything collapses. "
― Colette
"Well, that's an evil smile…"
― James Patterson, The Angel Experiment
"If you have only one smile in you, give it to the people you love. Don't be surly at home, then go out in the street and start grinning 'Good morning' at total strangers."
― Maya Angelou
"My spirit. This is a new thought. I'm not sure exactly what it means, but it suggests I'm a fighter. In a sort of brave way. It's not as if I'm never friendly. Okay, maybe I don't go around loving everybody I meet, maybe my smiles are hard to come by, but i do care for some people."
― Suzanne Collins, The Hunger Games
"If I can see pain in your eyes then share with me your tears. If I can see joy in your eyes then share with me your smile."
― Santosh Kalwar
"Let us make one point, that we meet each other with a smile, when it is difficult to smile. Smile at each other, make time for each other in your family."
― Mother Teresa
Take interesting smile quotations from here bellow and use anywhere you want. You can send text sms to your friend and make facebook and twitter post.
"It only takes a split second to smile and forget, yet to someone that needed it, it can last a lifetime. We should all smile more often."
― Steve Maraboli, Life, the Truth, and Being Free
"Let us always meet each other with smile, for the smile is the beginning of love."
― Mother Teresa
"He had a new girl, and I told him she looked like Marilyn Monroe. He smiled because he thought I meant she was beautiful, and I smiled because I meant she looked like a corpse.
"
― Jarod Kintz, The Titanic would never have sunk if it were made out of a sink.
"it's a smile, it's a kiss, it's a sip of wine … it's summertime!"
― Kenny Chesney
"Anyone who has a continuous smile on his face conceals a toughness that is almost frightening."
― Greta Garbo
Smiling in your brother's face is an act of charity.
So is enjoining good and forbidding evil,
giving directions to the lost traveller,
aiding the blind and
removing obstacles from the path.
(Graded authentic by Ibn Hajar and al-Albani: Hidaayat-ur-Ruwaah, 2/293)"
― Muhammad
"He's dozed off again, but I kiss him awake, which seems to startle him. Then he smiles as if he'd be happy to lie there gazing at me forever."
― Suzanne Collins, The Hunger Games
"What sunshine is to flowers, smiles are to humanity. These are but trifles, to be sure; but scattered along life's pathway, the good they do is inconceivable."
― Joseph Addison
"But, my God, it's so beautiful when the boy smiles"
― Anna Nalick
"I smiled, and you winked. I think. Perhaps you merely blink with one eye at a time."
― Jarod Kintz, $3.33
"He smiled like he couldn't help it. She couldn't believe it. He was actally smiling, teeth and all. Had she ever seen him smile before? No, she realized, because right now, it was such a jarring thing to witness that for a moment it felt as though she was sharing the car with a stranger."
― Kelly Creagh, Nevermore
"You'll find that life is still worthwhile, if you just smile."
― Charles Chaplin
"I am intrigued by the smile upon your face, and the sadness within your eyes"
― Jeremy Aldana
"A smile is the best way to get away with trouble even if it's a fake one."
― Masashi Kishimoto, Naruto, Vol. 1: The Tests of the Ninja
"Too often we underestimate the power of a touch, a smile, a kind word, a
listening ear, an honest compliment, or the smallest act of caring, all
of which have the potential to turn a life around."
― Leo F. Buscaglia
"We are not going to change the whole world, but we can change ourselves and feel free as birds. We can be serene even in the midst of calamities and, by our serenity, make others more tranquil. Serenity is contagious. If we smile at someone, he or she will smile back. And a smile costs nothing. We should plague everyone with joy. If we are to die in a minute, why not die happily, laughing? (136-137)"
― Swami Satchidananda, The Yoga Sutras
"But you're so busy changing the world
Just one smile can change all of mine"
― Jack Johnson
"Fly me up to where you are beyond the distant star. I wish upon tonight to see you smile, if only for a while to know you're there. A breath away's not far to where you are."
― Josh Groban
"If you smile when you are alone, then you really mean it."
― Andy Rooney
"Smile at strangers and you just might change a life."
― Steve Maraboli
"You make me smile like the sun, fall out bed, sing like a bird, dizzy in my head. Spin like a record crazy on a sunday night. You make me dance like a fool, forget how to breath, shine like the sun buzz like a bee, just the thought of you can drive me wild. Oh you make me smile. -Uncle Kracker-"
― Uncle Kracker
"The groom always smiles proudly because he's convinced he's accomplished something quite wonderful. The bride smiles because she's been able to convince him of it."
― Judith McNaught, A Kingdom of Dreams
"There is no weapon in the feminine armory to which men are so vulnerable as they are to a smile."
― Dorothy Dix
"The world is like a mirror; frown at it, and it frowns at you. Smile and it smiles, too"
― Herbert Samuels
"Nothing shakes the smiling heart."
― Santosh Kalwar, I Am Dead Man Alive
"Why be alone when we can be together baby
You can make my life worthwhile
And I can make you start to smile"
― Mr. Big
"I smiled back and I thought
how incredible that was, that they would find the time to smile. There was goodness in the world still, even if you couldn't always see it."
― Jenny Valentine, Broken Soup
"People who keep stiff upper lips find that it's damn hard to smile."
― Judith Guest, Ordinary People
"Children show me in their playful smiles the divine in everyone."
― Michael Jackson
"You can go a long way with a smile. You can go a lot farther with a smile and a gun."
― Al Capone
"I like it when my mother smiles. And I especially like it when I make her smile."
― Adriana Trigiani, Viola in Reel Life
"Valkyrie Cain got out of the passenger side. She zipped up
her black jacket against the cold, and joined Skulduggery as he
walked up to the front door. She glanced at him, and saw that he was smiling.
"Stop doing that," she sighed.
"Stop doing what?" Skulduggery responded in that gloriously velvet voice of his.
"Stop smiling. The person we want to talk to lives in the only dark house on a bright street. That's not a good sign."
"I didn't realise I was smiling," he said.
They stopped at the door, and Skulduggery made a concerted effort to shift his features. His mouth twitched
downwards. "Am I smiling now?"
"No."
"Excellent," he said, and the smile immediately sprang back up."
― Derek Landy, Mortal Coil
"…and he smiled a lot. The smile did not mean that he was happy. It meant he was stronger than most people, and that he intended to take advantage of it."
― Michael Cadnum, Flash
"I've been waiting for you all night and day,' she said.
Froi shivered. He realised that the words came from Quintana the ice maiden. Realised, as he felt his face heating up, that the idea of this Quintana waiting for him with excitement spoke to parts of him he believed to be dormant. And then she winked.
'Did I do that right?' she asked. Her smile was lopsided and he saw a glimpse of the teeth.
And Froi imagined that he would follow her to the ends of the earth."
― Melina Marchetta, Froi of the Exiles
"Did you know it takes more muscles to frown than it does to smile? I know, because yesterday was in a bad mood, and I guess I must have frowned too much because this morning I woke up with a torn groin muscle."
― Jarod Kintz, This is the story my great-grandfather told my father, who then told my grandfather, who then told me about how The Mythical Mr. Boo, Charles Manseur Fizzlebush Grissham III, better known as Mr. Fizzlebush, and Orafoura are all in fact me…
"The saddest line you scraped in your diary was not that you cried but those moments when we both shared smile."
― Santosh Kalwar
"What does my smile look like now? Vivi wondered. Can you reclaim that free-girl smile, or is it like virginity- once you loose it, that's it?"
― Rebecca Wells, Divine Secrets of the Ya-Ya Sisterhood
"Smiling is the way the soul says hello. Obviously a frown means goodbye. Is there a word halfway between hello and goodbye? Because that's what my soul is saying right now.
"
― Jarod Kintz, The Days of Yay are Here! Wake Me Up When They're Over.
"… have a smile for everyone you meet and a plan to kill them."
― Brad Thor, The Apostle
"You've got to S-M-I-L-E
To be H-A-Double-P-Y"
― Shirley Temple Black
"He continues to smile expectantly. I take a step back. I don't want to catch whatever he has. He is a disturbing out-of-uniform Santa."
― Augusten Burroughs