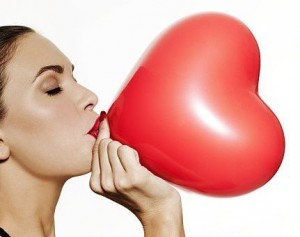 Cheesy is a slang term of being "showy" or affectionate. Courting a girl would obviously require much of a guy's affection. So if you're struggling to find the right words to flatter your  girlfriend or girl-to-be, then look no more! This collection of cheesy tagalog pick up lines might do wonders for you. These are pinoy pick up lines being categorized as cheesy because to the attempt of being sweet, it ends up being light and silly but overall- affection towards the recipient is evident in every line. So no matter how comical these words are, they will surely make the recipient smile, laugh and eventually fall for you guys. Be more charming and likable.
Share these pinoy pick up lines to your friends on Twitter and Facebook. Browse and choose any of our cheesy and sweet tagalog pick up lines. Available both for the guys and the girls. Who can deliver better? It's for you to try guys. If you have your own pick up lines, care to share. The comment section is intended for you.  Enjoy!
Cheesy pick up lines for girls
These are pick up lines to be used by the guys. Some are not confident enough to express how they feel. They feel like being lost out of words. So before courting or seeing a girl, feel free to browse this site's collections of tagalog pick up lines. Name it and we have it!
Just when you know you've browsed enough then you will not stutter anymore in front of the girl you adore. Express how you feel and show your charm. Go boy! If you want more, check out our collection of more pick up lines for girls here.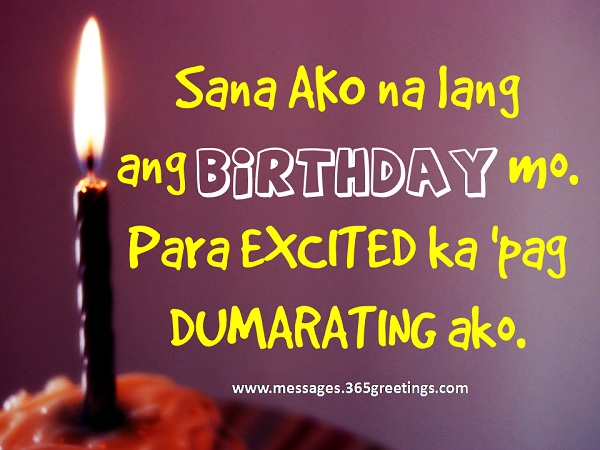 Sana AKO na lang ang BIRTHDAY mo.
Para EXCITED ka 'pag DUMARATING ako.
Anong height mo? Nagtataka lang ako kung pano ka nagkasya sa puso ko.
boy: Bola ka ba?
girl: Bakit?
boy: kasi kapag nasa akin ka, hindi ako papayag na maagaw ka pa ng iba.
Google ka ba? Lahat kasi ng hinahanap ko, sa'yo ko natagpuan eh!
Marunong ka bang mag-ayos ng cellphone?
Sira ata 'tong phone ko.
Wala kasi number mo eh.
Boy: Miss pwedeng makahiram ng ballpen?
Girl: Eto.
Boy: Wala atang ink toh eh.
Girl: Aba meron kaya!
Boy: Sige nga, subukan mong isulat number mo.
This is such a tricky pick up line. If it works, then good for you boy! It's pretending to borrow a pen and the guys acts as if the pen has no ink anymore. So the girl insists the pen still writes but the guy asks the girl to try the pen by writing her number. Nice plan dude! Just make sure the dear girl is writing her number accurately or you may be a victim of your own plan. lol.
Bagay sa'yo maging amo.
Inaalila mo kasi ang puso ko.
GIRL : Bakit di ka pa natutulog?
BOY : Busy pa ako eh.
GIRL : So, nakakaistorbo na ako?
BOY: Hindi ka nakakaistorbo.
Busy pa kasi ako sa pakikipagusap sa babaeng mamahalin ko habang buhay.
Sana parrot ka na lang, para pag sinabi ko sayong I love you,
sasagot ka rin ng I love you.
Kung maging superhero ako,
Hindi ako si Superman,
Hindi rin si Batman
O si Spiderman
I m Your Man KailanMan
Miss, pwede ba kta abutin? ikaw kasi pangarap  ko eh
 Kapag feeling mo may kulang sa buhay mo, baka ako yun.
Dictionary ka ba? kasi you gave meaning to my life.
Hindi man ako ang lalaking pinapangarap mo,
pangako ko sayo kapag ako ang minahal mo…
Ibibigay ko lahat ng mga bagay na pinapangarap mo.
(BANAT ng D.O.M.)

Very very smart line from a guy. A girl appreciates it a lot when a guy always refer to them as "one". It brings shiver down her spine. It's considering each other as better-half already, when usually it's supposed to be mentioned during wedding day. In short, with this pick up line you're trying to express your love for her and treating the relationship as husband and wife. Try this and it might work for your girl.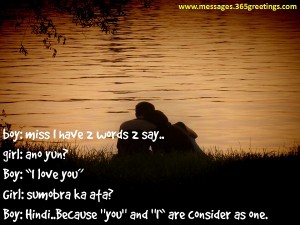 boy: miss I have 2 words 2 say..
girl: ano yun?
Boy: "I love you"
Girl: sumobra ka ata?
Boy: Hindi..Because "you" and "I" consider as one.
Boypickup: apoy kaba
Neneng b: bakit
Boypickup: kasi a-lab you
Sana ulan ka na lanq at lupa ako.
para kahit gaano kalakas anq patak mo, sa akin pa din ang bagsak mo.
Isa lang ang pangarap ko,
ang maging pangarap mo din ako.
Boy: salamin ka ba ?
Girl: Bakit?
Boy: Kasi 'di ako makapag-ayos pag wala ka.
boy: miss, para kang charger !
girl: oh bakit naman ?
boy: kasi sa tuwing nanghihina ako , ikaw talaga ang kaiLangan ko!
Cheesy pick up lines for guys
Girls can be very expressive too and actually, girls are born romantic too. We sooo love the idea of sharing sweet moments, sharing sweet words and promises. So for sure, to deliver sweet and cheesy pick up lines for the guys is not a bad idea after all. Girls can be showy too you know. So take note guys, if the girl shares with you sweet pick up lines I believe it's a hint she likes you very much too! Ooops, not unless they are rejection or bad pick up lines as found in this collection. Hehe!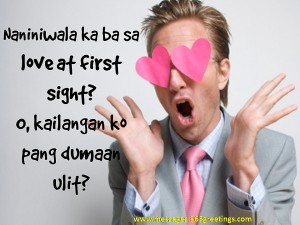 Naniniwala ka ba sa "love at first sight?"
O kailangan ko pang dumaan ulit?
I'd say this is one of my personal favorite. There is a "love at first sight". To some it does exist but this pick up lines suggests a plan in case the person doesn't fall for your on the first sight. What is it? It's to walk 2nd time around and if it doesn't work on first, who knows love might work on the 2nd sight! Humorous yet very sweet.
Ampalaya ka ba?
Kasi kahit anong pait ang nararanasan ko sayo ikaw pa rin ang sustansya ng buhay ko!
Ilaw ka ba?
Kasi you give light to my life
Cactus ka ba?
Bakit?
Kasi handa akong masugatan, mayakap lang kita.
Alarm clock ka ba?
Ginising mo kasi ang natutulog  kong puso.
Ang liit pala ng kamay mo.
Pero paano mo nahahawak ang puso ko?
Minamalat na naman ang puso ko.
Paano kasi, laging sinisigaw ang pangalan mo.
Sana naging BACKPACK na lang ako…
Para hawak mo lagi ang kamay ko, habang nakayakap ako sayo.
Pagod ka na ba?
kasi kanina ka pa tumatakbo sa isip ko eh.  
Enervon is one of the top vitamins here in the Philippines. As promoted, it is said to keep a person more active, blooming, energitic and on the go. The ad has the famous tag line of "more Enervon mas(more) happy". That's how your dear one is compared to Enervon in the pick up line below. In English it says, "you are like Enervon because you give me happiness".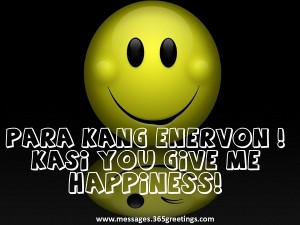 Para kang Enervon !
kasi you give me HAPPINESS!
PERA ka ba?
Kasi naghihirap ako kapag wala ka.
Pustiso ka ba?
Kasi I can't smile without you.
Friendly Reminder:
Never get tired of flattering your girl. Here's more of these funny cheesy pick up lines
When a couple is asked about their relationship, they would always say "we enjoy each other's company". Evident that a relationship would be successful if they can make each other smile. Living and loving can never be deeply serious. Couples should be spending time to giggle even about the simplest things in life. That's for sure why these funny cheesy pick up lines can win the heart of someone. Makes you think the person who's saying that to you actually can make your day brighter each day. In life you only have two choice, be happy or sad. For me of course I'd go to being happy. 🙂 Enjoy browsing these funny pick up lines.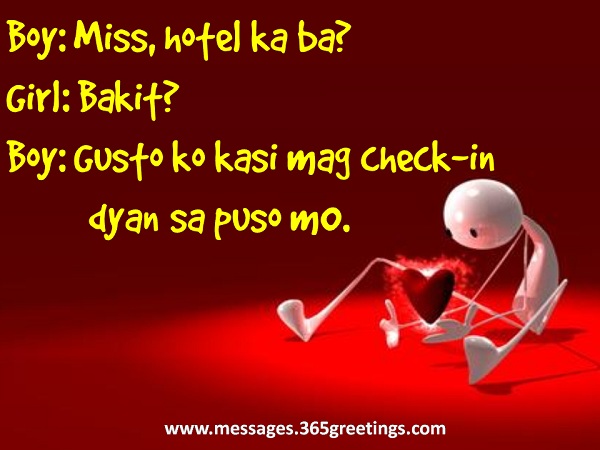 Boy: Miss, hotel ka ba?
Girl: Bakit?
Boy: Gusto ko kasi mag check-in dyan sa puso m0.
Halos lahat ng bilihin nagmamahalan na- tayo na lang ang hindi.
Alam mo ba ang pinakamasarap na feeling sa buong mundo?
Ang maka-Feeling ka.
Gatorade ka ba?
Kasi ang taas ng energy ko kapag andyan ka.
Lotto ka ba? kasi hanggang ngayon pinapangarap pa din kita.
Boy: Miss masakit ba ang katawan mo????
Girl: Hindi Bakit?
Boy: kasi hulog ka ng langit sakin eh
Alam mo para kang ligaw na bala
sa iba ka nakalaan…
PERO AKO ANG NATAMAAN.
Handa akong takbuhin ang mundo..
Basta ang Finish Line ay sa PUSO mo.
Bagyo ka ba?
…. Kasi the moment you left my area of responsibility,
You leave my heart in the state of calamity.
Gitara ka ba?
Bakit?
Kasi masarap kumanta habang yakap yakap kita.
 Alam mo para lang saranggola..
kasi kahit gaano ka kalayo sakin hawak parin kita…
dati ang dami kong pangarap..
ngayon, IKAW na Lang!
Para kang traffic sa EDSA, coz i can't move on.
LABOR DAY ka ba?
Kasi you're MAY 1 and only. 
Love is a very special feeling. It's extremely good and sad to say it is extremely bad when you're broken-hearted. This pick up line below expresses how painful it is to think of someone you really love. The common reasons that love can be so bad is when you're on a one sided love (unreturned love), loving a person who is not single anymore, loving a person who is far away or loving a good friend but can't decided to pursue the relationship into love. But no matter how hurtful it is, I'd say it's been always great to experience loving and being love.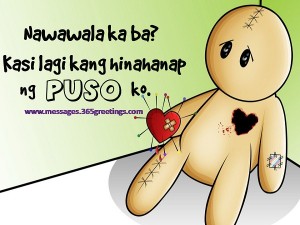 Nawawala ka ba?
Kasi lagi kang hinahanap ng PUSO ko.
Sana ISDA na lang ako…
ISDA-ONE sa puso mo.
Boy: uhm..anong gusto mong view?
front view, side view or back view..
Girl: bakit…??
Boy: kasi, ako I Love You
Boy: Asan ka kagabi?
Girl: Nasa bahay lang naming. Bakit?
Boy: Weh, di nga?
Girl: Oo nga, bakit naman?
Boy: Kasi hindi kita makita sa panaginip ko.
Wag kang mag-alala kung ini-SMALL ka nila…
Kasi…. Inii-BIG naman kita!
Turnilyo ka ba?
Kasi habang umiikot ka sa isip ko…
Bumabaon ka naman sa puso ko.
Alam mo inis ako sa FACEBOOK.
Lagi kasi ako tinatan0ng ng WHATS ON YOUR MIND eh ikaw nasa utak ko…
ayaw naman kitang iSHARE baka i-LIKE ka pa ng iba.
KABAYO ka ba?
Bakit?
Kasi nung dumaan ka. nag TIGIDIG-TIGIDIG ang PUSO ko eh
Gaano ba kalaki ang KAMAY mo?
Kasi HAWAK mo na ang MUNDO ko.
COKE SAKTO ka ba?
Kasi di ka lang sakto sa puso ko…
HAPPINESS ka pa sa isipan ko!
Kung ako'y pamasahe, ikaw naman ay gasolina…
Ikaw kasi ang dahilan kung bakit ako nagmamahal.
Drugs ka ba? kasi nakakadik ka eh!
Para kang oatmeaL, you know why ?? coz' you're good for my heart ..
Sana ako nalang si antok, para gabi-gabi ay pwede kitang dalawin.
Minamalat na naman ang puso ko, dahil lagi nitong isinisigaw ang pangalan mo.
Masasabi mo bang bobo ako, Kung ikaw lang ang laman ng utak ko.
Alam mo ba para akong si Hulk?
Kasi I can't control myself kapag nakikita kita.
AkaLa ko umaga na !
LumiLiwanag kasi mundo ko pag kasama kita .
Cellphone Signal ka ba? kasi pag nawala ka, gagawin ko ang lahat bumalik ka.
Hanger Ka ba?.
Kasi I miss hanging out with you!
Pilipinas ka ba sa Panatang Makabayan? .
kasi INiibig kita eh.
Dilim ka ba? Kasi nung Makita kita, wala na akong makitang iba.
Gusto ko ng MAGNUM….
.
Para ako MAGNUMber One sa puso mo.
May planeta bang Ikaw?
kasi IKAW ang Mundo ko
Ice ka ba?
Crush kita eh. Okay lang?
May butas ba yang puso mo?
Natrap kasi ako, can't find my way out
Nabibingi ka na ba?
Coz my heart has been screaming out your name for quite some time now..
Hindi ka naman camera.
Pero pag nakikita kita, napapa-smile ako.
We would love to hear from you! Just in case you have more of cheesy pick up lines, the comment section below is intended especially for you. Whether you're in love or just being creative, please feel free to share and who knows your pick up lines would be famous in the coming days. Love love love!