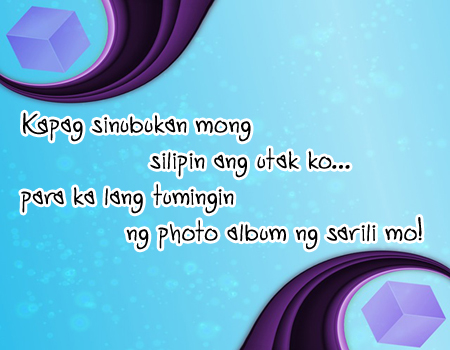 Filipino pick up lines have become so popular lately. Usually, teenagers would use these phrases to express their feelings for their crush or dear one in a more comical way. Some would use pick up lines just to tease and make fun of their family, friends and classmates. While some are just really fond of exchanging these nakakatawang pick up lines while hanging out . Pick up lines in tagalog are also popular as cellphone messages or SMS exchange for Filipinos. Since we really love to text, the spread of pick up lines tagalog here in our country is can really be so rapid.
Enjoy these funny tagalog pick up lines that you can send to your loved one, family, friends and classmates. Some of these funny tagalog pick up lines may have words that are offensive to recipient so be careful on using them. We call it pang asar pick up lines so don't be confused when you realize they are not courting pick up lines anymore but instead to  annoy someone.  Feel free to share these funny pinoy pick up lines on your social networks like Facebook and Twitter. We also have other collections of funny pick up lines, to mention Miriam Defensor Santiago pick up lines. Give it a shot!
So here are some Funny Pick up Lines Tagalog
These are tagalog pick up lines that are more of being funny instead of being sweet, cheesy and corny. These are applicable both for the girls and boys. Most from this collection are non-romantic pick up lines, just to make each moment worthwhile with people around you. Just consider it as "Cariño Brutal" or expressing love in a bit brutal way.
Earthquake!?
Ay, ikaw lang pala yung naglalakad.
Oh my! The first is funny yeah and honestly rude lol! Because we are living in a world that's very beauty conscious, the "large" or the fat community most of the time became a running joke in any way. If you plan to use these pick up lines, makes sure to choose the right ones for every person you're trying to deal with. Else it's gonna be World War 3!
Girl: Sorry di ako namimigay ng number sa guys eh…
Boy: Ah ganon ba? Ako din hindi nagbibigay ng number sa guys eh! We have so much in common!
Naliligo ka ba?
(Oo naman!)
Naligo kapa! Ganun din naman amoy mo!
Smart ka ba?
Bakit?
Pwede patext?
Boy: Mahilig ka bang magtanim ng halaman? Amoy lupa ka kasi eh.
Miss, halatang hulog ka ng langit.
Hindi ka kasi bagay duon eh. Yan, hinulog ka dito.
Totoo pala ang multo no?
Simula kasi nung nakita kita naniwala nako. 
Boy: San ka?
Girl: Sa puso mo!
Boy: Kaya pala ako hindi makahinga may buwisit na nakabara!
Girl: Sinadya ko tlga yun para mamatay ka na!
Sana CANDLE ka na lang ng CAKE…
Para habang pinapatay kita, natutuwa na sila, pumapalakpak pa!
PANGET ka ba??
Baket??
Nagtatanong ka pa..?



Straw ka ba?
*Bakit?
Kasi hindi ka lang plastic, sipsip ka pa…
This pick up line is obviously not romantic. This is so much applicable in school or work because it shows competition and envy between 2 individuals who belonged in a same group. It's harsh yeah, but it's still funny.
Minamalat na naman ang puso ko.
Pano kasi, laging sinisigaw ang pangalan mo.
Baril ka ba?
Bakit?
Ang lakas kasi ng PUTOK mo!
Building ka ba?
Bakit?
Kasi ang mukha mo, parang under construction pa lang eh
Para kang ihi. Di kasi kita matiis.
Para kang pera. Kung sinu-sino na kasi nakahawak sayo eh.
PADER ka ba?
Kasi ang tigas mo na, ang KAPAL mo pa!
Encyclopedia ka ba?
Kasi ang KAPAL mo!
Utot ka ba?
Kasi ang baho mo!
Vinegar ka ba?
Kasi malayo ka pa lang, naaamoy ko na ang asim mo!
Ang relasyon parang kape yan
Lumalamig 'pag napapabayaan.
 Nakakita ka na ba ng impakto?
Kung di pa, tingin ka sa salamin.
Sana ipis na lang ako..
Para tilian din ako ng mga babae.
This one is really funny. There are some guys who feel like being ignored by women. So this funny pick up line is a wish of a guy. In English it says, " I wish to be a cockroach, so girls would also scream upon seeing me."
Now the question is, why would girls ignore you? There must have been something in you that turns them off. Try to self-evaluate. The way you talk, walk, dress, act or you could ask your friends of how they see you. Sure that would help you and in no time, you will be a super lover boy!
Shades ka ba?
Kasi tuwing nakikita kita, nagdidilim ang paningin ko eh.
Tao ka ba?
Bakit?
Naninigurado lang!
BAGYO ka ba?
Ang galing mo kasing MANIRA eh.
TANGA ka ba?
Bakit?
Halata naman eh!
ANGRY BIRD ka ba?
Ang sarap mo kasing ihagis!
Mukha kang ice cream.
Pisngi at noo mo kasi parang Rocky Road!
Funny pick up lines for girls
These are intended to show a guys special feelings for the girl. But at times, it ends up as funny pick up lines. It may do good because it would show humor from the guy but some girls might interpret that the guy is just fooling around. So when courting, guys should also be wise. Don't let the girl think you're just fooling around. Being too playful can be dangerous too. Know when to be serious especially when talking about your intentions for her and also know the right time of kidding with her. Enjoy the moment! Please see this page for more pick up lines for girls tagalog.
TAE ka ba?
Hindi kasi kita kayang paglaruan!
The second line of this pick up line is actually sweet and touching. It says, "Because I can't play with you" or "Because I can't fool around with you" . Only that the first line is yucky, because in English it means "Are you a poop? Because I can't play with you"
Boy: Ganda ng hugis ng katawan mo, parang bote ng Coca-Cola.
Chubby Girl : Talaga?
Boy: Oo, Coca-Cola talaga. Family size Coca-Cola !
Boy: "Alam mo miss para kang pulitika"
Girl: "Ha?Bakit naman?"
Boy: "Botong boto kasi sayo parents ko eh."
Boy: Exam ka ba??
Girl: Ha! Bakit?
Boy: gustong gusto na kasi kitang i-take home eh!
Kung ako sayo magreview kana.
Kasi mamaya pasasagutin na kita!
Ikaw ba si Jackie?
Kasi tuwing nakakausap kita nabubudoy ako.
Si BABY JAMES ka ba?
Kasi YOU'RE MY NUMBER 1!
CALENDAR ka ba?
Gusto ko kasing humingi ng DATE sayo….
Boy: Alam mo sipon ka ako naman ubo.
Girl: Bakit?
Boy: Kasi kahit anong gawin mo magkasama tayo.
PIMPLES ka ba?
Kung saan-saan ka kasi sumusulpot!
Eroplano ka ba?
Bakit?
Kasi habang lumilipad ka sa isip ko,
Lumalanding ka naman sa puso ko
Kasi umaga pa lang, kailangan na kita.
Not everyone has their own vehicle so when going to school or work, Philippine jeepneys drivers would usually say "Barya lang po sa umaga" or you may see this message on stickers inside the jeepney. "Barya" means coins. Drivers are requesting for coins early in the morning from passengers because it's a hassle to receive large bills. That's how the feelings of a guy towards a girl is associated in this funny pick up line for girls. In English it would mean, "Are you a coin? Because it's still early but I'm needing you already". Nice sweet and cheesy yet funny pick up line we have here guys 😉
Kanina pa kita gusting awayin…
Para naman patulan mo na ako…
Kapag sinubukan mong silipin ang utak ko…
para ka lang tumingin ng photo album ng sarili mo!
Boy: Ngipin mo parang EXAM.
Girl: Bakit?
Boy: One seat apart…!!!
Motolite ka ba?
Bakit?
Kasi trusted na pangmatagalan!
Boy: Miss ketchup ka na?
Girl: ha! Bakit?
Boy: kasi gusto ko isawsaw ang hotdog ko!
Siguro ang lamig ng halik mo
Bakit
Kasi ang YELOw ng ngipin mo
Lasing na ba ako? Ang ganda mo na kasi eh.
Eleksyon na naman, gusto ko sanang tumakbo..
kahit diyan lang sa isip mo..
Boy: " Hi miss! Ask ko lang ano tagalong ng 'I love You?'"
Girl: "Mahal kita"
Boy: "Talaga? Mahal din kita"
Here are some funny pick up lines for guys
Girls can be expressive too. So when a girl responds, be watchful whether it's a sign of yes or no. If the reply is sweet then you should really be happy. It's a good sign and chances of winning her heart is possible! When she responds with rude approach, nahhh better luck next time man. Here are some funny pick up lines for guys in tagalog that our dear ladies could use. Even if a girl replies you with a rude pick up line, I suggest you keep going guys. Patience and perseverance is required just to get a girl's "YES"! Please visit this page for more funny pick up lines for boys.
Girl: Mukha ka nang tatay…
Boy: Huh?
Girl: …tatay ng magiging anak ko.
This is such a sweet yet funny pick up line. In English, the girl is telling the guy that he looks like a father, the father of my future kids.. Awwww. Too sweet!
Boy: Horror Movie ka ba?
Girl: Bakit?
Boy: Kasi pag nakikita kita bumibilis ang tibok ng puso ko
Lechon ka ba?
Habang umiikot ka kasi sa isip ko,
Pasarap ka nang pasarap sa paningin ko.
Magaling ka ba sa algebra?
Can you replace my "x"?
May free time ka ba?
Samahan mo naman ako sa psychiatrist,
magdala daw kasi ako ng kinababaliwan ko.
Puwede bang magpa-picture kasama ka?
Para naman ma-develop tayo!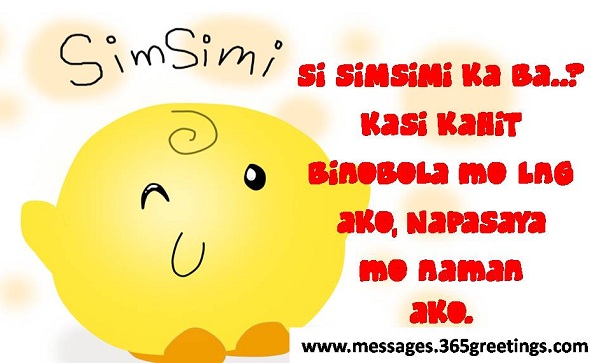 Si SIMSIMI ka ba..?
Bakit?
Kasi kahit binobola mo lang ako, Napasaya mo naman ako.
SimSimi is an  artificial or virtual  program to responds to whatever word, phrase or line you send. This application  would give a respond according to keywords, so expect that the answers  are not accurate to your queries. You end up laughing because  you would feel like SimSimi is playing with you.
That's the exact meaning of the above pick up line, in English it means " Are you Simsimi? Because even if your just  fooling me me,  at least you made me happy"
Utot ka ba?
Tahimik ka kasi pero, ang lakas ng dating. 
Ooops, be ready guys. The next pick up lines are going to be (a bit) rude. So expect that if a girl responds you with any of these, it means you have to find a new girl to like. Hahaha.
Bakit?
Kasi ang HANGIN mo!
Here in the Philippines, when a person is arrogant, he or she is referred to as "mahangin" or airy. That's why they are associated to electric fan. More of these funny tagalog pick up lines.
Budoy ka ba?
Bakit?
Kasi abnormal ka eh!
CANAL k ba?
Kasi walang sinuman ang gustong MAHULOG sayo!
KUTO ka ba?
Kasi ang sarap mong TIRISIN!
PAMINTA ka ba?
Ang sarap mo kasing DURUGIN!
Libag ka ba?
Kung saan kasi siksik, dun ka sumisingit 



SOCCER ball ka ba?
Ang sarap mo kasing SIPAIN!
In the pick up line above, a guy is associated to a "Soccer ball". Maybe because the girl is annoyed with his presence. Maybe the girl doesn't like her. So it's as if the girl is saying "Are you a soccer ball? Because I'd love to kick you!"
*poor guy*
Driver ka ba?
Bakit?
Pwede pakambiyo?
Lobo ka ba?
Puro kasi hangin laman ng utak mo eh
Isda ka ba?
Kasi ang lansa mo eh
Energy drink ka ba?
Bakit?
Mukha ka kasing cobra!
PAKO ka ba?
Ang sarap mo kasi PUKPUKIN!
Hope you guys enjoyed browsing our collection of funny pick up lines tagalog. Please feel free to leave a comment if you have more to share. We would appreciate it a lot.  Life is too short to frown so enjoy it everyday. Bring a joy to people around you. If you can't find love yet, at least by sharing these tagalog pick up lines you are able to bring laughter to the recipients. Cheers!