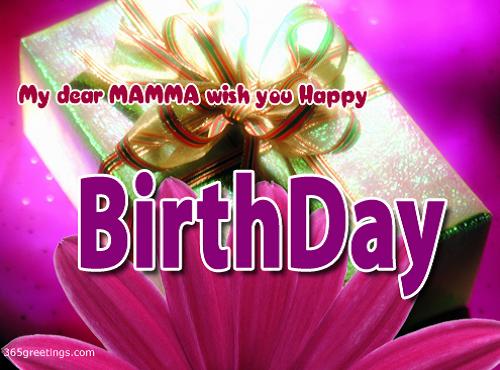 It's your mom's birthday and looking for happy birthday mom quotes to send it her?. Here is collection of happy birthday mom quotes. A birthday gift plus the sweet happy birthday messages for mom could be a perfect present for her big day! It will make her feel appreciated, cared for and remembered.
Here's the list of birthday wishes for mom that you may want to use. These mom birthday wishes can be written in a traditional card and given to her together with your bought or personalized birthday gift.These birthday message for mother contains birthday message from daughter and son. You can also visit our birthday section for Dad's Birthday if you are looking for Birthday Wishes For Father
Birthday Message for Mom, Birthday Messages for Mother
Happy birthday mom and happy birthday mother
Here we are posting some birthday wishes for mom which can be used for your birthday cards to mom.  You can also post these birthday messages for mom  on facebook or twitter.



Dear Mom, You are the sweetest mom in the world
Happy Birthday Mom!
Mom as the birthdays are coming,
You are becoming younger
Sweet birthday Mom
Mom I so lucky to have a mother
like you. You are my best friend
Happy birthday sweet and kind mom
Mom happy birthday to you,
But still you have to cook for me
Bye
(You are my close friend)
Mom oh sweet mom
Is your age is increasing or decreasing
on each birthday???
Sweet Birthday wishes from this daughter
I wish more strength and power to you all the time,
I hope God will always be with you, like you to your children.
Happy Birthday Ma!
Thanks you very much to all the things that you offer to us,
I am very proud to be your child,
I wish nothing but all the best for you.
Have a nice birthday to my beloved mother.
Related resources:-
Birthday Gift Ideas from squidoo
Birthday Wishes for Mom and Birthday Wishes for Mother
Looking to send happy birthday messages to your mom, then look the below collection birthday greetings and birthday messages for mom. You can select your favorite birthday message from the below collection of birthday message for mom
Happy birthday to the best Mom in the world.Mom, you are absolutely irreplaceable! Hope you have a great birthday.
I would never be able to get through my day
without knowing that there is someone out there
in the world that loves me as much as you do.
On your birthday, I want you to know that
I love you so much too.
I am so lucky that you are my Mom.
You are one of a kind!
Happy birthday, Mom!
Thanks for always being there to support me with all my decisions,
even if you didn't agree.
Mom, happy 25th birthday for the ____ year in a row!
You don't look a day over 16!
After having to deal with taking care of me all of your life,
you deserve to have the best birthday ever!
Mom, I hope that your birthday is just as amazing as you are."
I work so hard every day to be as great as you are.
Thanks for making the bar so high, Mom!
You are the only person that has always given me a shoulder to cry on,
a joke to laugh at, and a piece of advice to frown at!
I am old enough now to give that to you! Happy birthday, Mom.
Mom, you are my best friend and greatest confidante.
I couldn't be any happier to have you as my mother!
Happy Birthday!
Just for your birthday when people say we look like sisters,
I will let you bask in the compliment for a little while before I freak out!
I wasn't always the easiest to handle,
but somehow you always made me feel
loved! Back at you for your birthday!
Mom, you make me feel like I have always had someone in my corner.
Thanks and happy birthday."
Happy birthday, Mom! I can't even begin to describe
how special you have always made me feel.
Wishing you a healthy body to further take care of me and Daddy.
I love you Mommy. Happy Birthday!
You've been busy with household chores Mom.
I hope you got time to go to Salon. Happy Birthday!
You gave us the most thoughtful service every day.
Today, I hope you let someone do some service for you instead.
Happy Birthday Mom!
Happy Birthday!
Wishing for a best day for the best mom in the world!
Leave your responsibilities for now;
Please have time for yourself even just today.
Have fun on your birthday!
Mom, thank you for everything.
You've been so loving and supportive.
On your special day, I want to greet you.
Happy Happy Birthday, Mom!
Birthday Wishes For Mom From Daughter



My Sweety, I have only one true friend in my life
That is you my dear Mom
Happy Birthday to you
My true friend, My guide, My well wisher,
As a Daughter I am more than lucky
To get a Mom like you.
Happy birthday to you Mom
Hi Mom, It is your birthday.
As a Kid I can not conduct birthday party
So better You conduct the party.
I want to eat the birthday Cake
Happy Birthday to a sweetest Mom
Is you are my Mom?
Is you are my Guide?
Is you are my well wisher?
Is you are my true friend?
Yes you are
I am the luckiest girl
to have a mom like you
Birthday Wishes for Mom from Son
Hi Mom you are my friend. Happy Birthday to you
Mom a man can have only one true women friend,
whom he can trust hundred percent.
That is his mom.
Happy birthday to you
Happy Birthday Wishes for Mom for Facebook
Happy Birthday to Mom.
You are the sweetest mom in the world
Hi Mom, To is your Happy Birthday
I am very lucky to have a Mom like you
Sweet Birthday Wishes to You
I am Lucky because I have a Mom like you
Happy Birthday to you.
(And you are lucky to have a Son/daughter like me)
Mom when I was a child you celebrated my birthday
Now as an Adult I will celebrate your birthday
Happy Birthday to you my sweet Mom
Birthday Card Messages For Mom, Happy Birthday Mom Quotes
Mom is going to have a birthday? Greet her and share your birthday wishes for her here! Feel free to comment and share your thoughts. Happy Birthday!
Mom, I loved you yesterday, I love you tomorrow and everyday.
You were there for me on my first day of school, to hold my hand and give me courage to go.
You listened to me when I needed to talk, you talked to me when I needed to listen.
You let me grow and learn from my own mistakes.
You never left my side when I was feeling down, I knew you would be there to pick me up.
I wish there was a way I could repay all the things you have done for me, but there's nothing great enough to repay the greatest mother of all.
– Anonymous
If I have forgotten, I'm thanking you now
You taught me right from wrong….
I hope you know how much you're loved and appreciated
I hope you, instinctively, knew all along. – Anonymous
Mother, you're the best in town
Nay the County, indeed, the Nation.
Here's wishing a Happy Birthday
To my Number 1 relation. – Anonymous
When it comes to Mothers
There are lots of them about
But you're the very very best
Of that, there is no doubt
Happy Birthday Momsie. – Anonymous
It is because of you my mother,
That I breathe my life every second.
It is because of your love my mother,
I know how to love my life.
Mother, thanks for being there,
Because without you, there would have been no me nor my humble existence!
– Anonymous
Happy Birthday Poems for Mom
You have guided me how to raw this life,
You have shown me the tricks and traps,
You have protected me from the darkness
Oh mom you are my guide and savior.
You have taught me the blessings of the god,
For whom I pray every day for you.
You have teach me the art of living,
For that I am blessed for you
You have shown me how strict a mother can be
Without that I won't be here,
You have shown me how good friend a mother can be
For that I am rejoiced again and again
Happy birthday to you mom
Wishing you a birthday that,
That brings the smile and happiness,
That is filled with fun and party
That rejoices all our family and friends
That is what my birthday wish for you
On this birthday of my sweet mom
Happy Birthday Mother Poem
Happy birthday sweet mom it is you daughter,
You were feeding me cake on my birthday
To wish you a birthday with fun and party,
let me feed you a special Cake for you
A birthday cake made out of love,
Cooked in my heart with passion,
Will serve you with happiness
To wish my mom a happy birthday
As you use to conduct my birthday party,
Let me conduct your birthday party,
Filled with fun, love and dance
To mark your birthday my sweet,
Happy Birthday my sweet mom
let it be full of fun and celebration
Filled with joy and happiness,
That is what my birthday wish for you
On this birthday my sweet mom