In this section, we have I Love you Mom messages that will help you express your appreciation to your mother. Find some good and fantastic verses to send to your loving mom. Moms are the greatest creation of God who has been gifted specially to each one of us in this world and it is our responsibility to praise such a wonderful creation. You may find some simple words to say about moms anywhere but here we are here to help you find the exact words to show how you love your mom and how much you treasure her in your life. There may be 1000s of sentences, but the only 4 word sentence to show your love on your mom is the simple sentence of I love you mom. Below you can find more such sentences.
I Love You Mom Messages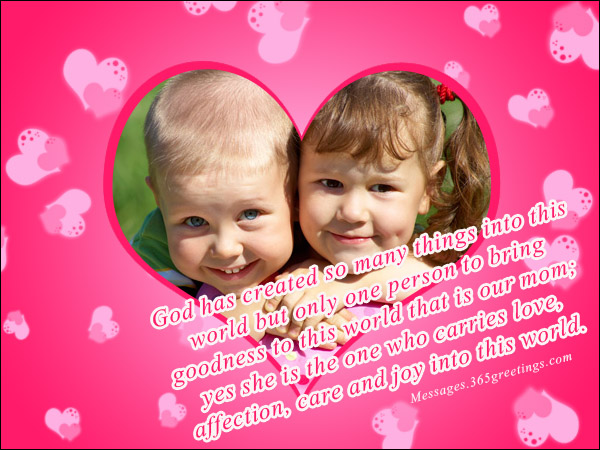 Hey mom you are the most fantastic person I have come across all through my life. You are my best gift of God forever and ever.
Do you want to know the sweetest person on this world, she is here – she is my MOM. She was with me in all the times on both my difficult and success. She is incomparable to anyone on this whole world. I just love you so much mom!
Mama, you are one of a kind, and I am truly blessed to be one of your children. I'll always be thankful. I love you Mom!
Your gentle care, patience, love and encouragement have made me who I am today. I'm grateful to have such a wonderful mom. Love you lots!
Mom, thank you for understanding me like no one else has. You have been my best friend, counselor and confidante. I'm so lucky to have you!
I may not always say this, but Mom, I love you so much. Thank you for everything you're done and will do for me. I know that you only want to best for me.
I Love You Mom Status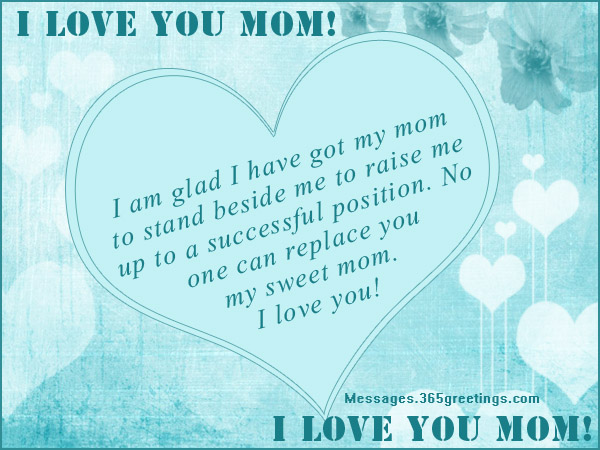 God has created so many things into this world but only one person to bring goodness to this world that is our mom; yes she is the one who carries love, affection, care and joy into this world.
I am glad I have got my mom to stand beside me to raise me up to a successful position. No one can replace you my sweet mom. I love you!
No one can understand me better than you mom. Guide me and let me reach the heights. Love you!
I may not have presented diamonds and pearls to my mom, but I presented her the love and care which she needs all throughout her life.
The best mentor in this world is your mom, so praise your mom in the best way you can and get her blessings. I love you my mom!
I Love you Mom Messages and Wordings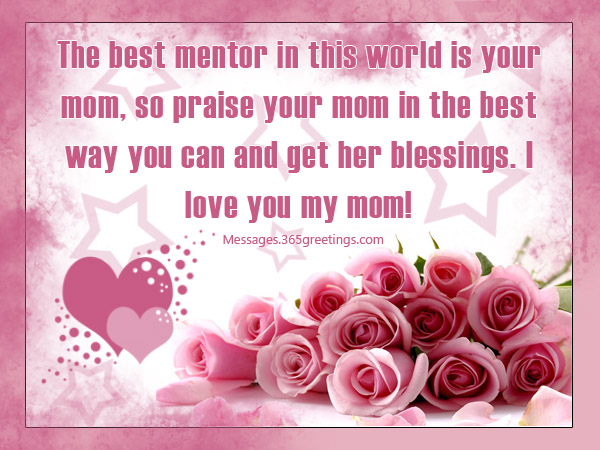 A single person to take all roles in herself is my mom. Yes she plays all her vital roles very well, role as a daughter, role as a wife, role as a daughter in law, role as a mother, role as a grandma and also the role as a good human being. She is the miraculous creation of God. I love my mom so much!
I would say my mom is a part of God. Yes she does all the things to me, in a more careful way to protect and give me happiness. God knows everything what has to be done and what has not to be done for me and so does knows my mom.
When I was little, I wanted to be just like you.  No matter how hard I've tried, I can never measure up. 
You can't believe how much I love you mom.  Words can never explain it. 
Sweet Messages for Mother
Mothers are truly amazing. They know what each cry of their little ones means and even when the children are all grown, oft times even before it is said, a mother will know that her child is in trouble and needs her.
You are the queen mother of my heart and I love you. I am honored, privileged and blessed to be your child.
I often felt so misunderstood. Not a soul could hear me. Only when you saw my face, you could erase all the pain. Thank you for always being there.
Mother dearest, you are the nearest to my beating heart. I love you so much!
I know I wasn't the most perfect son, but I think I turned out pretty good, Thanks to you.  Love you lots!
People always tells me I look just like you.  Wouldn't change that for the world. Love you, mom!
You were my first teacher.  I only wish all the other girls could have had you to teach them as well. You're simply the best, mom!
I love You Mom Messages from Daughter
Mom, you're there with me through all my pain and gain; an uncomplaining and loving heart even in the midst of turmoil. What a wonderful mom you are. I love you so much!
Loving mother, you are my confidant. Whenever I had secrets that I needed advice on you have always been there sharing them with me and showing me how to proceed. Thank you for being there, always. Love you a bunch!
As a girl, I have faced a lot of challenges and come out stronger and bolder because I had you to emulate. From my first period to my first boyfriend you advice was exemplary.
Mom, because you're a woman like I am, you understand all that I go through. You lead and guide me with your loving hand and gentle wisdom. Thank you, mom. May God bless you.
I want you to know that being your daughter is a blessing indeed. And despite our differences at times, I respect you mom. I love you, always!
Beautiful and Touching Messages for Mom
Despite failures, she stands up. Despite sorrow, she cheers up. Even in pain, she fights! No one could be as stronger as she. And that's my mom! I love you so much!
Dear mom, heroes are not born they are made such by the vast challenges and experiences they face and undergo without backing down. You are my hero mom. For me, you will always be a hero!
Over the years I have watched as life through a lot at you but you never ducked, instead you came up fighting. The respect that I have for you cannot be measured. You deserve great honor mum.
She loves my Dad. She takes care of us. Mom makes our home surrounds with joy. She is the strongest woman I know.
I have inherited all these traits from you: Beauty, Kindness and Intelligence.  How am I supposed to say thank you to a wonderful person like you!
I Love You Messages for Mom from Son
Anyone can come and go at any part of your life, mom is the only one stays with you forever. Mom thank you so much for the way you have been to me. I love you my dear mom!
Mom you mean so much to me, I admire you, I love you and I thank you for everything you have done so far and for things you are going to do. Love you!
The truest friend a person can have in this world is his or her mom, she is the one who is with you to support you and lift you when you are in your troubled part of life. I love my mom!
Without my mom I would not have into this world. Days may have withered to make her grow old, but she is always my super star in my world.
You are wonderful indeed and I am just sorry that I don't say this enough. As your son, I want you to know that I treasure your wise counsel and advice and you truly deserve a PHD as the greatest tutor in my life. Thank you mum and I love you!
We might fight and argue every now and then. But deep inside, I wish that your heart recognize my love, that I love and care for you.
I Love You Mom Quotes and Sayings
"I have a great Mom and I love her more and more everyday."
"Mothers hold their children's hands for a short while, but their hearts forever."
"Of all the gifts that life has to offer, a loving mother is the greatest of them all."
"The more I grow, the more I realize that my mom is the best friend that I ever had. PS, I love my mom."
"Mother is the bank where we deposit all our hurts and worries."
"A mother is she who can take the place of all others but whose place no one else can take." — Cardinal Mermillod
"When I tell you I Love You I don't say it out of habit or to make conversation. I say it to remind you that YOU are the Best Thing that ever happened to me."
God made mothers and put in them inner strength and resilience and that is why mothers can bear and withstand a lot of things. From runny noses, to dirty diapers, to scraped knees, to puking kids, nothing daunts a mother when it is something that has to do with her offspring. These special women in our lives deserve recognition but too many times their role and importance is undervalued. Hence, by saying I Love you mom once in a while will make them feel appreciated. Make sure to express your sweetest I love you messages for mom.