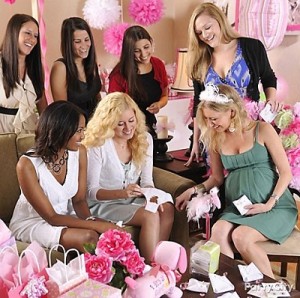 Baby shower decorations are the last finishing ingredient to make the baby shower memorable. Now that everything was prepared – the invitations, theme and tokens to be given away – all that's missing is the final touch that can complete the magic of the moment. We all want to give this one-time big-time event for the baby and the soon-to-be parents the best baby shower. After all, this baby showers come only so seldom in a person's life. To add more to the drama of the occasion, we have to choose decorations that will match the theme of your baby shower.
There are a couple of good finds in the internet and stores. I'm sure you could figure out on your own what decorations to adorn your baby shower with, but here are some of the best ideas you can come with. After all, there is a variety of stuff you can see online that can satisfy your taste palettes for the baby shower, which can leave you a little off-tune on what you really need for the occasion. So here are a few pointers to keep you on track. For your baby show decorations, check out these goodies:
Best Baby Shower Decorations
Dr. Seuss-Inspired Baby Shower Decor
In my opinion, every kid will encounter Mr. Seuss classics as he / she grows up. This kind of decoration is two thumbs up with five stars. The designs from tableware to the tiniest details of the food presentations are never boring and never fail to redefine a generation.
Pink Wild Safari Baby Shower Decor
It's wild and it's pink. In every search I make on the internet on the best baby shower decorations, this is always on the top 10 list. Looking at the pictures, I can see why. It's catchy but not heavy on the detail. It's pink but it's more rock n' roll. It's a recommendation for those soon-to-be parents out there who want something pink but without the ruffles.
Image: Birthdaydirect
 Jungle Baby Shower Decorations (For A Baby Boy)
If contemporary is your type, I recommend this one. The color-combinations and pattern designs are just right. It's also an all in one set, which means this type of decorations come in one great catch.
Jungle Baby Shower Decorations (For a Baby Girl)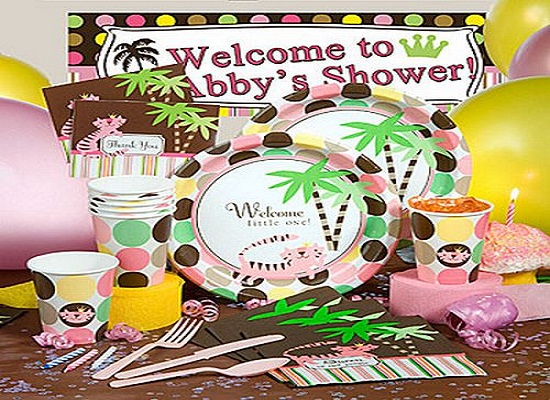 This is the female version of the King of the Jungle Babyshower, which inhibits a feminine touch to the designs and patterns. I managed to find some decorations with the same theme, but this version is perhaps the cutest to begin with.
Image: Ideasforbabyshower
Blue Safari Baby Shower Party Decorations




If there's pink, of course there's bound to be blue. This is the boy version of the pink wild safari baby shower theme. Just like its feminine counterpart, this comes in a set, which means you'll have everything ready to arrange and display as soon as the package arrives at your home.
Image: Etsy
I personally tried to make this as a party favor, but diaper cakes can also be a decoration for the baby shower. For a previous baby shower we just attended I saw a diaper cake used as a centerpiece. It looked fun and unique. It added some homey touches to the occasion. It was a perfect mood-setter. Anyone who wants to throw a baby shower should try having diaper cakes for design.
Image: INeedMomentum Blogspot
Baby Shower Table Decorations
Inspire Despicable Me Table Centerpiece
'Tis the time for Despicable Me! Despicable Me is one the most adorable film for kids in all ages. Surely, your guests will find it adorable to find a centerpiece of Despicable Me on the table. You may try Minions in particular.
Image: LoveSparklePretty
New Baby Shower Boys/Girls Table Confetti Decoration
I know that confetti decorations are the usual stuff you can find to make the occasion look festive. But this new baby shower boys/girls table confetti decoration isn't as corny as you might think. The details are unique and give an aura of innocence – truly something you would want to have on the table of your baby shower.
Image: Etsy
Gender Reveal Centerpiece
This one-of-a-kind centrepiece will leave your guests in awe for a surprise. Your guests won't help looking at the pink ribbon and the blue necktie as they munch on the treats, wondering which is which.
Owl Baby Shower Decorations




A sweet, chewy and colourful owl cookie is just what you'll need on the baby shower table if you're planning to have an owl baby shower theme. We all want something that could complement the owl-iness of the occasion.
Image: Natalie~PPC on Flickr
We just can't get enough of owls. Your guests will probably think that they're seeing owls everywhere because of the owl baby shower theme. But what more do you need to complete the theme than to have bloated owls staring at them everywhere?
Happi Tree Owl Baby Shower Boy / Girl Party Supply
If have chosen an owl baby shower theme, then this happi tree owl baby shower supply will truly be a recommend. It's an all-in-one package that will save you all the hassle of looking for owl designs in the local store. It's complete from plates, tableware to balloons.
Cheap Baby Shower Decorations
There are reasons why I recommend paper puffs for the occasion: first, it is cheap to buy in a local store (if you want something that's furnished for you) and comes in a variety of colour patterns; second, it is easy to make if you want to get it done on your own. Tip: for DIY, you won't probably get it done on the first try, but there you can search the step-by-step on the internet to make things easier. In fact, you have a chance of customizing the paper puff if you plan a DIY.




We all want to make the baby shower cute even if we want to spend only a little for the occasion. You can actually make this on your own just by printing shapes and cutting them. But if you want to save not only money but time as well, then go to a local store and look for a cut-out set that will connect with your theme.
Image: Etsy
Just Duckie Cascade Centerpiece
I don't really want to break the surprise on this one, because you have to see for yourself why I recommend this as a centerpiece. I mean, if you want something cheap but adorable for the occasion. You can find it on the internet to see the image for yourself. The only give-away I can say about it is "five stars" and "strongly recommended." See for yourself.
Baby Shower Decorations for Boys
Baby Boy's Elephant Baby Shower Items Decorations
This is another one-time big-time purchase if you plan on a cute elephant baby shower. This package would contain plates, tableware and other stuff you would need for the occasion.
We want to make everyone know that the baby is a boy. Perhaps you would want your guests to see this reminder everywhere. This centerpiece is a recommendation for those who plan on throwing a baby shower for a boy.
Image: Etsy
Adapt this as some kind of a welcoming banner for the occasion to let everyone know that you're having a boy. Your guests could have fun with this banner if you plan on taking group pictures afterwards with this over your smiling faces.
We all want something that is sweet to decorate the event with – literally. The delicious thing about this kind of decoration is that it can appear as an ornament and as a treat for the table.
Baby Shower Decorations for Girls
Party Baby Shower Mum Mums To Be Pink Girls Table Sprinkles Decoration
One of my girlfriends used a decoration like this for her baby shower. Of course it left an obvious message to us, the guests: like mother, like daughter.
I personally recommend this as a finishing touch for the baby shower if you're expecting a girl. Especially on the eating table, we don't want something too fluffy and imposing. It's best to leave all the ruffles and designs on the food corner, but as your guests are munching their way, I would recommend something that still matches the event, but with less details.
Our baby shower party is bound to be teary. To add more drama to the occasion, try placing pink candles on the eating table and with the decorations to let everyone know that your new girl is a symbol of light and hope.
It's A Girl Gleam and Burst Centerpiece
I think it's also a great idea to replace the pink with a little purple. This centerpiece adds a little royal-touch on the occasion for your little girl. Purple is, after all, the color or royalty. It's a perfect centerpiece to impose on everyone that the baby girl is bound to be a princess.