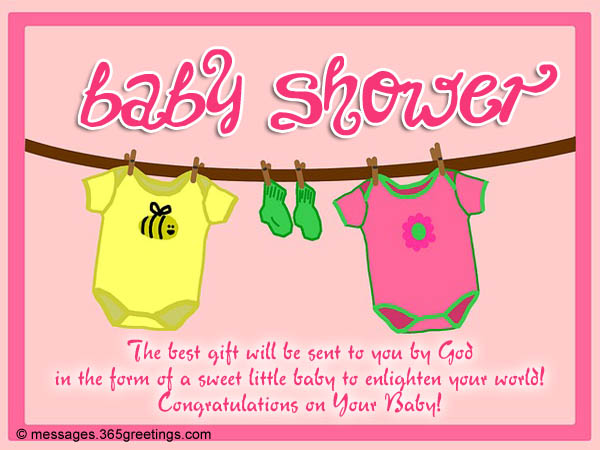 Baby shower is a traditional custom observed in many countries to celebrate the forthcoming birth of a baby in the family. On this occasion, several gifts are given to the expecting mother, along with the blessings and good wishes of the friends and family members for her and her unborn baby. Earlier it was a party where only women were invited, but now male friends are also welcomed to wish good luck to the would-be father as well. Actually this celebration is done to add to the happiness of the parents, particularly to uplift the spirit of the mother who is undergoing all the pains and uneasiness of her pregnancy. Therefore, it is customary to send wishes for this occasion of baby shower to the would-be parents.  Here there are some samples of baby shower messages to send SMS or emails for wishing the expecting parents good luck for their unborn child and happiness revolving the baby in that family.
Baby Shower Card Messages
Congratulations on your new baby!
May God bless you with a little angel
to fill your world with only happiness.
Best of luck to the expecting mother,
with a healthy and cute baby and very safe delivery!
Great to know your happy news of expecting
a little member with you soon!
May everything go well and we get to meet your cutie baby
The best gift will be sent to you by God
in the form of a sweet little baby to enlighten your world!
Congratulations!
Soon your world will be filled with all the colors of the rainbow,
upon the arrival of a tiny boy or girl!
So let me seize this opportunity to wish you all the best in your life ahead.
Wow, cannot believe my ears for this great news!
Extremely happy to know that soon you two
will become threesome, with a tiny and cute baby!
So thought to greet you with my best wishes.
Baby Shower Congratulation Messages
The celebration of Baby shower means
that the happiest moment of your baby's birth is very near!
So I wish the new Mom with very safe and easy delivery,
to let the world open to your new-born!
Wish your unborn baby with best health and all happiness
of the world when he/she arrives among us in this world!
But of course, happiness is guaranteed for him/her with such wonderful parents!
Hope to see the proud parents soon
with the loveliest child of the world!
So as for now let me wish you Happy baby shower!
It was such a sweet surprise to hear about your pregnancy!
Now waiting eagerly with you both,
for the arrival of your baby prince/princess in this world.
May an angel be born to you to fill this world
with more joy and peace!
So like the Wise Magi,
wishing you the best happiness upon his/her joyous birth!
Baby Shower Wishes Messages
Wish the sweet would-be Mom happy pregnancy
on this blessed day of your baby shower!
Hope you will enjoy every moment of this period
while waiting for your tiny bundle of joy!
Wish you all the best for the happiest moment of your life
when you will lift your tiny self in your hands!
After all, children represent much of their parents' images!
Many congratulations to both of you for your upcoming parenthood!
So now spend very happy time in finding
the sweetest name for your little baby.
Thanks to both of you for giving a chance
for sharing your newfound joy!
Will not miss this occasion to wish you
the very best regarding the birth of your so much desired child!
As wishing you all the joyous seconds
while waiting for your little one,
please do let know in case of any requirement of help.
Will be honored to help you in this crucial,
as well as sweetest moment of your life.
Baby Shower Messages for Mom
Wish you both a greatly enjoyable period of your life
when you will witness the fast growth of your baby,
right from the birth till adolescence!
It is the happiest desire of all parents to see their kids growing up, holding their fingers…
Believe you are too busy now in creating a tiny new world for your little baby!
So hope you will not mind if I disturb you a bit
to wish the very best in your new talent of this creativity,
to welcome your sweet little baby!
Soon you will be entering into a magical world of all story- characters
with your little kid while reading them out to him/her.
So waiting so eagerly to find you like a kid again, with your own child!
Taking this blessed chance of wishing you
very Happy Baby shower on this great day!
Hope you will intimate me in case you need any help,
whenever and whatever you need.
May the divine miracle of the birth of the new member
of our planet bring enormous joy to your family,
as well as to all others who will get the chance to know him/her.
Baby Shower Wishes and Greetings
Soon you will be enjoying life full of toys and dolls all over your house,
which will bring smile on the sweet lips of your little kid!
So wish you a very happy parenthood which is very near now.
On this Happy baby shower day,
start getting prepared to shower your sweetie baby
with lots and lots of love and care.
The greatest blessing of God is said to be a happy parent of a baby.
So surely you are enjoying every bit of this eternal blessing on both of you…
Wish to increase your happiness with my greetings of a Happy Baby Shower!
Capture every moment of your early days of parenthood safely in your memory,
as sooner than you can imagine you will find your little kid into a grown-up!
All the gifts of this baby shower are meant for your sweet unborn baby,
as you will not be having any time to search for them once your little one is in your arms.
So wish you a very busy parenthood with a bit naughty baby,
as naughty kids give more memorable moments to all around them!