So, it's your monthsary and you want to make it special for your girlfriend! Not to worry, we have got some especially composed monthsary messages for your girlfriend. These messages will surely make her feel loved and happy on this special day of your.
Also checkout Monthsary Messages For Boyfriend
Monthsary Messages for Girlfriend:
My angel my love, my fairy my dove,
you have been so kind to treat me with love
always even when I'm not being so loving.
Thanks and happy monthsary.
**********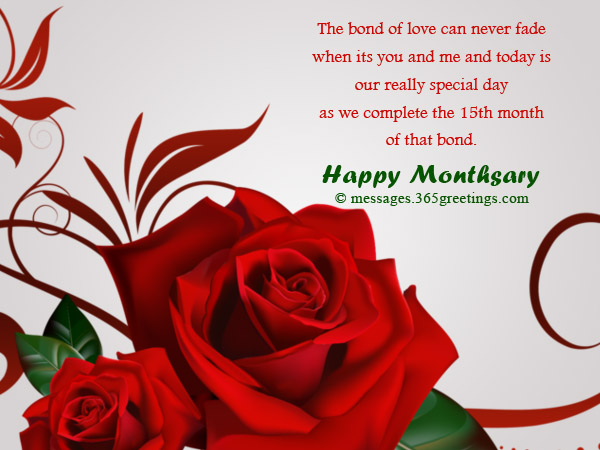 I hope to see every morning day with your face
and give me chance to love you more day by day.
But today is our monthsary
and I would like to take opportunity
to make you feel really special this day.
**********
Whenever I see your face in the morning,
it makes me realize how lucky I am
to have you in my life
and how much your love has made me better and better.
**********
Being with me is not so easy
but you do it every day,
so here's wishing you our monthsary,
I love you sweet pie.
**********
Today is an awesome day to acknowledge
how awesome it is to have you in my life.
Happy monthsary babe.
**********
There is no long distance in our love,
its the connection of hearts
that's always been the sparkle of our love.
Happy monthsary and God bless us.
**********
The bond of love can never fade
when its you and me and today is our really special day
as we complete the 15th month of that bond.
**********
I would love to grow old with you
and witness countless monthsaries with you.
Happy monthsary darling.
**********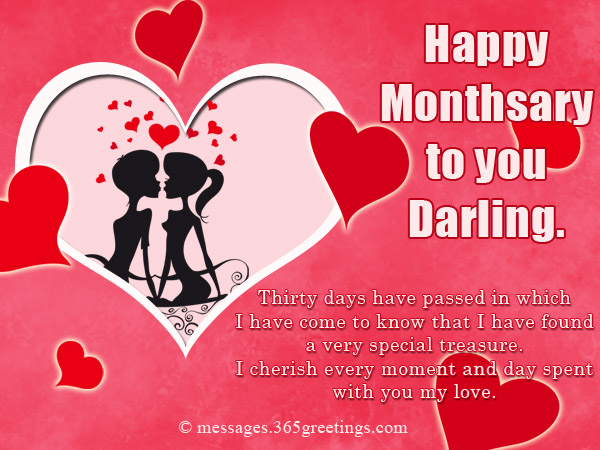 Whenever I think of the days passed by,
they always make me feel how special the coming days would be
as our love every day grows over and over.
Each month is a bliss. so a very happy monthsary to us.
**********
You are my sunshine you are my light,
you make me feel everything happy and bright.
I feel so lucky to have you.
**********
You are the rhyme of my life's poem
and nicest chapter of my life book.
Happy monthsary to the one I love so dearly.
**********
I never believed in magic until the day I met you
and got touched by your smile.
You are the most magical thing in my life
to turn it into a paradise. Happy monthsary baby.
**********
I can conquer the world with one hand
as long as you hold the other with me.
Happy monthsary Darling.
**********
Happy monthsary to someone I can share
all that I want to, laugh cry smile giggle and trouble with.
**********
As each day passes my love for you grows immensely!
Happy monthsary my love.
**********
We have been both great and beautiful together
to bring out the most ugly in one another at times.
Happy monthsary to us.
**********
Thirty days have passed in which
I have come to know that I have found a very special treasure.
I cherish every moment and day spent with you my love.
Happy Monthsary to you darling.
**********
Once again the special day is here,
and on this day we celebrate our love a new.
happy monthsary.
**********
Whenever I woke up and see your face in the sun,
it reminds me the world is still
so beautiful with you being in it.
Happy monthsary baby.
**********
The shine of pearl in my life has always brightened my paths
and bestowed love upon me.
Thanks for being the pearl of my life.
Happy monthsary.
**********
Higher than heights and deeper than the depths
has been my love for you.
Once again today I celebrate our day of love. Happy monthsary.
**********





It may have been a short time since we met
and fell in love, but this time has been so precious enough
that days like our monthsary make our love deeper and stronger.
Happy monthsary my love.
**********
Lets reach for the stars again
since its the day when moon shines full bright after 30 days
and its been one more month of togetherness.
Happy monthsary.
**********
I learned to accept who or what you are,
I learned to dream about having you in my life forevermore,
I learned to sacrifice my pride,
I learned to smile whenever I'm sad.
Happy monthsary.
**********
I really do love you,
really do care for you,
and I really want you to be not just in my life,
but in my future life.
Happy monthsary.
**********
You have been my alcohol
and I've been your addict.
Its our monthsary
and I want to drown in the pool of your love.
Happy monthsary my love.
**********
Chocolates are no near to comparison to your sweetness.
Roses can't compete with your beauty and loveliness.
I love you for being you and being with me for so long.
Happy monthsary.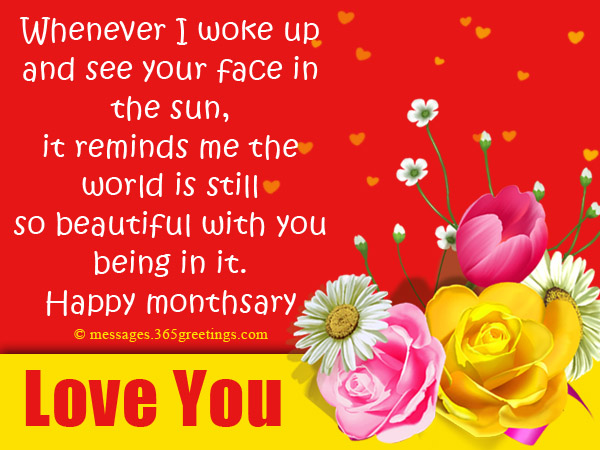 **********
You cared me when I need You made me happy
when I was sad You guided me
when I was confused Happy monthsary to you my dear.
**********
I may not be perfect for you
but I will strive to make everything perfect for you.
Happy monthsary darling.
**********
I will always remember the moment we became lovers.
I can't imagine my life without you since then.
Thank you for the love and caring.
I love you and Happy Monthsary!
We really hope you liked all of these messages. Take a look around on our website to find more interesting and romantic love messages and gift ideas for girlfriends. Feel free to share these messages with the one who is searching for a perfect monthsary messages for his girlfriend.
Stay connected for more!