A collection of good morning love messages remind us that morning is a gift from God that is why it is called "present". Start it beautifully with a prayer and a nice morning love wordings and good morning messages for your love. Here are some morning love messages, romantic love messages for morning and good morning love SMS that is especially done for greetings your dear ones in the morning.Feel free to use and share these romantic good morning messages for your special someone. You can also use these sweet good morning messages as romantic love sms text messages for wishing good morning to your special someone like your friends, boyfriend, girlfriend, fiancee, husband, wife and crush.
Good Morning Love Messages for Her
As you wake up in the morning, let your special girl know that she is the first thing you think of by sending her romantic messages for girlfriend and sms text messages saying good morning. It doesn't have to be long or poetical. As long as it comes from the bottom of your heart, you'll be alright.
Every second, I think of you.
Every minute, I'm longing for you.
And each morning I wake up, I want to see you.
I love you! Good morning!
Last night, as I lay down in my bed, you are in my mind.
This morning, as I open my eyes, you're the first thing that comes to my mind.
So here I am greeting you, have a good morning, babe!
I open my eyes and I smile.
Wanna know why?
Coz you come to my mind.
Have a great day ahead sweetheart!
Do you know what I'm always looking forward to every morning?
That's the time when I can finally sip a coffee with you.
Good morning!
You're simply special
You're the only one I think of
Right from the morning til I rest my head in my pillow
I miss you!
I feel so complete when I'm with you.
I'm hoping to spend the rest of my life with you.
Good morning!





May you have a good start this morning.
May this message make you smile and complete your day.
Good morning sweetheart!
Good morning to the most wonderful girl I've ever known.
She's pretty, kind, humble, honest and beautiful.
And she's smiling right now!
May your morning be filled with smiles and cheers
Enjoy your day, sweetie!
Bright sunshine, chirping birds.
Smell of the brewed coffee and yummy pancakes.
Enjoy your breakfast and have a good day!
Good Morning Love Messages for Him




Spending your morning with your boyfriend or someone close to your heart is a great way to start your day. Even when two of you are apart, you can still express you longing and love to each other in the morning with good morning text messages. Here are some samples and ideas you may want to use:
Before you start your day,
I want you to smile all the way
Receiving hugs and kisses from me
As I greet you, good morning baby!
The bright sunshine reminds me of your wonderful love
That completes my day and brightens my life.
Have an amazing day, sweetheart!
Mornings are gifts of God
Brand new day,
Brand new journey
Enjoy it, embrace it!
Have a great morning!
To my one and only love,
I'm wishing you to have,
Great morning and amazing day
Thinking of you and loving you all the way!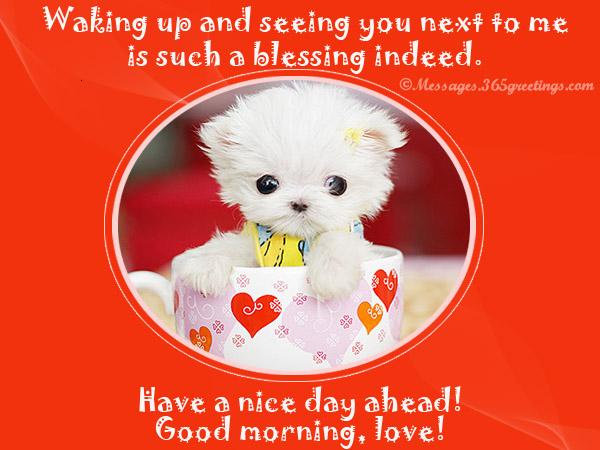 Before you start your race in a rat-race track world,
I would like to tell you that I love you and you mean so much to me.
Keep thriving in fulfilling your dreams.
And that will start this morning.
Have a great day ahead!
Sweet Good Morning Messages




I do not care waking up early to prepare the most delicious breakfast for you.
That way, I am sure that I can make you feel how much you are loved.
Wake up, sleepyhead and let's start this day with a smile.
Good morning!
Good morning is a greeting meant to lighten up a person's day.
I am greeting you the best morning so that you'll get my love more.
Your simple good morning kiss means a lot to me.
It makes me feel so loved and appreciated.
I hope we stay this way forever. I Love you and good morning!
Romantic good morning messages
Sweet good morning love messages, Good morning messages in english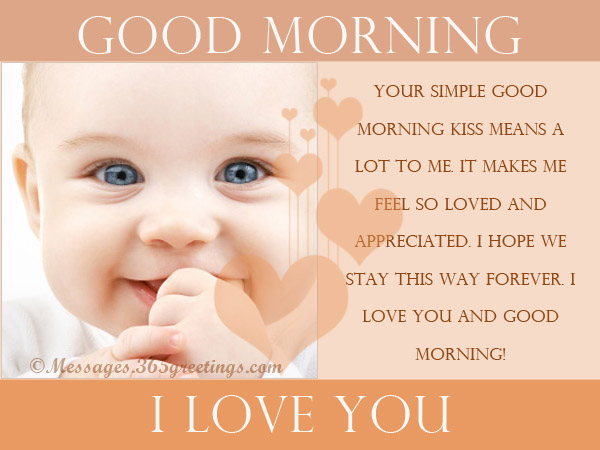 I always look forward to each morning of sitting down and sharing a cup of coffee with you.
It is so nice to start a day with the one you love the most.
Good morning my love!
May this day be filled with many blessings for you! [/snip]
[snip msg]I love you more each new day of our lives.
Good morning honey!
I am always excited to wake up each day
Because I know that I will experience again the love that keeps me moving always.
Good morning, darling!




Have your own romantic good morning love messages to share? Post it here. While doing so, you can also share your own personal good morning greetings to someone special and be seen on facebook. Feel free to comment below. (14)