Here's a collection of most inspirational quotes to inspire and motivate you. These inspiring and motivational quotes can serve as a guide and footsteps in your life. When Albert Einstein was learning his lessons he said, "I believe that love is a better teacher than a sense of duty." For Richard Branson did not let his dyslexia to attain his success. He said, "You don't learn to walk by following the rules. You learn by falling over and it's because you fall over that you learn to save yourself from falling over." He inspires everyone to keep trying until you achieve a positive outcome.
For people who have unique characteristics "It's better to be hated for who you are, than to be love with whom you are not." an Inspirational Quotes from the book Why Men Marry Bitches. For those who are lost, "One word frees us all from the weight and pain of life. That word is love." from Sophocles.
Inspirational Quotes can also come from songs like "Aim high, reach for the sky" from the cartoon Dragon Ball Z. The song teaches everyone to reach his or her dreams no matter how high or how big it is. It can also come from a movie "Two secret weapon to help us to succeed Hope and Love. Loving is giving. But in loving, there's also forgiveness. Forgiveness belongs to everyone." from the movie the Preacher's wife. These inspirational and motivational quotes may help us someday when we experience the same scenario they experience.
"Life is not about waiting for the storm to pass, It is about learning to dance in the rain."
"By being yourself, you put something wonderful in the world that was not there before." – Edwin Elliot
"Decide that you want it more than you are afraid of it."
"Don't fear change. You may lose something good, but you may also gain something great."
"Everything will be okay in the end. If it's not okay, it's not the end."
"The happiest people don't have the best of everything, they make the best of everything."
"The best preparation for tomorrow is doing your best today. – H. Jackson Brown, Jr."
"Put your heart, mind, and soul into even your smallest acts. This is the secret of success." –  Swami Sivananda
"Start by doing what's necessary; then do what's possible; and suddenly you are doing the impossible." – Francis of Assisi
"If you really love something, just go ahead and do it." – Joshua Williams
"Don't let yesterday take up too much of today." – Will Rogers
Today I choose life. Every morning when I wake up I can choose joy, happiness, negativity, pain… To feel the freedom that comes from being able to continue to make mistakes and choices – today I choose to feel life, not to deny my humanity but embrace it. – Kevyn Aucoin
It is during our darkest moments that we must focus to see the light. –  Aristotle
Try to be a rainbow in someone's cloud. – Maya Angelou
If opportunity doesn't knock, build a door. – Milton Berle
Nothing is impossible, the word itself says 'I'm possible'! – Audrey Hepburn
"Happiness is not something you postpone for the future; it is something you design for the present." – Jim Rohn
"Change your thoughts and you change your world." – Norman Vincent Peale
"Believe you can and you're halfway there." – Theodore Roosevelt
"What we think, we become." – Buddha
"No matter what people tell you, words and ideas can change the world." – Robin Williams
You must do the things you think you cannot do. – Eleanor Roosevelt
"Your present circumstances don't determine where you can go; they merely determine where you start." – Nido Qubein
"It is never too late to be what you might have been." – George Eliot
Follow your bliss and the universe will open doors where there were only walls. – Joseph Campbell
Don't limit yourself. Many people limit themselves to what they think they can do. You can go as far as your mind lets you. What you believe, remember, you can achieve. – Mary Kay Ash
Thinking: the talking of the soul with itself. – Plato
Once we believe in ourselves, we can risk curiosity, wonder, spontaneous delight, or any experience that reveals the human spirit. – e. e. cummings
The greatest mistake we make is living in constant fear that we will make one.
One of the secrets of life is that all that is really worth the doing is what we do for others. -Levi Strauss
Be a blessing to someone today – Proverbs 11:25
The days you are most uncomfortable are the days you learn the most about yourself. – Mary L. Bean
Smile, even if it's fake. Laugh, even if you hurt. Don't let anyone get to you, you're beautiful regardless of what anyone says to you.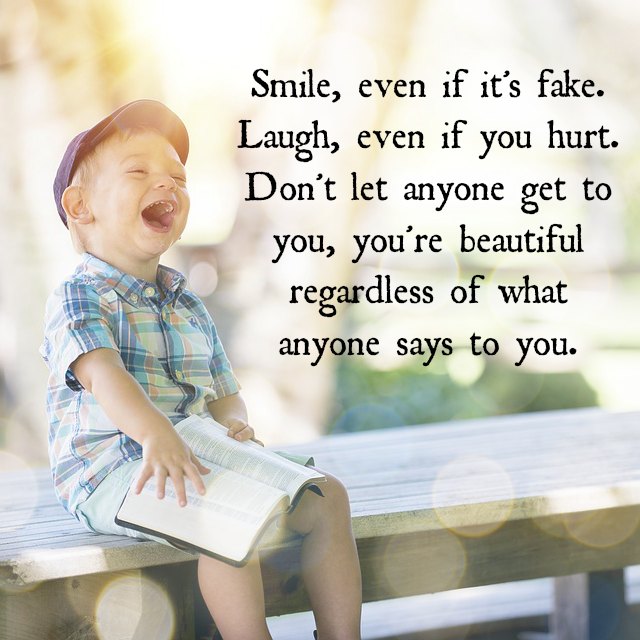 Be the type of person you want to meet.
The best thing about the future is it comes one day at a time.
Whatever you want to do, do it now. There are only so many tomorrows.
God's plan is bigger than your mistakes.
If you'll not settle for anything less than your best, you will be amazed at what you can accomplish in your lives. – Vince Lombardi
You are what you do, not what you say you'll do.
Talking to your BEST FRIEND is sometimes all the therapy you need…
The only disability in life is a bad attitude. -Scott Hamilton
The more I think of it, the more I realize there are no answers. Life is to be lived. – Marilyn Monroe
Courage is what it takes to stand up and speak. Courage is also what it takes to sit down and listen. – Winston Churchill
It isn't sufficient just to want – you've got to ask yourself what you are going to do to get the things you want. – Richard D. Rosen
If you're brave enough to say goodbye, life will reward you with a new hello.
Live a life you are proud of.
Don't put the key to your happiness in someone else's pocket.
It's never too late to be what you might have been.
Once you've accepted your flaws no one can use them against you.
Stop saying "I wish" and start saying "I will".
Truth is not diminished by the number of people who believe it.
The quality of your thinking determines the quality of your life. – A.R. Bernard
Don't be afraid to give up the good for the great.
For every minute you are angry you lose sixty seconds of happiness. -Ralph Waldo Emerson
We are all unique, and have our own special place in the puzzle of the universe. – Rod Williams
Believe in your infinite potential. Your only limitations are those you set upon yourself. – Roy T. Bennett
Each day provides its own gifts. – Marcus Aurelius
Do something today that your future self will thank you for.
Make yourself a priority. At the end of the day, you're your longest commitment.
Your value doesn't decrease based on someone's inability to see your worth.