Christening day is a very special and soulful day in a life of a Christian child. On this day, a child is baptized and named followed by other Christian ceremonies. Each and every wish and blessing sent on christening day is counted.In this post, you are going to explore the best and most beautiful christening messages. We have christening card messages, christening thank you messages, christening messages from Godparents, christening messages from grandparents and christening messages from parents in this post.
Christening Messages:
Cards are a beautiful way to send out blessings. These cards can be treasured and kept safe for a long time. Here are some of the most beautiful christening card messages that can be sent out on the christening day. These messages are best to be sent, if you are a friend, relative, co-worker or colleague of the parents or of the christening one.
May this christening day be a very
memorable and soulful of your child's life.
May Jesus shower his blessing upon your child,
And keep him safe always.
On this Christening day,
I pray to the almighty to
Fill your life with love and luck
And write a bright future in your destiny!
Sending your way
The best wishes and blessings
that will fill your life with,
endless happiness and prosperity.
God Bless You!
As the moment of your baptism arrives,
I wish you feel the love
That God has showered on you
And you feel what a blessed child you are!
God Bless!
May this Christening ceremony,
Be the most beautiful and blessed moment
Of your Child's life,
And may it fill his/her life
With the light of wisdom and serenity!
Christening Messages from Godparents:
Being Godparents, we completely understand how important a christening day is of your Godchild. Therefore, in this section we have beautiful and unique christening messages that you can send out to your Godchild. These beautiful messages will surely give words to your inexplicable feelings.
On this christening day,
I am sending
My all love,
My all best wishes,
And my all grace
to my beautiful young Godchild.
As the drops of holy water
Are sprinkled upon you,
I wish you feel
The love, grace and power
That God showers on you
And may lord protect and guide you
during all the phases of your life ahead.
I feel blessed
to have you as my Godchild.
And on this Chritsning day of yours,
I would like to thank lord for sending
an angle like you in my life.
May lord always protect and bless you.
Dear Child,
May your christening day
Makes you feel proud and content;
May it be touched with grace, joy and love;
May god always bless you!
With love,
Your Godparents
Let God be the guiding light for you.
May you be a wise person in your life,
And follow the path of wisdom of Lord Jesus.
God Bless You My Son/Daughter
Christening Messages from Grandparents:
Grandchildren have a special and utmost place in Grandparent's life. If it is your Grandchild's christening day, we completely understand the level of joy and happiness you might be feeling. You can send these beautiful messages written below to your grandchild, in order to bless him or her, and make this special day even more special with your wishes and blessing.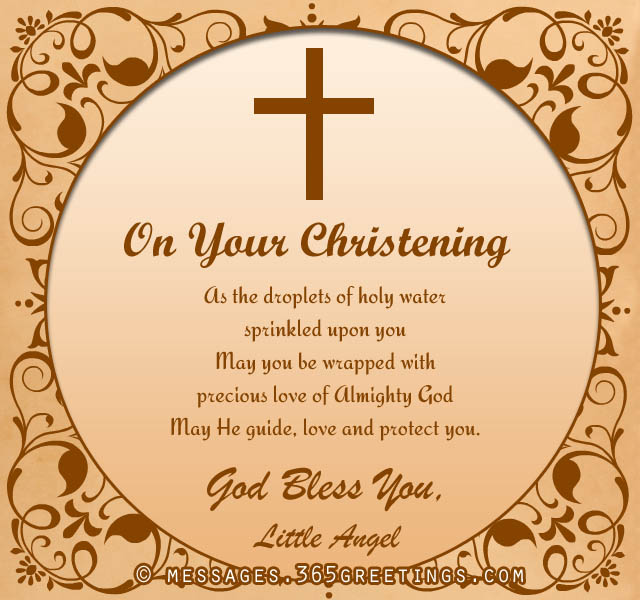 The Christening day is very special day.
Hope you understand its importance,
And follow all the words of wisdom
Those are being taught to you today!!!
Keep smiling and God bless you.
Sending out lovable wishes
And graceful blessings
That will fill your life
with happy, fun and proud moments.
May lord himself be your guide,
And protect you all your life.
On this Christening ceremony,
May the holy soul above,
Bless you with lifelong happiness,
Showers his gentle love!
Being your Grandparents,
This is a very proud moment for us,
As it is your christening day,
We pray to lord,
to fill your life with infinite love and joy.
May you reach the heights of success,
May you attain endless wisdom
And may your name shine like a sun…
Congratulations to the young christening!
Christening Messages from Parents:
It is the christening day of your child and you want to send out blessings and wishes to make your child feel special and blessed. In this section, you are going to explore the best christening messages which you can send to your child on his/her christening day.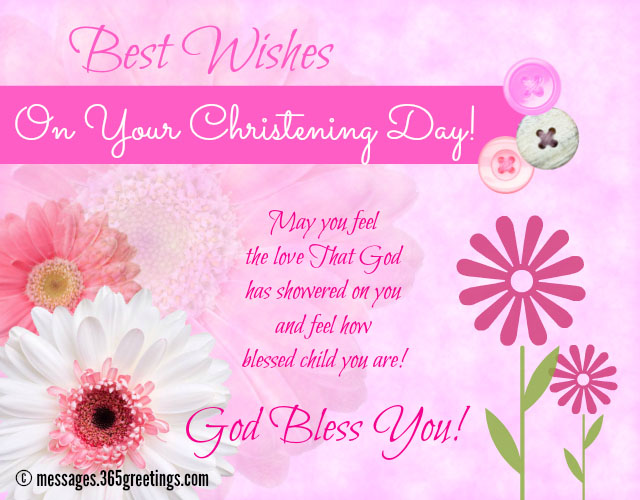 On this christening day of yours- my child,
I send my heartiest wishes for you,
That you see endless moments of joy
and live infinite moments of love.
Holding christening of you my child,
Is a proud and joyful moment for me and you dad!
I pray to lord,
to shower his love from the heaven above.
You are a blessing to us dear son/daughter.
On this christening day of yours, we pray to lord
To bless you with everlasting love, wisdom and care!
May Lord Jesus create an armor
of grace and luck around you,
that will protect and keep you safe all your life.
Happy Christening Day dear Son/Daughter!!
May this christening day
Be amongst the most joyous days of your life.
May you be blessed with lifelong wisdom and serenity,
Along with never ending love, health and luck!
What to Write in a Christening Card
And if you're wondering what to write on your Christening card, you may want to look at below suggestions for your inspiration.
We are blessed to celebrate this day with you, my precious godson/goddaughter.
Congratulations on this special day. As your godmother, I promise to help your grow with your faith. Best wishes and lots of love on this day.
Today, on this big milestone, I wish you and your family a memorable and wonderful day. Congratulations little one!
May God bless your little one with all of the gifts of love, happiness and good health. Congratulations on your baby's christening.
In God's grace, may today's wonderful celebration bring lots of happy memories. Wishing you all the best.
To my beloved godson/goddaughter, congratulations on your christening day. May you be blessed with a life filled with love and happiness.
"Whoever welcomes a child in My name, welcomes Me. – Luke 9:46-48." Welcome to the Christian faith. Congratulations!
Congratulations on your Christening day. May this bring with it peace, joy and love as we celebrate this special occasion.
Christening Messages for Goddaughter
On this day, my goddaughter, I'm proud to witness your Christening day.  I'm looking forward to guide and help you grow into your name. May you be blessed with happiness and lots of joy, in God's grace.
This day marks the beginning of your spiritual journey. May this bring lasting joy and peace to your life. Lots of love to my precious one.
We are all excited to be part of the celebration and to welcome you to Christian faith. Congratulations my lovely Goddaughter. May today be filled with lots of happiness and wonderful memories.
Wishing my little (baby name) a wonderful blessing from above. May today's christening day be filled with love and happiness.
Today, as you will be given a Christian name, may God's grace and blessing be with you. I know your parents will be proud of you. Happy Christening!
Congratulations on your baby's christening. I hope you all have a joyous day. May your be blessed with prosperous life, filled with good health, love and happiness.
Christening Messages for Godson
May your Christening day be a joyous and wonderful celebration, my little one. Wishing you all the best.
To my precious godson, I wish you life blessed with lots of peace, happiness and love. Congratulations on your christening day!
It's my pride to stand at your side as you are given a Christian name. I promise to be here for you, to guide, to protect and to lead you towards the right path. Congratulations!
You, coming to our lives, is a blessing. You bring happiness and fill our hearts with so much joy and pride. Today, on your Christening Day, I promise to give you my best as your godparent. Happy Christening!
Just letting you know that I'll be here and watch you grow. As your godparent, I'll be by your side, to love and to guide. Congratulations my dearest (baby name) on your christening!
I am so honored to be your Godmother/Godfather. I promise you that I will always be here for you, to listen to your and to care for you. Lots of love on this special day.
Christening Thank You Messages:
Christening day is celebrated with joy and enthusiasm. Family, friends, relatives and colleagues gather on this day to celebrate it and make it even more joyful and special. They come to meet, greet and bless the young christening. Therefore being a nice host, it is very important that you take time to thank all the wonderful people who attended the ceremony. You can give return-gifts or simply send out a thank you card with beautiful messages written on it. In this section, you are going to read the best christening thank you messages. It is all about thanking and appreciating people who came to attend the function, and we really hope these messages would help you in thanking those guests in a beautiful way.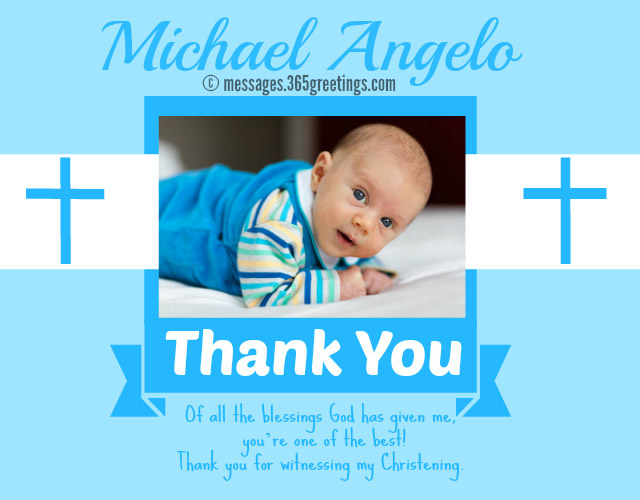 Your presence in our son's/daughter's
christening ceremony was delightful.
Thanks a lot for coming!
It was really wonderful
to have you in our child's christening ceremony.
Thank you so much.
Your presence was much needed!!
We are really grateful to you,
For you took time to become a part
Of our child's christening day!
Your presence made our day even more special.
Thank you!
Please accept our sincere thanks,
In return to your wonderful and delightful presence
at our grandchild's christening day.
Your presence and warm blessings,
made our Godchild's day even more special.
Thank you for joining us in our Godchild's christening Day.
We are really happy
That you made it to our infant's christening.
It was a pleasure to have you with us.
Thank You So Much!
Thanks for joining us.
Your presence was much awaited.
Christening Thank You Note Sample
These were some of the best christening thank you messages. Below is the sample format of the thank you card. It is very important that you follow the format, as it will increase the charm of your simple thank you card.
Dear/Dearest John & Tina (Name/Names of the receiver)
…Your thank you messages…
With Love/Regards/Yours Sincerely,
Anamika & Anne (Name/Names of the Sender)
We hope you liked these christening messages. You are free to send out these messages on the apt occasion. Please show your love by sharing these wonderful and beautiful messages with all. You can also explore our site, for it has unique and beautiful messages, greetings, wording and quotes for all the occasions and seasons!!