These days, hanging out with your crush, love-interest or lover is not possible every time. So, people choose texting and messaging with their lover, crush or love-interest!! And flirting through texting and messaging is much easier than flirting in-person.
If you already have a girlfriend or boyfriend, you can choose to send flirty messages to ignite the love-fire within them or simply to make them smile. If you have a crush or love-interest, you can send flirty text messages to express yourself indirectly, to impress and to make him/her smile.
Therefore, to express your feelings indirectly, to impress your crush or to make your lover smile for a moment, you can send flirty text messages. In order to flirt on text, your messages should be witty, funny, cute and playful. Here are some examples of flirty text messages which you can send to your crush, boyfriend/girlfriend or love-interest.
Flirty Text Messages For Him:
In this section, you are going to explore the most amazing flirty text messages for him. By 'Him', I mean you boy-crush, boyfriend or guy love interest. These messages will surely impress your boyfriend or crush and make him smile or tickle for a moment.
Christmas is near,
Please send me your picture
so that I can send my wish list to Santa.
I have heard,
The early you send your wish, the earlier Santa fulfills it.
Dear, I am going to through a serious issue,
And I am unable to get it rid of it.
It is that I can't stop thinking about you!
You are over my mind for every little moment 😉
New rule has been introduced!!
'All smoking hot guys will be imprisoned"
Oh dear, I am so worried for you,
Please go and hide somewhere!!
I love to walk with you!
Not because it is kinda sweet,
But because I love the jealous expressions
of other girls seeing me walking with a smoking hot guy.
So, where are we going on a walk?
People have started calling me a drunk.
But the reason I look so is not drinking alcohol,
But I am totally intoxicated by you boy!!
Dirty Flirty Text Messages:
Want to tickle your boy's or girl's love bone? Want to make him or her think wild!! Then you must send these dirty flirty text messages. Surely, these text messages will make your lover go crazy for a moment and would charge up his/her wild desires.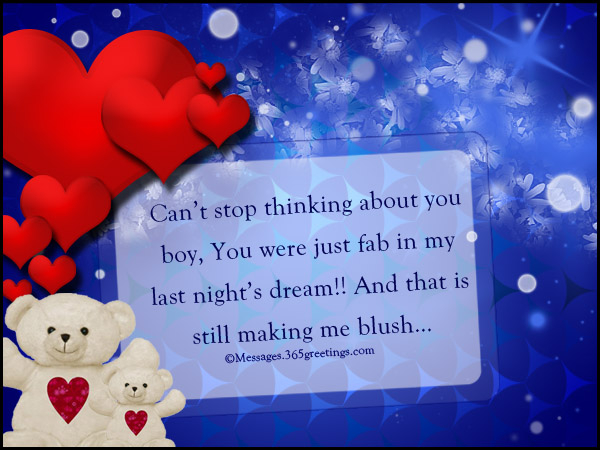 Tonight hot dinner will be served:
Menu is Beer, Chicken and ME!
Can't stop thinking about you boy,
You were just fab in my last night's dream!!
And that is still making me blush…
Oh yes!! I found a perfect remedy for your sore lips!!
You will get the treatment tonight after dinner. Be ready!
I am a winner,
for I found the happiest place of the universe.
No, it's not Paris; neither it's Disney land…
It is your arms!!
So, are you willing to make me happiest person tonight?
Oh no dear, I need your help urgently!
I forget the way to my home!!
Can I come with you at your home for tonight?
Cute Flirty Text Messages:
Cuteness and simplicity have won many hearts. In this section, you are going to explore the best cute flirty text messages for your crush or love. Go ahead, read on and feel free to share these amazingly cute flirty text messages.




I wish I was the mirror of your room,
Then you would have stood
in front of me every now and then!!
I am really weak in mathematics!
Yeah, I am not lying!!
Since I you have left,
I am trying to calculate
'how much I miss you'
But I am unable to!!
I hope you are not tired?
For, you have been running in to my mind
Since morning!!
Every woman dreams of a hot and handsome man.
So do me!!
I also dream of the
hottest and handsome man I have met in my life.
Wondering WHO?
Dear its YOU!!
At this moment,
5.6 million People are sleeping,
3.8 million People are making love,
2.1 million People are having food,
And 1 out of millions of People is reading my Message…
And now Smiling!!
Flirty Good Morning Text Messages:
Do you always start your day by sending a good morning message to your crush or love? That is really great. One should always send a good morning message to his/her crush or love so that, the person realizes that he/she is always on your mind, even in the morning at the moment you wake up! Here, are some unique flirty good morning text messages that you can send in order to make that special someone smile, the moment he/she opens his/her eyes in the morning.




Good morning superstar!!
I hope you had a nice sleep,
Or you were also lost dreaming about us?
Wondering if you are up and smiling?
Or it's just the sun that is shining?
Good Morning!
Good morning sweetie-pie!
I wish you good day that is filled with
Lots of smiles, joy, love and ME!!
This is a simple 'Good Morning' text message
To let you know that
You are the first person I think of
When I wake up in the morning!!
Hey sweet girl,
Please don't wear red today!
You look amazingly beautiful in red,
And I don't want anyone else to fall for you!
Good morning honey,
I am going for a movie today!
Fortunately, I have an extra ticket?
Will you be there to utilize it?
Flirty Funny Text Messages:
Not all flirty text messages are sweet, cute, romantic or dirty? It is good to make your crush or lover laugh at something unusual. This kind of wit has impressed millions of people from all over. In this section, you are going to find out some of the best flirty funny text messages. Go ahead and check them out!





Hey you never told about your new job?
I was surprised to see you on TV.
Gosh, you looked amazing cartoon network!!
No calls?
No messages?
No e-mails?
I am seriously worried!
Hope you are not in the custody of zoo!!
I never expected this from you?
How can you do this to me?
How can you leak my secret to everyone?
That I am awesomely cute!!
It is said that
Talking to an intelligent person
For few minutes in a day
Can increase the level of your intellect!
Dear, I am always free for you…
You can talk to me anytime!!
Rose, Lilly, lotus or jasmine…
All flowers are charming and beautiful,
But they can't be compared you!!
After all, cauliflower has its charm!!
Hope you enjoyed reading these flirty text messages. Feel free to share any of these with you friends and collogues and send these to your crush or lover. There is no harm in flirting, till the time the other person is not taking it seriously. Healthy flirting can make anyone smile or impress, or it may help you in taking a step ahead in your relationship. But the moment you realize that the other person is getting annoyed or feeling irritated with your messages, you should stop messaging. It is not good to irritate or annoy your crush or love.
And yes, feel free to hop around to the other sections and categories to explore many amazing and unique text messages and quotes.