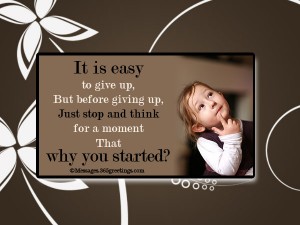 There are times in life when one starts feelings low and get bored of its daily regime. These are the times when a little bit of moral boost and encouragement is required. Encouraging messages can uplift one's mood and make the person feel good about the work, surroundings and routine.
Here in this post, you are going to explore the best encouraging text messages that can be sent to anyone in your life. Being a good friend, colleague, relative, lover, sibling or just a good person, you should never miss an opportunity to encourage someone around you or in your life who is feeling low. Check out the encouraging messages below and feel free to send them to the ones who are in need of encouragement and motivation.
Encouraging Messages For Friends:
Friendship is a beautiful bond. This is because true friends are always there in all the highs and lows of the life. True friends always help each other. But not every time, the physical help is required. There are times when a friend needs little bit of encouragement in order to step ahead, to take a decision or just to feel light. In this section, you are going to explore the best encouraging messages for friends. Read on and share!!
**********





It is easy to give up,
But before giving up,
Just stop and think for a moment
That why you started?
**********
If achieving success was that easy,
Every single person on earth would have been successful.
**********
It is not about
The more pain, the more gain.
But it is about
The right path and right pain,
the best you gain!
**********
Winning and loosing both have benefits.
Winning can make you the leader,
while loosing can make you a guide for others.
So, never be afraid of loosing!
**********





The ship starts sinking only when
The water in the sea enters the ship
And fills it…
Similarly, no one in the world can let you down
Until and unless you allow them!
**********
Never think about the past.
It is only you,
who is keeping it alive
Else it can never ever come back again.
Let it go and move ahead.
**********
Whenever you face an obstacle or difficulty,
Just remember an arrow is always pulled back
Before being shot towards the aim…
The more it is dragged back,
the more focus is being done,
the perfect shot it becomes.
**********
Never waste time in wondering
What you have lost.
Instead, think of what you have in hands
And try to make use of it.
Encouraging messages about life:
At times, life becomes dull, boring and harsh. These are the times when we need a good dose of encouragement. If you are feeling dull and life has been a bit rude with you, or if someone near you is going through this phase, then check out the best encouraging messages about life written below. These messages will surely make you and your near ones feel good and provide a good dose of encouragement to the one in need.
**********





Never make plans in life and relay on them.
Our plans and God's plans for us might differ,
But surely God's plans are better than ours.
**********
Life is like a game of cards.
Don't quit after seeing your bad cards,
Instead try to play well with the cards in your hand.
This is a quality of a good player.
**********
Positive thinking can
Help you cross the toughest roads
and the rudest paths of life.
**********
Never be afraid of taking risks in life,
As either it will make you successful
Or will gain you an experience.
**********
In life,
Always try to be like a salt.
As its presence might be
suppressed with other spices,
But its absence can make the food tasteless!
**********
Whenever past knocks your door,
Always open the door with a smile
And thank it for making you learn a lesson,
But never try to enter it back in your life.
**********
Learn from a selfless candle,
which burns itself,
Just for sake of giving light to others!
**********
To decided 'good' or 'bad',
It is very important
To witness both!
Therefore, face the 'good' with smile
and the 'bad' with guts and optimism.
Encouraging messages for cancer patients:
Each and every person on earth is scared of this disease called Cancer. It is one of the most dangerous and complicated disease. Think about those who are suffering from cancer? They must be going through the toughest phase of their life. No wonder, scientists and doctors have found ways to cure this disease. But still, there are some patients who feel depressed and loose hope when they hear about this disease. It is always important that you keep on motivating and encouraging cancer patients to not to loose hope and to be strong and fight with this disease. Here are some encouraging messages for cancer patients. You can send these messages in order to encourage cancer patients to be strong and strengthen their will power.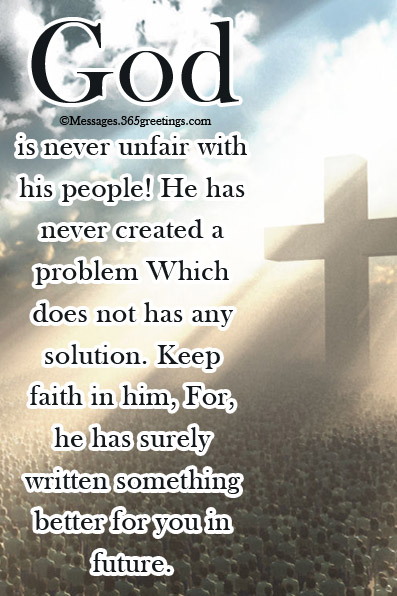 **********
No matter how dark the tunnel of life is,
After sometime, you will surely see
the light of happiness and joy.
But till then,
keep on the light of hope in your heart.
**********
God is never unfair with his people!
He has never created a problem
Which does not has any solution.
Keep faith in him,
For, he has surely written
something better for you in future.
**********
Harsh times are a part of life.
And the best quality of these harsh times is
That is passes away too,
Leaving back a room of hope and joy.
**********
Any fight done with loyalty, will power and strength
Always make you win!
So, fight with this disease with loyalty,
Will power and strength…
And you will surely meet victory.
**********
No doubt cancer has started the war,
Be strong and make it loose!
**********
Always remember,
In order to earn best days in life,
you have to fight the bad days!
**********
In this war of yours with cancer,
Remember you are not alone,
We are always there with you for you,
At each and every moment!
Encouraging messages for women:
A woman plays numerous roles in life. She is a daughter, mother, sister, friend, wife, lover, boss, employee, home maker etc. Though a woman is strongest on earth, but there are times when she needs a little bit of encouragement and uplifting, in order to work on with full enthusiasm. Not only this, but we should always try to encourage women in our lives in a way or the other. This will provide them strength and joy that will make her even more efficient in whatever role of life she is playing. Here are the most amazing and positive encouraging messages for women. Feel free to send these messages to all the women in your life. This will surely brighten, lighten and uplift their mood.
***********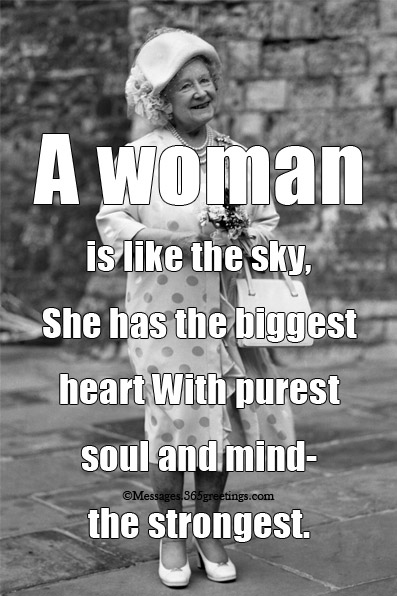 God can't be present all the time,
So he created a woman,
Who can take care of us and love us,
through all the ups and downs of life.
**********
Women are strength,
Never mistaken them as weakness!
**********
A woman is like the sky,
She has the biggest heart
With purest soul and
mind- the strongest.
**********
With your support and love,
We humans couldn't do anything!
Thanks to you dear woman,
You make our lives complete.
**********
The best way to kill stress,
is to talk to a woman.
I am glad that I have you in my life.
***********





No one on earth
Can match up with your strength,
Power and patience level…
I salute you dear woman,
You deserve to be respected!
These were the best encouraging messages which can be sent to your near and dear ones. Hope these messages would have brought a smile on your face and have provided a bit of encouragement to you. Go ahead and spread these messages of encouragement with the people around you in order to encourage and motivate them.