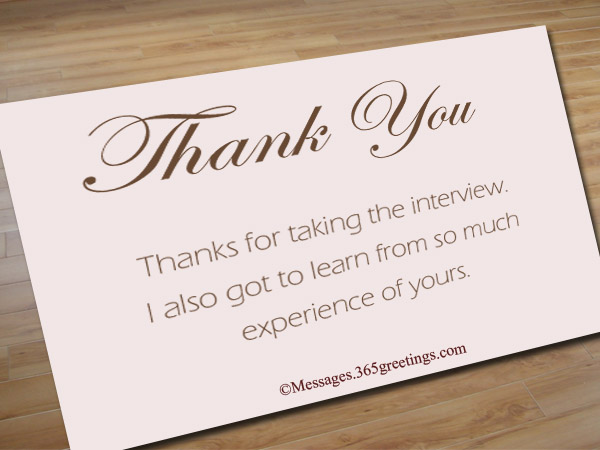 Sending a thank you note after interview plays a very important role in building up your first impression. It shows your etiquette and how gentle you are. These simple little things can impress your interviewers and quite possibly will increase your chance of getting selected for the job.
The thank you notes after interview should clearly show how grateful you are about being considered for the interview. These thank you notes should be written using humble and gentle words. In this post, you will get to read the best thank you notes to send after interview. Go ahead, read them and do send them after your interview has been conducted.
**********
Thank you for providing me
such a golden opportunity
and considering me for this interview.
**********
Thank you for looking at me
as an ideal candidate for the job post.
**********





I can never be so grateful
in finding me a suitable candidate for the job.
**********
Your interview call was
the best thing to happen on that day.
Thanks for considering me for the same!
**********
You took time out of your busy schedule to interview me.
Thank You So Much
**********
Thanks for taking the interview.
I also got to learn from so much experience of yours.
**********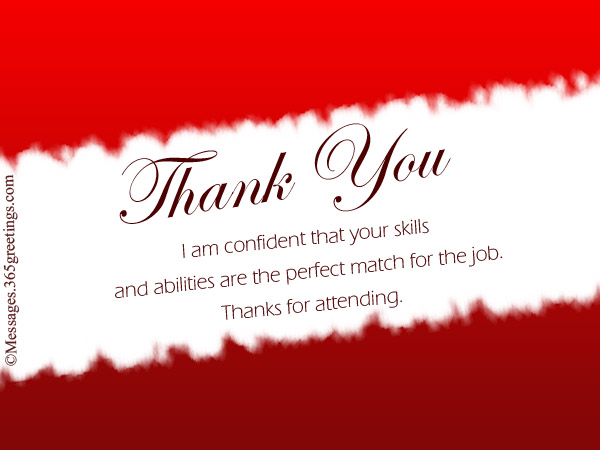 You are a great mentor.
It was great to be interviewed by you.
**********
I cannot be more happy
to be interviewed by someone so generous.
Thanks for letting me talk to you in person.
**********
It was pleasure to meet you.
I got learn new things from you!
**********





I am confident that your skills
and abilities are the perfect match for the job.
Thanks for attending.
**********
Thanks for interviewing me on a short notice.
Hoping to hear soon from you!
**********
I am very enthusiastic
about the possibility of a career with your firm.
Thanks a lot for interviewing.
**********
I enjoyed meeting you
and learning more about the firm.
I am very interested in the employment possibility.
**********





My abilities and experience
will significantly contribute
to the growth of the organisation.
Keeping my fingers crossed
and hoping to hear a good news!
Thank you.
**********
Dear Sir, thanks for the wonderful opportunity
and meeting you was a great learning experience for me.
So these were the sample interview thank you notes. You can copy and send these thank you notes freely or you can seek idea from the mentioned notes and try writing more personalized interview thank you notes to express your gratefulness on receiving the opportunity for getting interview for a particular job position.