It's your wife's birthday and you want to give the most special birthday gift along with romantic birthday wishes for wife. You may have already have some birthday gift ideas for her, and selected the birthday cards after shopping around local greeting card shops. But now you had stumbled upon another problem.You don't know what to write in a birthday card for her? Or you can't decide what birthday greetings or birthday messages for wife to put on your birthday gift tags? Then you may want to consider this collection of birthday greetings messages and birthday card messages that we listed out below.
I am sure that you will some thing in these messages that can be used for her. Even if you do not find you will get an idea and will be able to make your own as per the messages here. Feel free to send these best birthday wishes as birthday sms messages or birthday card wishes. This will help you understand how to write a birthday card to wife.
Best Birthday Wishes for Wife, Happy Birthday Wishes for Your Wife
For the woman who stole my heart
For the woman who shown me what is love,
For the woman who has given confidence
My Best birthday wishes is reserved for you
Happy Birthday My Dear
You came to my heart like a breeze,
Happiness and joy came along with you
Happy Birthday My Dear
You are my true love without you
I won't be here where I am
Happy Birthday My dear
You are the synonym of love and affection,
And I am blessed to have that for me
Happy Birthday Sweetheart
When it is your birthday
It is a special celebration
Because I want to celebrate
The birthday of the person who
has made my life a celebration
Happy Birthday Sweet heart
Ever Since you came into my life,
Everyday is a celebration,
And let us make your birthday
A a special celebration
Happy birthday Sweet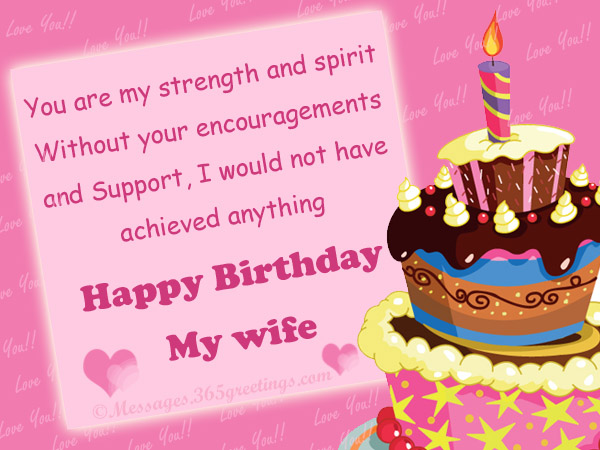 I was flowing like river without any direction
You has give me the flow and guidance
And your birthday is the most important day
In my life. Happy birthday
Let us celebrate the birthday
of a special angel, who has
blessed my life with love
and affection
Your birthday is more important
Than my birthday because if you
were not there my birth
would have been useless
Happy birthday to my
loving, caring and affectionate
Sweet wife
Birthday Messages for Wife, Happy Birthday Greetings for Wife
Today is the birthday of a person
Who made my life as beautiful as a song
And I am as happy as a little boy
Happy birthday sweetheart
You are my song, You are my Valentine
You are my blessing and You are my luck
Happy Birthday wishes from your loving husband
When I was alone, you joined with me
When I was sad, you rejoiced me
When I was sick, you cared me
All the life you stood along with me
Happy Birthday sweet.
At one stage of my life,
when every body has to select
his way, his future and destiny
You guided me, given me courage
To take the challenges of life
With courage and determination
Happy birthday sweetheart
Birthday Wishes for My Wife, Happy Birthday Greetings for Wife
You are my strength and spirit
Without your encouragements and
Support, I would not have achieved anything
Happy Birthday My wife
Life a the game luck
And the person who get a wife
like you is really lucky
Happy birthday Sweet
Romantic Birthday Wishes for Wife, Sweet Birthday Wishes
Not only are you a wonderful wife,
you are my best friend.
I love being able to grow old with you!
Happy Birthday!
Each year, I have to pinch myself to make sure I am not dreaming
that I am married to the woman of my dreams!
Happy birthday, dear!
I am so lucky to have an amazing wife.
I can't even imagine my life without you there beside me.
Hope your birthday is the best of them all.
Happy Birthday!
Words can't even begin to describe how much I love you.
Hopefully all our hugs and kisses do the talking for me.
Have a great birthday, love!
I know that I don't always tell you how amazing you are,
But here is a start!
Happy birthday to an amazing wife.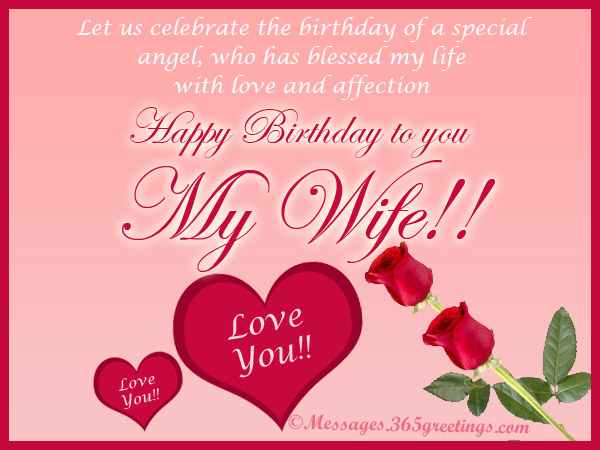 Thanks you for sticking with me through thick and thin.
I know that I haven't always made it easy,
but you are constantly lifting me up!
Happy birthday!
Happy birthday to the love of my life
And the best thing that has ever happened to me!
Have a great birthday, sweetie!
To the woman of my life, thank you for choosing me
as the person you want to grow old with.
I love you and happy birthday!
Happy birthday to the best and most beautiful wife in the whole wide world.
I love you!
Always and forever!
Being with you reminds me how God has been good to me.
I feel so lucky to have you.
Happy Birthday wifey!