Find the most romantic Birthday wishes for wife here! Show the love and care to your wife, and to keep the warmness of the relation ship of your marriage by sending beautiful birthday messages for wife.Here are a collection of simple words of wife birthday messages to show your love and affection to your wife. I am sure that these messages and wife greetings will make your relations more wonderful and sweet
Latest Birthday Wishes for Wife
Thank you for the person I am today. Because you believed in me and stood by my side. You are truly an angel sent by God. Happy birthday!
When I get down on my knees, my greatest prayer is that we are granted many more years together. I will spend the rest of time ensuring that there is always a smile on your face. Happiest birthday!
As I send this message to my dearest wife, I hope it reminds you that my love will never fade no matter how long it takes. Happy birthday sweetheart!
I would go a thousand miles, if only to show how much you mean to me. Because even a million miles would not stop me, if that is the cost of being with you always. Happy birthday!
I still can't believe that you are my wife. I must have made the heaven happy to be privileged in this lifetime. Happy birthday!
Every day I want you, every day I need you and forever I will love you. Happy birthday my love!
Happy birthday my sweet wife! You have made me the happiest man in the world for many years. If given a chance I would still chose to be your husband. Happy birthday!
Happy Birthday Wishes for Wife
In this section you will find some best birthday wishes to make you wife happy. I am sure that these best birthday messages with great birthday gift will make your wife thrilled and more loving. So browse through this wife birthday wishes, to turn her special day memorable.
For the woman who stole my heart
For the woman who shown me what is love,
My Best birthday wishes is reserved for you
Happy Birthday My Dear
You came to my heart like a breeze,
Happiness and joy came along with you
Happy Birthday My Dear
You are my true love without you
I won't be here where I am
Happy Birthday My dear
You are the synonym of love and affection,
And I am blessed to have that for me
Happy Birthday Sweetheart
When it is your birthday
It is a special celebration
Because I want to celebrate
The birthday of the person who
has made my life a celebration
Happy Birthday Sweet heart
Ever Since you came into my life,
Everyday is a celebration,
And let us make your birthday
A a special celebration
Happy birthday Sweet
YOU MIGHT ALSO WANT TO READ:
Birthday Messages for Wife
Looking more heart warming and sweet birthday messages for your wife. Then here is a collection of happy birthday wishes for wife. These happy birthday wishes are a special collection. so browse through the below birthday messages and you will find some wonderful birthday wording for your wife
I was flowing like river without any direction
You has give me the flow and guidance
And your birthday is the most important day
In my life. Happy birthday
Let us celebrate the birthday
of a special angel, who has
blessed my life with love
and affection
Your birthday is more important
Than my birthday because if you
were not there my birth
would have been useless
Happy birthday to my
loving, caring and affectionate
Sweet wife
God has given you another candle to blow on your birthday cake
because He knows how much you love life and your happy soul is the kind of contagion we would ever suppress.
I wish you more fun and wonderful years ahead.
On this day, know that your bright smile and the sound of your laughter is the rarest of gifts.
Birthday Card Wording for Wife
Still unable to find some wonderful birthday wishes. You can find some great wife birthday wishes and greetings here. Select from these heartwarming and romantic birthday wishes.




Today is the birthday of a person
Who made my life as beautiful as a song
And I am as happy as a little boy
Happy birthday sweetheart
You are my song, You are my Valentine
You are my blessing and You are my luck
Happy Birthday wishes from your loving husband
When I was alone, you joined with me
When I was sad, you rejoiced me
You were always there, you cared me
All the life you stood along with me
Happy Birthday sweet.
At one stage of my life,
when every body has to select
his way, his future and destiny
You guided me, given me courage
To take the challenges of life
With courage and determination
Happy birthday sweetheart
Happy Birthday Greetings for Wife
Below you can find another set of birthday greetings and wishes. have a look at this great birthday wishes and greetings.
You are my strength and spirit
Without your encouragements and
Support, I would not have achieved anything
Happy Birthday My wife
Life a the game luck
And the person who get a wife
like you is really lucky
Happy birthday Sweet
You are as special as this special day itself.
Go full steam ahead and enjoy life and love with your loved ones.
All my good thoughts and wishes are with you on your birthday.
May you enjoy its wonders of it to the fullest.
Cheers for celebrating another year of your lovely life.
I will always be your friend and I am thankful to celebrate this special day with you.
Despite my flaws, a queen like you decided to spend her life with me. I promise to always give my best to you and our children for the rest of my life. Thank you for the happiness you have brought to my life. Happy birthday dear!
Birthday Card Messages for Wife
Looking for romantic birthday wishes for wife. Well look at these romantic and sweet birthday wishes to make your wife happy and romantic.
Not only are you a wonderful wife,
you are my best friend.
I love being able to grow old with you!
Happy Birthday!
Each year, I have to pinch myself to make sure I am not dreaming
that I am married to the woman of my dreams!
Happy birthday, dear!
I am so lucky to have an amazing wife.
I can't even imagine my life without you there beside me.
Hope your birthday is the best of them all.
Happy Birthday!

Words can't even begin to describe how much I love you.
Hopefully all our hugs and kisses do the talking for me.
Have a great birthday, love!
I know that I don't always tell you how amazing you are,
But here is a start!
Happy birthday to an amazing wife.

As years go by
I am realising how lucky I am.
Sweet heart celebrate this big day!
Sweet Birthday Messages for Wife
A collection of sweet birthday wishes for your wife. Enjoy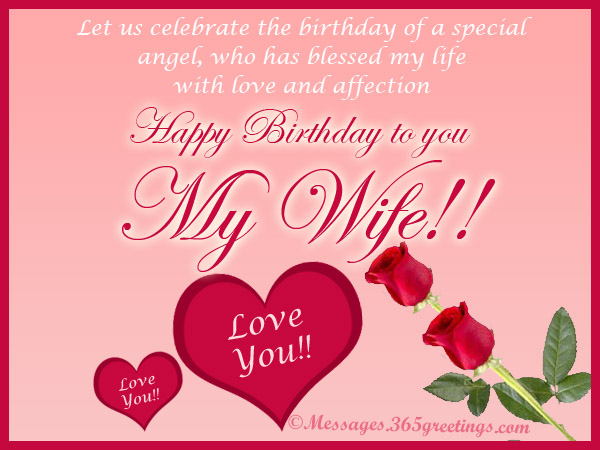 Thanks you for sticking with me through thick and thin.
I know that I haven't always made it easy,
but you are constantly lifting me up!
Happy birthday!
Happy birthday to the love of my life
And the best thing that has ever happened to me!
Have a great birthday, sweetie!
To the woman of my life, thank you for choosing me
as the person you want to grow old with.
I love you and happy birthday!

Happy birthday to the best and most beautiful wife in the whole wide world.
I love you!
Always and forever!
Being with you reminds me how God has been good to me.
I feel so lucky to have you.
Happy Birthday wifey!
You came to my life as a song
made my life so wonderful.
Happy Birthday wifey!
When you came to my life,
I thought a flour is coming in
But you turned my life as garden.
Happy birthday Sweetheart.
Short Birthday Messages for Wife
My heart is only for you.  Happy birthday.
* * * * * * * * * * * * * * *
I want to whisk you away to a heavenly land, where life will be nothing but bliss.  Happy birthday.
* * * * * * * * * * * * * * *
We may be poor, but with you, I never need money.  Happy birthday baby.
* * * * * * * * * * * * * * *
Let's break some rules, and skip ahead to forever.
* * * * * * * * * * * * * * *
If I could sing you a romantic ballad, I would.  But you know I love you.
* * * * * * * * * * * * * * *
You are the most handsome man in the world and also the most loving, responsible and reliable lover. I am happy to celebrate this special day with you my love. Happy birthday to you.
Sweet Birthday Messages for Her, Sweet Birthday Wishes for girlfriend and Wife
To the most precious woman in the whole world. Your love has lifted me up and I feel like a king. Today I celebrate you and send you all my love. Happy birthday.
* * * * * * * * * * * * * * *
Loving you is so enriching and fulfilling because you are a truly wonderful woman. And today as you celebrate your birthday, my love and prayers are all for you. Happy birthday.
* * * * * * * * * * * * * * *
Today as you celebrate another year of your life my love I want you to know that you are still the one that I love and will be loving you for a long time. Happy birthday.
* * * * * * * * * * * * * * *
Year after year you get better and more beautiful my love. And as I celebrate you today I want you to know that if I had to choose all over again I would still choose you. Happy birthday light of my life.
* * * * * * * * * * * * * * *
My love, your life is so precious to me and as I celebrate with you today I want to wish for you good health, long life and fulfillment in every area of your life. Happy birthday.
Sweet Birthday Messages for Him, Sweet birthday wishes for boyfriend and husband
You are like classic music to me, it never loses its magic. You are like an endless river to me, bathing me in your love. I feel so blessed to have you. Happy Birthday, baby!
* * * * * * * * * * * * * * *
Today my love as you celebrate this special day I want you to know that you are my forever man. I love you so much. Happy birthday.
* * * * * * * * * * * * * * *
Darling your love has brought me joy, your strength has shielded me, your hands have held me and forever with you I know that I am safe. Happy birthday.
* * * * * * * * * * * * * * *
Happy birthday baby, you bring serenity to this busy and noisy world for me. You have changed my life forever and today I celebrate you as one of the greatest men ever born. Happy birthday to you.
* * * * * * * * * * * * * * *
I am confident to face tomorrow because I have you by my side. You are my source of inspiration and motivation. You are the reason I dare to face the challenges of life because you never give up on me. I love you my dear wife. Have a fantastic birthday love!
Sweetest Thing to Say to Your Wife on Her Birthday
I love that you know me better than I know myself. You know what I crave even before I ask and know exactly how to make me smile when I feel blue. I love you! Happy birthday.
* * * * * * * * * * * * * * *
On your birthday, let us get way from everything and allow me to just make you feel like the queen that you are. I can't wait! Happy birthday dear!
* * * * * * * * * * * * * * *
I always look forward to coming home to you. You have made home the best place in the world to be and the only place I long to be at. Happy birthday honey!
* * * * * * * * * * * * * * *
I know we have had our ups and downs together, but no matter what happens please never forget that you are my life and my only love. Happiest birthday dear!
* * * * * * * * * * * * * * *
You are the best mother to our children and a wonderful wife to me. Even in another life, it is still you I would choose to spend my life with. Happy birthday my love!
* * * * * * * * * * * * * * *
Because of you my dear wife, I have enjoyed the joy of fatherhood. And life by your side has been the best experience of my entire life. Happy birthday my angel!