Hey!!, Do you want to attend a wedding of your relative or close friend?? And want to give some present. And already bought the wedding card to attach along with your wedding gift. Great that is the way you have to attend the wedding in any traditions.
Wait are you stumbled on what to write in a wedding card??!!! :). Wedding is the most important thing in somebodies life. Wedding can make or break a man. So choose wedding wishes carefully to inspire, to understand their new responsibilities. Here I am posting some wedding wishes, which will help you to choose your desired wedding wishes to suit your relatives, friends and work colleagues. Then look below!!. And go on and make the couple feel the butterflies on their stomach as their eyes capture these flowery words about wedding. Listed below are some of heartfelt wedding wishes and wedding greetings that you can use. Feel free to share!
image: louisesharp.blogspot.com.au
Wedding wishes messages





My heartfelt congratulations
for Newly Married Couple
May your life blossom with colors
and Flowers
Wedding is a knot that
ties two families and friends
May this knot act as bridge of happiness
to give peace and happydays
to you and your family
As you are entering to a new life
I wish happiness and joy fill your life
And together you achieve the greatest goals of life
Wishing you Happy Married Life
Congratulations and Best Wishes
May joy and Happiness come and
Stay with you in your new life.
As you both enter to a new life
with hope and dreams in mind and soul
I wish you that all of your
hopes and dreams come true
Happy Married life





My heartfelt Congradulations
God has joined you together
And His protection and kindness will be with you
Happy married life
They say Marriage is in Heaven
And you are a heavenly couple
Happy Married life
May the God shower his choicest blessings
For you always.
Happy Married Life
Congratulations for a happy married life
May the God bless your family and shower
His choicest blessings for you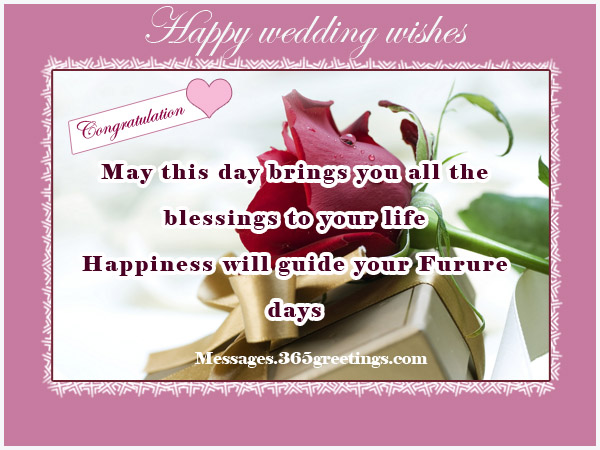 You have married with the blessings of God
May you build a family with kids and spread
the messages of god to the community
Congratulations for Newly married Couple
Congratulations
As you enter to a new phase of your life
Where you have to act the roles you have see so far,
I wish you that you be a good Dad and Mom to the kids
Who will become a treasure to this Community
May god bless you
Wedding Day Wishes



Congratulations and Happy wedding
No more Coffee from mom instead
You will have make coffee for your kids
Lazy days Gone and Happy days Ahead
You are bits of a puzzle.
Be near to each other forever and see how you'd feel complete.
How lovely is this day for this is the start of a new life shared by two!
Keep sharing the love and care you've received mutually.
Understand your partner's needs.
And yes, don't forget to make each other understand the three words, I love you.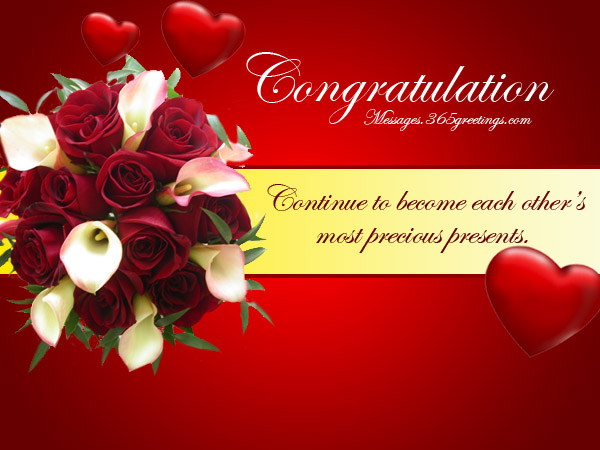 It takes two to tango.
Give and take are two words associated with matrimony.
Marriage is like a poem.
Can you make it romantic?
Faith, hope, love— Receive my wishes and live with them.
Like a blooming flower, look up to the sunlight.
Make Christ be your mission and vision.





Start your life as one.
End it as one.
Cheers to your new home, new environment, new individual you, new life as one!
Continue to become each other's most precious presents.
Spread the crazy vibes.
Drive each other crazy and dizzy with happiness!





Celebrate the grand opening of your new book in life.
Don't forget to read each and research each other.
Blessed are you beautiful ones who'll be giving this world more beautiful people.
Adore the beauty of marriage!
Happiness and love is the theme of the day.
The tears in your eyes supported the main thoughts.
Stay in love!
Cherish every smile, laugh, hug, kiss, and proofs of love.
Best wishes!





Celebrate life with endless understanding, respect, and faithfulness!
How wonderful love is as it is shared by wonderful people like you.
The wonders of love are captivating!
The Creator made both of you perfectly for you.
Enjoy the perfect moments created for you!
Affection and Passion: Rhyming words suited for a poem entitled, Marriage.
Let your life be romantic like a poem.
Arguing would always be present in married life.
This is just a reminder that you have individual views, preferences, and understanding.
If you would permit, arguing would just be a petty thing that you'd laugh about before you sleep with hugs governing the night. Have a fruitful life shared by two!
 happy wedding wishes




May this day brings you
all the blessings to your life
Happiness will guide your
Furure days
Happy wedding wishes
Today is a milestone in your life
That make happiness and future
to your life.
Happy wedding wishes
As an happiest man in this world
You are starting a new life with
New love, new relations and new priorities
All the best for a haapy wedding
Marriage is not the union of two souls
But the union of two families connected
with two souls.
May you both have an happy life with
Your relatives and Friends
wishes for wedding




This is special wishes for you
On your wedding day!!!
It is filled with by my blessings and prayers
For a happy and meanining full
Married life for you both
The wedding that turns a boy to man
and a girl to woman!!!
All the best for both of you to
start a new life as man and woman
Happy wedding
funny wedding wishes
wedding card wishes




Wedding gives you an opportunity to do
The most important duty of a man and woman
May god bless you with happiness and prosperity
To complete your duty to community and mankind
Happy married life
As you enter to a new stage of your life,
The routine of yesterdays are past,
You may have more happier days
in comming days
Happy married life to you
I am so happy to wish you
a happy married life that will
make your life happier and easier
Happy wedding