Are you planing to send Wedding congratulations messages to express your good regards to the couple whose hearts are tied and united as one?  So, if you're searching for some inspiration while writing your congratulation wedding messages, look no more. We're sharing a list of great wedding day congratulation messages for couples and friends. A wedding gift or flower will be much more valuable if there's heartwarming wedding wishes that congratulate them on their union.
Wedding Wishes
Convey your thought and join with them as they celebrate the union of their hearts. Here are some congratulations messages for wedding that you can use for cards and greetings.
Now that you are tied with each other,
May your love bloom more and brighter,
Respect, care and devotion,
Keep the love and attraction.
Congratulation on your wedding!
Fill your marriage with the right ingredients:
A cup of romance
A tablespoon of humor
A gallon of love
And a pound of respect and trust.
May you have a happy marriage!
Congratulations!
Wishing you the best marriage!
May both of you find the happiness and pleasure
Being legally and sacredly bind with each other.
Congratulations!
May the joy and pleasure you feel right now
As you two are sacredly wed with each other last forever.
Congratulations.
Like a candle in the dark,
May both of you find light with each other.
Never give up and work things out with a heart filled with love and understanding.
Congratulations for both of you!
May God grant you both happiness and joy from today and in days to come.
May God grant you strength, health and comfort when you both need it.
May God be the cord that binds your marriage and makes it secure.
May God bless your wedding day and lives now and forever.
I wish for you a wonderful wedding day.
I wish for you a happy home full of peace.
I wish for you lovely children, boys and girls.
I wish for you health, wealth and happiness.
I wish for you blessings from God above.
May God richly bless the two of you.
Today and always. Amen.
There is harmony in the air,
There is music in the air,
There is much rejoicing I hear,
For two special ones are wedding today.
YOU MIGHT ALSO WANT TO READ:
Wedding Congratulations Messages
Don't forget to congratulate your friend couples who decided to tie the knot. If you can't find the best word to write, you may refer to these samples of congratulations wedding messages.
As both of you start the new chapter of your life,
May God's graces be with you.
Congratulations!
May God bring you joy, harmony, happiness and love now, tomorrow and through the year.
I'm wishing you to have a wonderful marriage!
You know I've always wanted the best for you.
And now that you're married, it doesn't change.
May you have a happy life with your spouse and have a successful marriage! Congrats!
May your married life be filled with harmony, peace, joy and love.
You deserve a happy life!
Congratulations!
As both of you enter the new chapter of your romantic journey,
May you have hearts that are ready to love, accept and understand.
Good luck and may you have a happy marriage!
You guys rock!
And now that you're married, keep rocking!
Congratulations on your big day!
I pray that you'll be stronger in your union.
Have a sweet taste of eternity together.
Congratulations.
You look marvelous as a couple.
May you be blessed with many children in the next days to come.
Congratulations!
Love that doesn't fade
Trust that can't be broken
Faith that keeps getting stronger each day.
These I wish for the newest married couple in town.
Congratulations!
Wedding Messages Examples
The romance doesn't end with the marriage.
Instead, it is the moment when the romance grows closer and stronger.
Always keep the love and care between you guys.
Congratulations!
Keep the sacred bond together.
Congratulations for both of you.
May you have an awesome and wonderful married life!
Today, two souls have been you united.
May the affection, trust, respect and love for each other never vanish.
May you have an incredible and amazing married life!
You have been wanted to be together for the rest of your life.
That wish is now granted.
May the love and romance never fade away over the years.
Keep the bond grow stronger.
Congratulations on your wedding day!
I pray to God to bless both of you with wonderful married life,
Filled with harmony, romance, and love.
Congratulations!
Congratulations to the most wonderful couple I've seen!
May your wedding day mark the start of growing and endless love and care for each other.
May you have a successful and happy marriage!
Marriage is not always a happy moment.
Storms may come and test you.
And I'm hoping that your love for each other withstand them.
Be strong and never waver.
Happy Wedding day!
Here's wishing and congratulating both of you on the special day of your lives.
May you have lifetime love, harmony and happiness!
Have a great marriage!
May you two overcome all the endeavors and storms
You'll face on this new journey of life.
May the love for each other endure and prevail over any life's hindrances.
Have a wonderful married life!
Wedding Congratulations Wordings
You can also send some best wedding wishes to your friends on their big day with inspiring and encouraging marriage congratulation messages. For those who can't attend and witness that wedding day personally, sending wedding wishes sms can help you express your congratulations and best wishes to the wed couple.
Congratulations!
May you spend each day with so much love for each other.
This day marks your life together.
You will start to get to know each other more.
May you find the beauty in every surprise you will find out from each other.
Congratulations!
God joined you as one.
Grow in love with Him as the center of your union.
Best wishes on your wedding!
Wedding is only a celebration.
Marriage is the act that will make you committed to each other for life.
I am happy that you finally tied the knot!
My family and I wish you all the love in the world!
May you be blessed with beautiful children that will strengthen your relationship more.
Best wishes to you!
Learn from each day of being together.
Treat each other special and your marriage will surely last for a lifetime.
Congratulations!
It is a big decision to choose spending a lifetime with the one you love.
It is in fact, a proof of true love.
Be happy together!
Be each other's strength.
Smile when things become rough and smile when plans go smoothly.
Being married is hard, but it is easier when spent with the one you love!
Congratulations to both of you!
A union blessed by God will go a long way.
Strengthen your love with the help of prayers.
Be a blessing to each other.
I wish that your marriage will be blessed by God's love.
May it be your guide to continue to be in love
with each other for the rest of your lives.
Wedding Messages for Cards
Most people don't have the ability to know what to write in a wedding card. Some may even have wedding card message ideas on mind but they simply can't put them into words. So, get inspired with these samples of wedding card wordings:
I am happy for you!
I have seen how your love blooms beautifully
and it makes me cry to see that you finally decided to grow old with each other.
Congratulations and Best Wishes!
You have been together through the best and the bad times.
It is just right that you've let God bless your union as husband and wife.
It is such a nice feeling to have someone to call as your husband or as your wife.
I still can't believe that you are married.
Wishing you nothing but all the blessings from above.
Celebrate this day.
Take care of the love that you have so that
It will be stronger and sweeter forever.
Stay in love with each other.
Live according to your vows and stay the same loving couple as you are.
Congratulations!
Wedding Card Messages And Wishes
A wedding card with heartfelt wedding card messages is probably one of the greatest and most precious gifts you could ever give to a newlywed couple. A wedding gift that contains words and quotes that wishing them to have a happy and successful marriage, who would refuse it? Your newlywed friends or family would surely love and appreciate the care and thoughts included to your wedding card wishes. Here are some examples of wedding card messages that you may use. Feel free to write these messages to your wedding card.
As we hear the wedding bells ring,
May God bless your marriage and keep you happy always.
Best wishes!
Congratulations for both exchanging your vows.
May God give you strength and wisdom
To make your marriage work until the end of time.
God bless your family!
May your home be surrounded with love, joy and peace.
Enjoy walking your journey together as husband and wife.
Congratulations!
May your journey together
Be fruitful and be filled with wonderful moments.
Congratulations on your wedding day!
Congratulations!
May you share precious moments together.
You're such a lovely couple!
Congratulations on your wedding day!
Your journey starts here.
Enjoy your sweet rides!
Congratulations!
Start working to have as many kids as you can!
Make every day a wedding day for you.
Keep excited! Congratulations!
Love is a two-way process.
Give, share, and do not expect to receive anything in return.
Love unselfishly. Best wishes.
Let this day be the start
Of delightful moments together as one couple.
Cheers to forever!
Congratulations!
Wishing you all the best for your married life!
May your home be filled with blessings and prosperity.
Congratulations.
May the bond of your love be strengthened in all circumstances.
Keep the faith, love and trust with one another.
Happy Wedding Day!
Wedding Congratulations Messages for Friends
For those who have no time formulating their own wedding wishes for a card, here are some examples of wedding messages that you may use as you greet your newly wed friends Congratulations!
May the path to forever
Be filled with love and happiness
I wish you all the best on your wedding.
Congratulations!
Celebrate this day!
You will finally wear that ring on your finger.
Congratulations!
Best wishes to the most beautiful couple.
Be happy today!
Wedding bells are ringing, the angels are singing.
Is it true that both of you will start clinging?
Happy Wedding Day!
Let your "Yes" mean yes not only in words
But most of all in your mind and soul.
Best wishes!
Wedding Messages from Parents
Parents are usually the most emotional ones during a wedding and sometimes they don't know how to express themselves with words. We're here to help you come up with the perfect wedding card messages for your children who's getting married.
Marriage is a lifetime commitment of love.
Be your partner's lover all through our life.
Congratulations.
Each day must be a day to grow more in love.
Express your love all the time of your life!
"I love you", "Thank you", and "Sorry"
Are the most important words that must be present in your new life as couple.
Keep this on your mind always!
Congrats!
There are no hard times for couples who are happy at heart!
Congratulations!
This is the day that you dreamed for so long.
Make it meaningful by stating you vow the most loving way as you can.
Time is the most important element.
Make the most out of it throughout your life
together as husband and wife!
Hold on to that love that binds you.
Stay happily in love with each other.
Best wishes!
Funny Wedding Messages and Greetings
Marriage has no guarantees.
If that's what you're looking for,
Go live with a car battery.
– Erma Bombeck
Wishing you to have a great marriage!
I hope he stays the way he is when he's still your boyfriend.
Good luck!
Be sure to pick the most expensive wedding ring
So that you can pawn it when a need arises.
Happy Wedding!
Love is blind, but marriage restores its sight.
~ George Lichtenberg
Marriage is all about give and take.
You'd better give it to her or she'll take it away.
A successful man is one who makes more money than his wife can spend.
A successful woman is one who can find such a man.
Christian Wedding Congratulation Messages
sssssss
God joined you together as one.
Let Him be the center of your married life.
Be blessed always! Best wishes!
Marriage is a proof of love.
It declares how much you love each other
That you chose to spend your life with your partner.
Stay in your marriage forever!
Nobody is happier than both you today.
Today is yours so celebrate and enjoy!
Best wishes!
Wedding is only for a day,
But marriage is for a lifetime.
Cheers for the newlyweds!
Congratulations!
May the God guide you throughout your marriage life
Have a blessed and joyful family!
Congratulations!
Islamic Wedding Congratulation Messages
May Allah bring all the prosperity to newly married couple.
All the best to you!
Congratulations
May Allah shower his choicest blessings
to the newly married couple.
Best wishes!
With the blessings of Allah,
May your marriage be filled with love and happiness
May your family continue to love each other
Best wishes on your wedding day!
Wedding Card Quotes
My heart to you is given:
Oh, do give yours to me;
We'll lock them up together,
And throw away the key.
~ Frederick Saunders
Now join your hands,
And with your hands your hearts.
~ William Shakespeare
To keep your marriage brimming,
With love in the wedding cup,
Whenever you're wrong, admit it;
Whenever you're right, shut up.
~ Ogden Nash
If two stand shoulder to shoulder against the gods,
Happy together, the gods themselves are helpless
Against them while they stand so.
~ Maxwell Anderson
We have the greatest pre-nuptial agreement in the world.
It's called love.
~ Gene Perret
Love is a symbol of eternity.
It wipes out all sense of time,
Destroying all memory of a beginning and all fear of an end.
~Author Unknown
happy wedding wishes
How wonderful love is as it is shared by wonderful people like you.
The wonders of love are captivating!
The Creator made both of you perfectly for you.
Enjoy the perfect moments created for you!
Affection and Passion: Rhyming words suited for a poem entitled, Marriage.
Let your life be romantic like a poem.
Arguing would always be present in married life.
This is just a reminder that you have individual views, preferences, and understanding.
If you would permit, arguing would just be a petty thing that you'd laugh about before you sleep with hugs governing the night. Have a fruitful life shared by two!
May this day brings you
all the blessings to your life
Happiness will guide your
Furure days
Happy wedding wishes
Today is a milestone in your life
That make happiness and future
to your life.
Happy wedding wishes
As an happiest man in this world
You are starting a new life with
New love, new relations and new priorities
All the best for a happy wedding
Marriage is not the union of two souls
But the union of two families connected
with two souls.
May you both have an happy life with
Your relatives and Friends
Help your partner see beauty.
Start by looking at each other's eyes.
Guide your loved one to be self-motivated.
Two heads are better than one.
Learn with each other's struggles.
Have a goal that will unite you more.
Love your partner and his/her unique him/her.
To the love-strucked, lovely couple:
Waste your time in fruitful projects.
Have a mission-centered life.
More Wedding Congratulations Wishes and Messages
Hey!!, Do you want to attend a wedding of your relative or close friend?? And want to give some present. And already bought the wedding card to attach along with your wedding gift. Great that is the way you have to attend the wedding in any traditions.
Wait are you stumbled on what to write in a wedding card??!!! :). Wedding is the most important thing in somebodies life. Wedding can make or break a man. So choose wedding wishes carefully to inspire, to understand their new responsibilities. Here I am posting some wedding wishes, which will help you to choose your desired wedding wishes to suit your relatives, friends and work colleagues. Then look below!!. And go on and make the couple feel the butterflies on their stomach as their eyes capture these flowery words about wedding. Listed below are some of heartfelt wedding wishes and wedding greetings that you can use. Feel free to share!




You have married with the blessings of God
May you build a family with kids and spread
the messages of god to the community
Congratulations for Newly married Couple
Congratulations
As you enter to a new phase of your life
Where you have to act the roles you have see so far,
I wish you that you be a good Dad and Mom to the kids
Who will become a treasure to this Community
May god bless you
Wedding Day Wishes



Congratulations and Happy wedding
No more Coffee from mom instead
You will have make coffee for your kids
Lazy days Gone and Happy days Ahead
You are bits of a puzzle.
Be near to each other forever and see how you'd feel complete.
How lovely is this day for this is the start of a new life shared by two!
Keep sharing the love and care you've received mutually.
Understand your partner's needs.
And yes, don't forget to make each other understand the three words, I love you.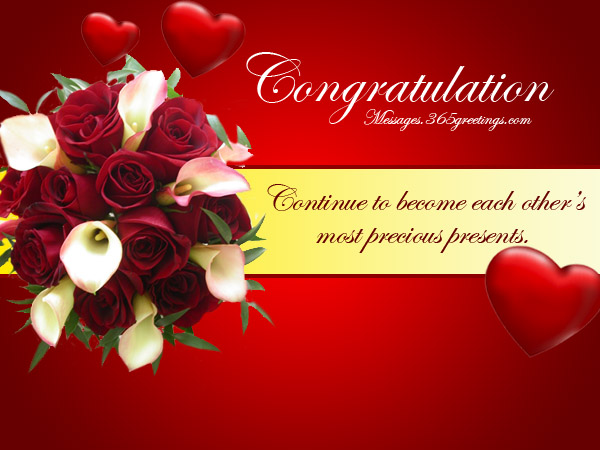 It takes two to tango.
Give and take are two words associated with matrimony.
Marriage is like a poem.
Can you make it romantic?
Faith, hope, love— Receive my wishes and live with them.
Like a blooming flower, look up to the sunlight.
Make Christ be your mission and vision.


Start your life as one.
End it as one.
Cheers to your new home, new environment, new individual you, new life as one!
Continue to become each other's most precious presents.
Spread the crazy vibes.
Drive each other crazy and dizzy with happiness!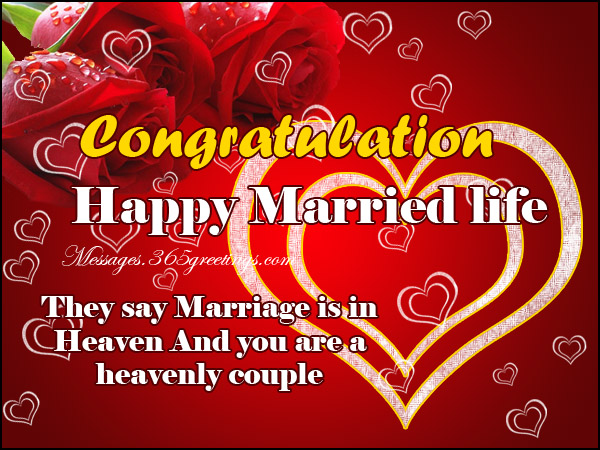 Celebrate the grand opening of your new book in life.
Don't forget to read each and research each other.
Blessed are you beautiful ones who'll be giving this world more beautiful people.
Adore the beauty of marriage!
Happiness and love is the theme of the day.
The tears in your eyes supported the main thoughts.
Stay in love!
Cherish every smile, laugh, hug, kiss, and proofs of love.
Best wishes!
Celebrate life with endless understanding, respect, and faithfulness!
wishes for wedding




This is special wishes for you
On your wedding day!!!
It is filled with by my blessings and prayers
For a happy and meanining full
Married life for you both
The wedding that turns a boy to man
and a girl to woman!!!
All the best for both of you to
start a new life as man and woman
Happy wedding
Wedding SMS Messages
As you celebrate and rejoice with the happy couple, send them warm wedding SMS messages and wishes to let them know that you share their joy and wish them all the best as they start their new life together. A word, a sentence, a whole paragraph, it does not matter, as long as this is said from the heart and sincere. For your inspiration, here's our collection of wedding sms messages that you can use.
Wedding SMS Messages and Wishes
Love is what you're into
when you are planning to put a smile
on someone else face
when he/she wakes up.
I love that you're in love and is loved.
* * * * * * * * * * *
Marriage is like a cup of coffee: bitter, hot, sweet.
It will keep you awake, most of the time.
Open your eyes widely, and enjoy the unique taste and the aftermath.
* * * * * * * * * * *
Life is what you doodle and color in a canvas. Paint life together, bride and groom.
* * * * * * * * * * *
Marriage is being an angel in your partner's darkest hour and
is role playing like a friend in your partner's crying game.
Let your partner be your best friend and guardian angel.
* * * * * * * * * * *
Married life is about unending and interesting conversation with the most special someone.
Make a way to speak not just with words but with your actions.