Christmas is a lively and cheerful festival which is celebrated by people from all over the world. There are some festivals which have their own charm and charisma. Christmas is one amongst those festivals.
There are many beliefs and rituals attached with Christmas. Christians celebrate Christmas because it is the day when Lord Jesus Christ was born. Christmas is amongst the biggest festivals for Christians and therefore, it is of great importance.
If you are a Christian, you must be knowing how important and big this festival is for. Therefore, it is a great idea to keep your wishes and cards have that religious essence in it so make the celebration more divine and graceful.
Also, if you are not a Christian but you have some Christian friends or colleagues, then you can send the Christian Christmas cards to them to brighten up their festival day.
In this post, We have some specially created Christian Christmas cards for you. These Christmas cards are special because they have holy cross and Lord Jesus pictures in it making it religious and divine. Looking at these cards, already makes me feel divine and as if God himself is showering blessings on us. I am sure, you are going to love these cards and receiver of these cards will surely feel happy and blessed on receiving them.
Christian Christmas Card 1:
Here's presenting you our first Christian Christmas card. This is a warm and beautiful Christmas card. The most appealing quality of this Christmas card is its color. Red color, as we all know represents warmth, love and blessings. The holy cross in this card makes it look divine and religious. You can send this card to your loved ones in personal and professional circle.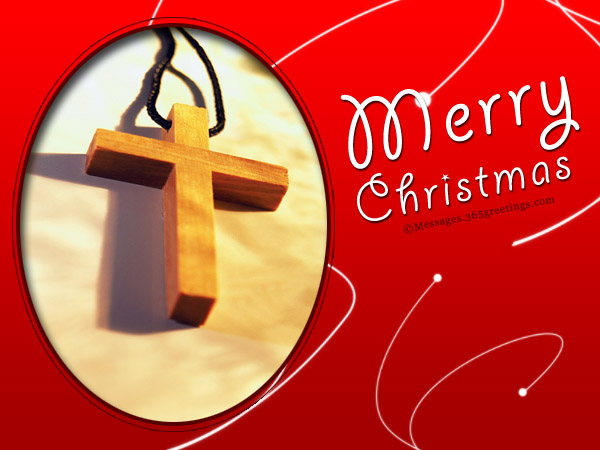 Here are some sample Christmas wishes that you can write on this beautiful Christian Christmas card-
**********
Lets celebrate the holy birthday
of our Lord Jesus Christ
by joining hands together
and praying to him to bless us!
**********
On this divine day of Christmas,
Lets join our hands
and bow in front of Lord
and thank lord for
gifting us this precious gift called life.
**********
Lets celebrate the arrival of
God's son Jesus Christ
with lots of joy and happiness.
**********
May Lord living up in the heaven
bless our families with
endless love, peace and health.
**********
May Lord Jesus fill your life
with endless moments of
love and prosperity with your
loved ones.
Christian Christmas Card 2:
This is our second beautiful creation for you. This lovely Christian card has a holy cross as well as Lord's name written on it, making this card look more divine and peaceful. Whoever will receive this card will surely feel joyful and peaceful on this heavenly day of Christmas.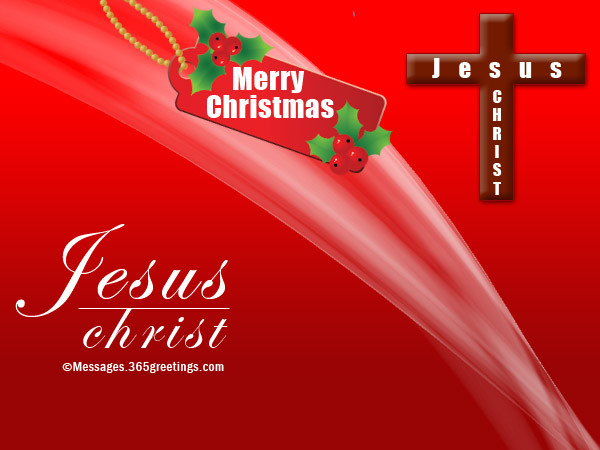 You can fill this beautiful card with Christmas wishes and messages. Here are some sample wishes and messages for this card-
**********
Bells are ringing
Candles are shimmering
Stars are shining
Carols are echoing
all of these are celebrating
the birth of 'Jesus Christ'!
*Here, 'Jesus Christ' is already written on the card, so you need to write it again. Same goes for all the sample messages for this card.
**********
Close your eyes,
bow your head,
join your hands,
and pray…
As its the birthday of
'Jesus Christ'
**********
May lord bless you
with loyalty in your soul
peace in your mind
and love in your heart.
**********
Christmas is a season
to praise lord and
thank him for blessing us
in so many wonderful ways!
Thank You Jesus Christ
**********
Lets salute the happy morn,
Oh Christians come together,
Our Lord is born
**********
This Christmas,
I pray to Lord
to fulfill all your dreams and wishes
and make you
the happiest person on earth
Christian Christmas Card 3:
Our Christian Christmas card no. 3 is very special. On looking at it, you will understand why am I saying this. Well, the picture of Lord itself express a lot. Also, this card has a pre-written short wish 'May Jesus fulfill your all wishes'. Therefore, in this card you need to write long messages and wishes. You can simply write your name and the name of the receiver along with one-line wish or message. This will not only personalize your Christmas card but will also enhance the beauty of this card.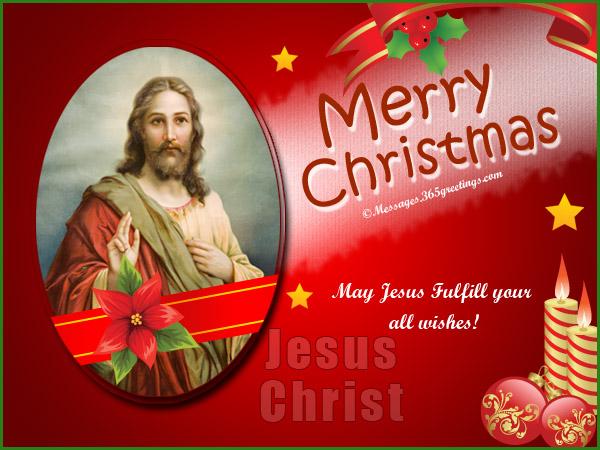 Sample one-line Christmas messages and wishes for Christian Christmas card 3-
**********
Dear Beth,
Best wishes for Christmas eve!
Love Daisy!
**********
Dear Son,
Don't forget to pray to lord!
'May Jesus fulfill your all wishes'
Love Uncle John!
**********
Dear Sunny,
Be grateful to lord for everything!
Love Zeny
**********
Be nice and kind on this Christmas…
So these were our beautiful Christian Christmas cards and messages for you. You can download these Christmas card and send them to your loved ones on Christmas. You can use any photo editing software like Picasa or Paint in order to write messages, wishes and names on these card.
We really hope you likes these cards. Feel free to explore around our website for more beautiful and cute stuff on Christmas.