Are you running short of words in expressing yourself at someone's funeral? Are you unable to find the correct words to send on funeral? We completely understand that situation. It is indeed very difficult in putting the words together when you are writing a funeral card. Loss of a person is the biggest loss which is unbearable. Therefore, it is very important that you choose correct words in order to express your self.
There are various types of funeral messages. Some people write funeral messages for the deceased person to bid final goodbye. Some people write funeral messages and send them to the family and close people of the deceased person. In this post, you are going to read all possible types of funeral messages. You can use these funeral messages to send out.
Funeral Flower Messages:




This is our first section where you are going to read the best funeral flower messages. Sending a funeral message along with funeral flowers is something that almost everyone does. What makes this idea really tough is writing the apt funeral message. This section is going to help you in choosing the apt funeral flower messages to send.
**********
Flowers for the departing lady/gentleman.
May these be present on his journey hereafter.
**********
She always loved these flowers.
May the love of these flowers make her rest in peace.
**********
May your soul rest in peace
and find a heavenly abode up there.
**********
Tears of grief
and heartfelt sorrows
are the companions of these beautiful flowers.
May her/his new world be full of such beauty.
**********
Farewell to the lady/gentleman
who had been a continuous support to us
and always helped us in distress.
It's their time to rest in peace.
**********
You will always remain
in our hearts and in sweet memories, forever.
**********
Flowers to wish her a final goodbye.
Funeral Thank You Messages:
Very few people stand with us during the hard times in order to give us strength. We should not miss a chance to say thank you for their support and help. When someone is visiting funeral of someone close to you, and when that someone is offering support and help to you, you should thank them for that. After all, they stood up with you, when you had lost someone dear. In this section, you will read the best funeral thank you messages. You can send out these messages to those who have visited the funeral ceremony of someone you know and who was with you during bereavement.
**********





Thank you for coming
on this tragic day
and being my support.
Your words of comfort really mean to us.
**********
I am grateful to God
to have blessed me
with such wonderful people in my life.
You are a real support
and helpful in such distress times.
**********
I cannot be thankful
enough for the tremendous support
and help that you gave us during this day.
**********
The greatest comfort
one can give to another
is the one during their hard times.
You had been with us
from the beginning during this hour.
I thank you for all your comfort and help.
**********
Thank you for such kindness
and sympathy.
It wouldn't have been easy without you.
**********
It is these times
that show us our true/real friends.
You have been one of them.
Thank you.
**********
You will be held with
great remembrance in the family
for your kindness and sympathy.
**********
Thank you for being here today!
It means a lot to us.
Funeral Sympathy Messages:
Funeral sympathy messages are hard to find. Though, web is full of such messages, but finding an apt message that can match up with the situation and would be able to express you sympathy in a soothing way, is really difficult. Therefore, in this section we have the most unique funeral sympathy messages. Feel free to use these messages in order to express yourself for someone's funeral.
**********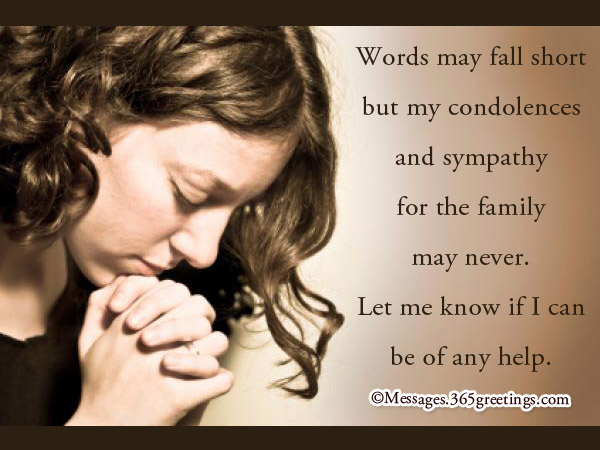 Her presence was
like a mother to us.
She will be missed dearly.
May God rest her soul in peace.
**********
Let me know at any point
of time if you need time.
These are times which seem
less sorrowful when spent with closed ones.
**********
Words may fall short
but my condolences
and sympathy for the family
may never.
Let me know if I can be of any help.
**********
Together we shall live by this time.
It's unimaginable to live without him/her.
**********
Trust in the Lord
and he shall give you strength
to live through this time.
**********
Never ever feel deserted
for I am always here
no matter what time or place.
**********
Don't think that
you have no one else in life now.
There are so many friends
and acquaintances that you can look upon
to whenever you need anyone
or feel talking to.
I am never leaving you.
**********
He/she was an integral part
of our lives too.
He shall have blessings
from all of us
and God will take a very good care
of him in heavens.
**********
As I look upon the coffin
I see a smiling face
as if they are happily leaving
this world to depart into heavens.
You shall not feel heavy hearted
for they are equally happy now
as they were here.
**********
I see a happy soul
departing from this world to another.
May God rest their souls in peace.
**********
Your grand father/mother
was such a jolly person.
It is really cruel of God
to part our ways from him/her so soon.
Wish her/him rest in peace.
**********
You will be missed so much, my love.
Feels like I lost an organ or so.
**********
Our family is present
for full support
and comfort during this mourning period.
May you find peace soon.
**********
There can never be a greater loss
than the loss of a loved one.
It creates a hole in our hearts
that remains with us forever.
But we shall not forget
that the departed ones never really go.
They remain in our sweet memories forever.
**********
The day seems so bright
and the paths are filled with flowers.
It's a perfect time to bid a final goodbye
to the departing soul
as they are now on to God.
**********
Take their last blessings
as the departed souls
are the most holy ones in the world.
**********
You were like a father figure to us.
There was never a dull moment with you around.
We and your family will miss you very badly.
**********
Goodbye my friend.
We had a great time together
but you left me alone in this world
with just your memories.
I hope you are there with me forever
when I will miss you always!
**********
Its hard time and I am feeling blue,
But my life will never be the same without you.
You'll be missed dearly, friend.
**********
As this soul departs into a world unknown,
we can pray to God to shower his blessings
and bless our lives with such wonderful people in future.
Sympathy Messages For Funeral Flowers:
Are you searching for some unique and comforting sympathy messages for funeral flowers? This section is surely going to help you. In this section, we have the most unique and comforting sympathy messages which can be sent along with the funeral flowers. You can take a blank card, jot down these messages on it and tuck it with the bouquet or bunch of funeral flowers.





**********
No words can lower
your sorrow
and grief for now.
Accept these flowers as blessings.
**********
Miss you badly.
I will be thinking of you every time.
**********
Sleep well as you had a long
and tiring journey which touched
so many of our lives
in some or the other manner.
**********
I think this was the maximum time
that we could have spent together.
So here's sending you flowers
for your journey ahead without me.
**********
May Lord bless you
as you depart with the sweetest
and fondest of memories in all of us.
Funeral Messages for Unbelievers:
There are all types of people in the world. There are people are do not believe in rituals, customs, beliefs and truth of life. It is very important that you make those unbelievers realize the truth of life. Therefore, in this section you will read the funeral messages for unbelievers. You can send these messages to the unbelievers during the hard times of their life in order provide comfort to their mind and soul. These messages can also be sent at the time of funeral of the unbelievers.
**********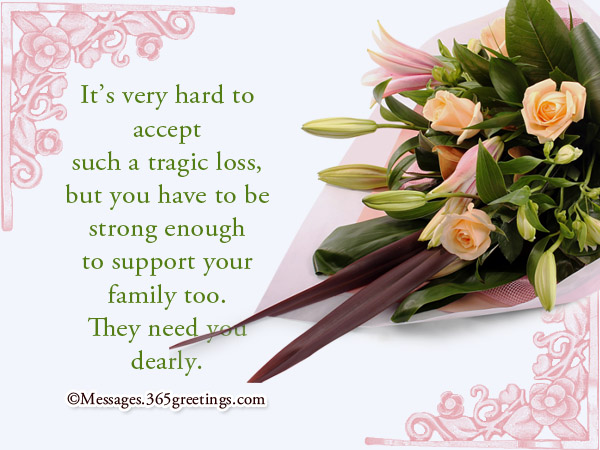 It's very hard to accept
such a tragic loss,
but you have to be strong enough
to support your family too.
They need you dearly.
**********
At least now
they would be one enjoying a world
without religious beliefs
and will be happy with it.
**********
Death does not part our ways.
It just separates the soul from body.
They still remain with us forever.
**********
There can never be enough words
to express the sadness of the deceased.
They may be merrymaking
in a new world with their own God.
**********
May the deceased's soul rest in peace
and God will always forgive all their sins.
**********
He/she was a very jolly kind person.
I am sure wherever they go,
they will spread the warmth of their presence
and live as they lived here, spreading love.
**********
They will have a better world now,
a world of their own,
a world of their own rules.
May they rest in peace now!
**********
It was their time to bid goodbye
to us for such people are hard to hold back.
They wanted to explore new worlds
and thus their journey begins.
So consider them happy right now.
**********
My utmost respect
and love for the deceased.
Wherever he/she went,
it was an entirely different experience
with such different thought of theirs.
**********
We shall only remember
the sweet memories shared with them
and forget the wrong doings of people departing.
May they rest in peace!
We really hope these messages would have helped you in some way in expressing your feelings and emotions during someone's funeral. If you really found this post helpful, you might also like bereavement messages too.
Keep coming back to us. Take care!