'Jingle bells, Jingle bells, Its Christmas on the way!!'
A sweet hello to you my dear reader! You can see, my Christmas spirits are full-on… I am very excited to tell you that I have already started making my Christmas wishlist. Oh yes, not only this but I have also started the other Christmas preparations like deciding the Christmas gifts, Christmas recipes, Christmas decor ideas and Christmas greetings for my loved ones.
Christmas greeting card have its own charm. I love sending and receiving Christmas greetings a lot. And when its a photo Christmas card, the joy of sending and receiving it, is of another level.
Imagine you receive a surprise photo Christmas card from someone afar, the joy and pleasure you will get will be out of the world. The best part of these photo cards are, you can keep and cherish them forever. You can display these cards like a show piece or you can get it framed and put it beside you bed on your bed side table. These photo Christmas card never seize to amaze anyone and make them smile.
I am pretty sure that you will agree with me on this fact that photo Christmas cards are amongst the best gifts that one can give and get. In this post of mine, we have designed the best photo Christmas cards for you. You can edit these photo cards accordingly to you choice and put your favorite photo in it. You can add messages and your names in it. There are so many ways to personalize these cards that will surely delight your near and dear ones, when they would receive this photo Christmas card from you.
Photo Christmas Card 1-
Here presenting you our first photo Christmas card. This is a very lovely Christmas card that you can send to your relatives. This photo card has a picture of a baby with lots of gifts. You can also add a photo of yours or your kids like this and add it to the photo. When personalizing this card, you will also need to write some warm Christmas wishes in this card. They will enhance the charm of the card.



Here are some sample Christmas wishes which can be written on this photo christmas card:
**********
Sending your way
a sweet shot of memories
which will surely fill your day
with happiness and joy!
**********
Hey Ben,
Accept love-filled Christmas wishes for you,
from me and my family
From George
**********
May this Christmas
brings endless happiness
peace and prosperity in your life!
**********
Cherish the sweet moments of togertheness
with your loved ones!
**********
Hope this photo will remind you
of the Christmas which we spent together.
I miss you!
I wish you were here!
Photo Christmas Card 2-
This is our second photo Christmas card for you. This Christmas card has a family picture in it. You can edit this picture and put your family photo in it and send it to your near ones. If you are a couple, you can place your couple photo in it and send to your friends and relatives.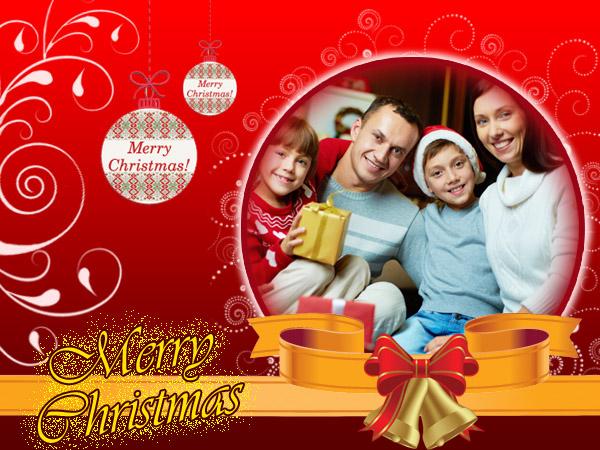 Here are some sweet and lovely Christmas wishes and messages that can be written in this photo Christmas card:
**********
Me and my family missed you a lot.
May we get to meet soon!
Take Care!
**********
May the happy moments never end
and may this Christmas be
the best Christmas for you and your family!
**********
May the magic of christmas
bless you and your family
with lots of love and luck!
**********
Christmas is a time
to spend quality time with your family!
On this Christmas,
I wish you spend the best of times,
with your family!
Photo Christmas Card 3-
Here's our third creation for you. Well, we have tried to express our Christmas spirits in this photo card, using pictures. This card has a Christmas tree, a snowman, candies and gifts. This Christmas card already expresses a lot, that you need not to write long messages in it. You simple add your photo or your kid's photo in this card and write a one-line message or wish on the top of the card. And yes don't forget to mention your name below 'with lots of love' line!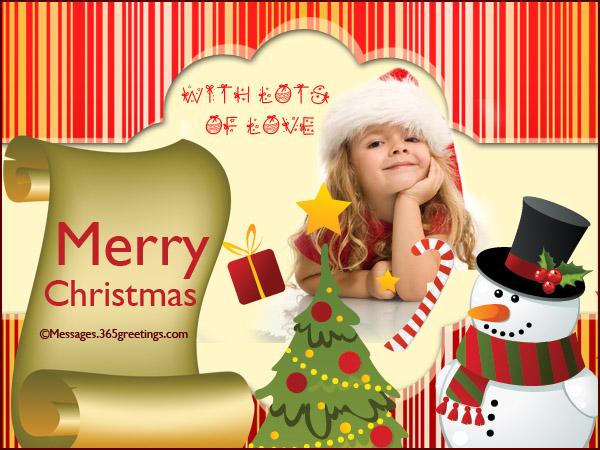 Some sample one line wishes and messages for this photo card:
**********
Smiles, joy, laughter and luck… that's what I wish for you this christmas
**********
Jingle bells Jingle bells. Christmas is already here!!
Hope you enjoy it to the fullest!
**********
Forgive the sinners and forget all your worries! Enjoy Christmas to the fullest…
**********
On this Christmas, may all your dreams come true!!
**********
May lord fulfill all your desires on this Christmas!
Photo Christmas Card 4-
Aww look at this cute Christmas photo card below! No doubt, our design team is really creative and wonderful in creating cute cards like this. This card is a very sweet card. Though, this card is good to send to anyone in your personal and professional circle, but I think kids would love this card a lot. So, I would suggest you to send this photo card to your young friends and relatives, along with a suitable gift for them. I am sure, they are going to love it. Also, replace this photo with a childhood photo of yours, in order to surprise them and amaze them!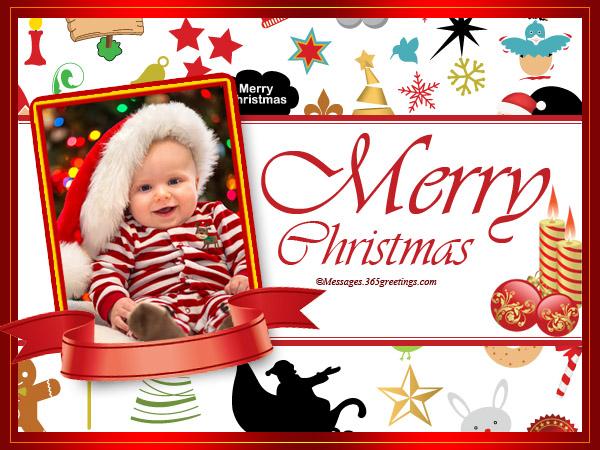 Here are the sample messages that you can write in this card and send:
**********
Be nice to all,
share your candies with everyone,
spread smiles and joy all around…
because its Christmas time!
**********
I wish Santa
fills your cupboard, closet, drawer and pockets
with lots of candies and chocolates!
May you have a sweetest Christmas ever!
**********
Don't fight with anyone,
forgive your enemies
and spread love and joy all around!
Have a nice and peaceful Christmas!
Photo Christmas Card 5-
Here's yet another beautiful and heartwarming Christmas photo card for you. I am already loving all of these cards. Aren't these cards just fab? I am sure, you just nodded your head to yes. Well, send this beautiful card in your personal or professional circle and make them smile with joy. You can replace this cute baby's photo with any photo of your choice!



Below are the sample messages that are suitable to write on this Christmas photo card:
**********
Christmas is a magical time
to spread the warm and joy
with the loved ones!
I wish you spend the most memorable time
with the ones you love,
on this Christmas!
**********
Near far,
distance can not separate us
as far as our hearts are connected.
I miss you!
But don't let this, ruin our Christmas!
Enjoy it to the fullest.
**********
Take out your Christmas jacket
wear up your Christmas socks
munch in the Christmas candies
Oh yes, Christmas truly rocks!
**********
Christmas is not just a festival or a day,
it is a magical season
that brings people closer
fill their heart with love!
Photo Christmas Card 6-
If you still can't decide which card you should choose to send to your loved ones this Christmas, then don't worry… this card of ours will truly win your heart! This is our sixth card for you, which you are free to send and share with your friends. The best quality of this card is, it has lots of space to write. This means, you can write your heart out in this card and fill it up with your words of love and joy. And yes, when editing this card… don't forget to replace this cute baby's photo with yours, or your family's!



Sample christmas messages and wishes for Photo christmas card 6:
**********
You better not shout,
you better not cry…
wondering why?
Because its Christmas time!
So don't be shy…
let's party high!
**********
This Christmas,
I'm sending your way
a spoonful of love
a pinch of fun
a bowlful of health, and
a glassful of wealth!
Have a yummy time ahead!
**********
Soak yourself into the
warm and cozy Christmas spirits
and let your heart sing the Christmas songs!
**********
May this Christmas,
gifts you a new beginning of life
and may the new year brings
lots of success to you and your family!
**********
Christmas is a season of
snow, chilly air, warm lights, cozy gifts, scented candles,
happy carol and lots of love!
May you be blessed with all of these, this Christmas!
Photo Christmas Card 7-
When in doubt, choose this card out! (actually choose this card in). I was trying to rhyme my line actually. Oh well, I am not that bad in rhyming. Isn't it? Anyways, here's are last but the most pretty photo Christmas card for you. If you just got confused as to which card to pick, go for this one. This is a warm and cozy card where you can show off the bonding of love in your family and spread the magic of togetherness and love by replacing this sample family photo with yours!



You can also add heartwarming and lovely Christmas messages and wishes to this card, in order to enhance its charm and make it more beautiful! Here are some sample messages for this card:
**********
Me and my family
wishes you a very happy Christmas!
May you get lots of success and happiness in life.
**********
May you get to spend
the most amazing time with your family
on this christmas,
just as me!
**********
Please accept our most
heartfelt Christmas wishes
for you and your family!
**********
Christmas is a time
to cherish goodwill and happiness!
May you and your family have a wonderful time ahead!
**********
Family love is the purest form of love!
May you spend endless moments of love
with your family, on this Christmas!
Hope you enjoyed reading these messages and looking the photo cards for Christmas? We really work hard and put all our efforts in helping you, to express your feelings and emotions in a very heartwarming and creative way. This was one such effort from us for you!
You are free to use these photo cards to brighten your loved one's Christmas. These photo cards are of HD (High-definition). This means you can also take the printout of these cards and send them physically to your loved ones. If no, then sending these cards through email, whatsapp or on social media is always a best way!
Stay connected for more!